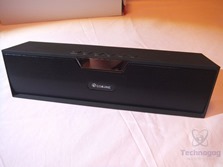 There's plenty of Bluetooth speakers on the market and companies need to find a way to set themselves apart to get them to sell and to do this they add more and more features to them. Today for review I've got another product from our friends over at Eachine and it's a Bluetooth speaker but it's much, much more than that. This product is a Bluetooth speaker but it's also an alarm clock and an FM radio, and it's also an MP3 player via microSD or USB Flash drive and it can also be a speakerphone. All in all it's decent device, I like the alarm clock feature and have used it often, it does have one small issue though. Read on to learn more…
Specifications and Features
Once you get everything unpacked you'll find the user guide, warranty info, USB and audio cables. The speaker can be charged with a standard microUSB cable. If you want to use a device without Bluetooth capability you can use the dual ended 3.5mm cable which they included for you.
The Eachine bar features two three watt speakers and up to 15 hours of playtime on a single charge thanks to the built-in 2200mHa battery. The one I received for review is all black but you can get it in other colors if you'd prefer something other than black. The speaker is a bit large at 240x55x61.5 MM or about 9.4×2.1×2.4 inches in size. It's great to just keep on your desk or nightstand since it does have the built-in alarm but it's not exactly portable in my opinion. The front has the Eachine logo in the middle and a metal mesh or screen front over the speaker for protection. In the center at the top is the LCD display that almost looks like a mirror when off. The speaker is mostly made of plastic but it has a rubberized finish to it and feels solidly made, it's rather heavy, a little over a pound.
On the top of the speaker is the control panel with buttons for play/pause, answer/end calls, volume up and down which are also skip tracks, a microphone, alarm clock button, FM button and the Bluetooth button.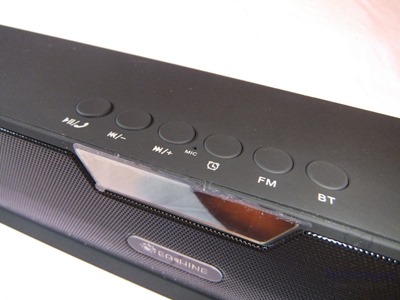 There's not much on the bottom, just rubberized feet to keep the clock or speaker in place.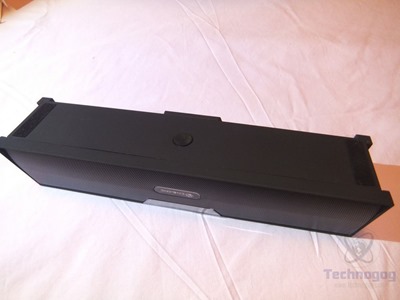 On the back you'll find the main panel with 3.5mm audio input, microSD card slot, USB port, power switch and the microUSB port for charging the speaker.
The first thing you'll need to do before using it is charge it and when you do the battery indicator will light up and blink to let you know it's charging. The battery will fill up as it charges and be full when complete.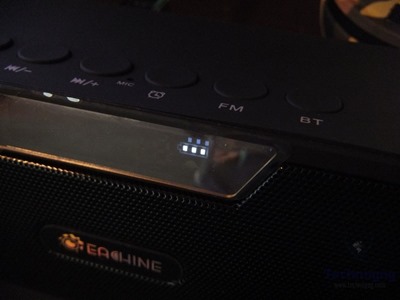 The Eachine bar is also a clock and alarm clock but sadly it can only display 24 hour or military time and there is no way to change it.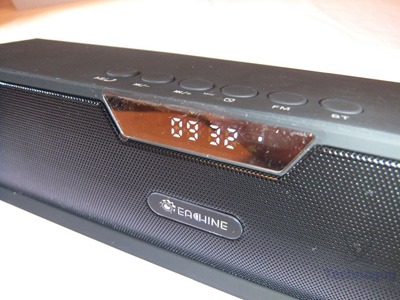 You can use the bar speaker as it's own MP3 player by putting music on a microSD card and inserting it into the slot at the back of the speaker. You can also just use a USB flash drive instead of a microSD card and insert it into the port on the back, it gives you options which is nice.
To use the alarm you just need to set it and it will beep very loudly when it goes off or you can have it set to play music from the microSD card instead of beeping. I've been using it for a couple weeks as my alarm clock and it works fine, it's nice and loud and has woken me up each day.
To use the alarm you turn it on and then set it but that does require you to leave it powered on all the time or at least when you want the alarm to go off. I've found that if I leave it on all the time, just using it for the alarm, I have to recharge it after four days of usage. Not sure if that's good or bad or what as I would think it should last longer as it's not really doing anything expect keeping the time really.
The Eachine bar speaker is also an FM radio and the antenna is inside so reception will depend on where you are and how strong the radio stations are near you as to how good reception you'll get with the radio itself.
I paired it with my HTC One M7 Android smartphone and my PS Vita via Bluetooth connection and I had no problems at all. I like using it with the PS Vita much more as the Vita's speakers aren't that loud at all.
The sound quality from the Eachine speaker is very good, it's nice stereo sound with decent bass and treble overall.
There's only slight distortion at high volume levels, but that's the same with most all speakers.
Conclusion
I really like the Eachine Bar Speaker but I would like it a lot more if it could be changed from 24 hour to normal am/pm time. I don't know why they would design it like this, it doesn't make much sense to me at all.
I very much like the fact that you can use either microSD or USB flash drives for the MP3 player feature, it gives you options which are always good to have.
The battery life is questionable in my opinion, all I did was use it as an alarm clock, it just kept time, I would think it would last longer than four days just as an alarm clock. Sure it would be find to take with you on a weekend trip, it would last long enough, but chances are you'd use it for more than an alarm clock though so the battery wouldn't last you all weekend.
The FM radio is a nice bonus, but reception is spotty as the antenna is internal, but that's the way it is with any radio with an internal antenna, at least around here it is.
The sound is decent from the three watt speakers, it can get very loud and it's clear with little to no distortion at high volume levels.

Pros:
+Decent sound
+Well made
+Simple to use
+Great battery life
Cons:
-Only displays time in 24 hours
-Not sure about battery life
| | |
| --- | --- |
| Grading | Scores Out of 10 |
| Overall | |
| Design / Aesthetic | |
| Value / Price | |
| Performance / Usage | |
Disclosure: This product was given to us for review by the company for review purposes only, and is not considered by us as payment for the review.
To learn more about our review policy please visit this page HERE.