We're back with another Steam game giveaway and this week it's Tropico 3 Gold. The Gold Edition includes the Tropico 3 Steam Special Edition which has extra maps, extra accessories and extra costumes. The Gold edition also includes the DLC Absolute Power which adds lots more content to the game like missions, buildings, island types and more. So read on to see how to win and more info about the game…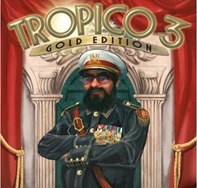 The Steam Special Edition of Tropico 3 contains the following additional content:
Two additional maps for the sandbox mode:
Verde Playa
Coco Chico Map
Two additional costumes for the el presidente avatar editor:
Female Avatar: Casual Clothes
Male Avatar: Casual Clothes
Two additional accessories for the el presidente avatar editor:
Female Avatar: Baseball Hat
Male Avatar: Commie Hat
Engage in a tropical power trip! Become the dictator of a remote island during the Cold War. Charm, persuade, intimidate, oppress, or cheat your people to stay in power! Are you a kind and generous leader? A corrupt and ruthless tyrant ruling with an iron fist? Turn your island into a tourist paradise or an industrial power. Make promises to the electorate or slander political adversaries to get the crucial votes for the upcoming elections. Send your avatar to congratulate the people, visit the island of another player, or just sun-bathe on the Caribbean beach.
Play the Cold War superpowers against each other to your maximum advantage. Tropico 3 offers a tongue-in-cheek, light-hearted take on real world issues like third world politics, corruption and totalitarian regimes.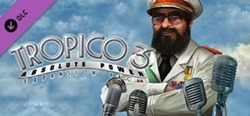 Tropico 3: Absolute Power is the first official expansion pack to the critically acclaimed Tropico 3 and provides all-new options as ruler of a small Caribbean island nation. It adds a new campaign, new missions, new island types, unique buildings and new powers to maximize the length and success of your term in power.
New campaign featuring 10 all-new missions and islands
New buildings garbage dump, marina, grade school, etc.
New edicts declare an annual festival dedicated to yourself, print your own money or outlaw your most annoying political faction among others.
New traits and appearances to take El Presidente's power to the next level.
New huge landmarks huge decorations and structures as a reward for political and economical success to make your island unique.
New "loyalist" faction comprised of your die-hard supporters.
More radio announcements and a new radio station with witty comments on your actions in the game.
Steam store page: http://store.steampowered.com/sub/6253/
One winner will be picked at random via Rafflecopter random pick system when the contest ends.
Contest runs Sunday to 11:59 PM Saturday, winner announced Sunday following contest end.
The game code is for Steam so you must be a Steam user to use the code or you must install Steam.
.