Kingston's MobileLite Wireless devices have unquestionably evolved over the course of the past several years. Originally a wireless hard drive available in a couple of storage capacities it now has limitless storage capacity using either USB or SD media forever growing storage needs.
One new feature of the 2014 MobileLite Wireless G2 is the ability to function as a portable router. Like previous versions the capability to stream media including photos and videos is still available along with the ability to charge your smart phone up to two times from a full MobileLite Wireless G2 battery.
The unit supports SD/SDHC/SDXC, a micro-ST/SDHC/SDXC cards and USB flash drives. Its storage capacity is only limited by the size of your add-on media.

Unboxing
The MobileLite Wireless G2 arrives in a white and blue cardboard box with an image of the device on the front. The front has a fold out cover that opens to reveal the unit inside through a clear plastic window along with a list of features on the inner cover. The back lists features in several different languages along with a two-year warranty.
Opening the package we find the Kingston MobileLite Wireless G2 device, a micro-USB cable along with a micro SD card adapter. Missing from the box is an instruction sheet or quick start guide. Although the iOS and Android guides can be found here, it would be nice if Kingston provided a QR link for this information.
At the bottom of the box is a pictogram showing how to power up the device as a battery versus using it as a media streamer.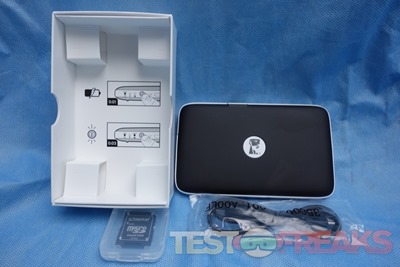 The Kingston MobileLite Wireless G2 has a much bigger form factor than its predecessor due to the larger 4640 mA 3.8 V battery found inside. It is composed of black and white plastic and measures 12.91 x 7.91 x 1.928 cm and weighs 171 grams.
The top and bottom sections are black plastic with the Kingston head logo found on the center top of the unit. The periphery of the MobileLite Wireless G2 is composed of a white plastic. On the front section are three LED lights next to the power button, a recessed reset button and a Micro-B USB port along with the MobileLite Wireless G2 name.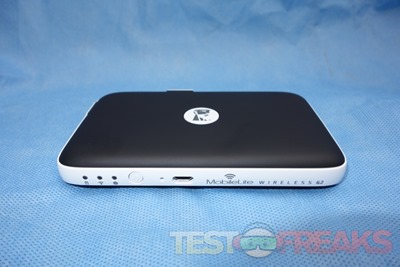 On the left-hand side of the unit we find a slot for an SD card, which can accommodate SD/SDHC/SDXC or any microSD w/ adapter as well as a USB 2.0 input port. While on the back we see a LAN connector. The bottom lists the model and serial number along with the MAC address and some other information.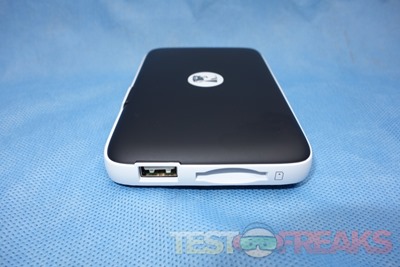 The LED indicator lights signify Battery LED/Power, Wi-Fi connectivity and Bridged connectivity. Holding the power button on for a sec activates the unit's battery for charging one's smartphone or tablet. To use the wireless features press the power button for three seconds or longer.