Nowadays, innovations in technology are occurring at a higher pace than ever before, providing greater levels of convenience for societies all around the world. In the same way, the sports betting sector has seen many changes and upgrades thanks to talented minds in the tech world. Sports betting, or the practice of predicting specific results by placing a wager on the outcome, is an ever-growing market that is continuing to advance with the help of technological developments. Let's take a look at the biggest ways these important, modern-day improvements are transforming the industry.
Internet betting visibility 
Although online sportsbooks are quite commonplace in today's world, there was once a time not too long ago where it was necessary for fans to travel to physical sportsbooks and place wagers using the old-fashioned pencil and paper method. This practice is now completely obsolete. This is especially in countries like North America where sports betting legalization has recently spread throughout more states and online wagering sites equipped with betting stats on professional sporting leagues have completely changed the game.
Now, time that would have been spent commuting to a location in-person is saved and used to invest further into the actual practice of betting. This increase in internet visibility has given users the convenient chance to place wagers from the comfort of their own home. For fans who like to relax and watch games in front of the big screen with no interruptions, this option is a dream come true.
Mobile betting opportunities
Of course, if there are online betting options, it must mean that there are also mobile betting opportunities. Now most companies provide users the chance to access their sites using more compact devices that can be taken anywhere, on-the-go. The same platforms that are accessible by computer are also available for download as mobile applications, giving bettors even more convenience to follow their teams' stats on the way home from work, on a walk through town, or even while out to dinner with friends.
The ability to place wagers with a mobile phone allows users to incorporate the activity much more into their daily lives by not having to put aside a specific time to bet on their favorite teams, players, or matches. With the mobile app market booming, developers are figuring out more ways to create the sleekest designs and user-friendly products for their consumers.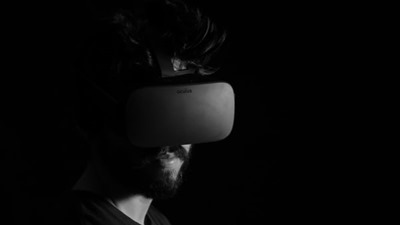 The attraction to Virtual Reality amongst consumers lies in the technology's ability to provide an immersive experience like none other
Virtual Reality experiences
The new and exciting trend of Virtual Reality is permeating many different industries and is on track to greatly affect the future of gaming forever. But how exactly does that impact relate to wagering on sports? The significance of VR on sports betting is most relevant for those users that prefer to bet on fantasy games, or a virtual sporting event that can be viewed with VR headsets. Users can make interactions with the sports fantasy world by betting on some of the most popular sports in VR like football, baseball, hockey, and golf.
Thanks to this unique technology, sports fans can combine betting with the immersive and interactive features of VR, making the experience even more entertaining and memorable. It's not a stretch to say that fantasy games could be the future of sports betting as more and more providers aim to satisfy consumers' curiosity with this interesting technology.
The best in customer care
The process of taking any product into the digital realm requires the inclusion of great customer service on all platforms or devices. Fortunately, betting sites and applications are great at this as many provide on-site help desks and the best in customer care. Developers are working harder than ever to make sports betting online even more secure, with some operators offering the option to pay by cryptocurrency using blockchain technology. Some features of Bitcoin sportsbooks include faster transactions and 100% transparency, qualities that may make it the future of betting online in the coming years. One thing is for certain: quality customer service that adapts to the latest and greatest technological advancements is only a recipe for success.
The mobilization of the sports betting industry has provided users with the ultimate convenience: access from any location at any time