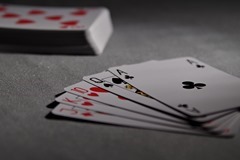 The online casino industry is incredibly competitive, but it is through this competition that the players ultimately benefit. With so many different websites to choose from, players will tend to gravitate to those with the best overall offering.
So, to get ahead, online casinos have been quick to embrace new online games and platforms. For online casinos technological innovation has proven to be effective at not only making brands stand-out but also improving the user experience.
New technology continues to change casino gaming for the better, both on the virtual gaming shelves and behind the scenes. A point of rising concern in the UK is responsible gambling, which is why websites which have implemented measures to become the most responsible in the UK have risen in popularity.
These are some of the ways that new and adjusted technology continues change how we game.
Blockchain technology and online casinos
The terms 'Bitcoin' and 'cryptocurrencies' became the buzzwords of late 2017, but the true genius behind the technology was the blockchain, which slowly also became a more recognized term as well. Online casinos have always been quick to adopt new technology, and even though it's currently not very common, there are online casinos that are making use of blockchain technology.
Blockchain technology has many benefits and is already changing many industries. In casino gaming, using transaction methods that are based on blockchains, such as popular cryptocurrencies, ensures anonymous transactions which simplify the process, keep personal and payment details hidden, and bring about a sense of more secure casino gaming.
Transitioning to mobile casino gaming
Making a move to have a mobile casino gaming offering didn't require a second thought for most top-end online casinos: the chance to enhance further their availability and convenience couldn't be missed.
Online casinos needed to develop 'lite' websites to have a mobile browser offering, and then apps became the go-to method of appealing to mobile gamers. It then became important for their mobile casino gaming offerings to have as many games as their websites.
To achieve this, developers of online games needed to go back to their classics and make them compatible with mobile devices, which included adding touch controls. New games are now being built with a mobile-first mentality, older games are still being adapted, and now apps and mobile sites are strong enough to handle a greater number of online games and the more demanding games.
Recent online casinos technological innovation, the live casino, is rather high-demand, requiring high-definition live streaming and the accompanying interface. But now, mobile casino gaming apps are strong enough to host these games.
The new realities of online games
In video gaming, virtual reality is being given a huge push by PlayStation and Nintendo right now, while mobile gaming has been coasting on the success of augmented reality titan Pokémon Go for a few years. So, online casinos decided to get on board with the immersive new gaming technology.
There are already virtual reality casino experiences and virtual reality games in circulation, offering an immersive experience for any players who have access to a compatible headset. Augmented reality can go one step further than virtual reality by offering the chance for players to interact with others and make use of virtual assistance that's a mere tap away.
Both VR and AR online games will become increasingly more prevalent in mobile casino gaming over the next few years.
Enhancing the user experience when casino gaming
Online casinos go a very long way to attract new customers, including offering big welcome bonuses, entirely free spins on certain games, and showing off their gigantic online games libraries. But what separates the best from the rest is the user experience enjoyed once the welcome bonus has been used.
One of the most important factors for the user experience is the quality of the website and the mobile app. Many top online casinos have undergone huge updates in recent years to deliver easy to use, streamlined, and fast websites and apps to enhance the user experience.
Along with embracing new technology, it's important for online casinos to adapt their offering to deliver secure online gaming.