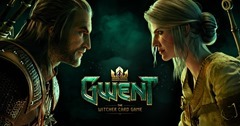 People often associate consoles with games that feature a lot of action, with battle royale games and the like taking precedent over other genres. However, there is a huge amount of different games which players can enjoy on the PS4 and one of them is card games. We can blame no one for assuming that video games are all about fast cars, cool spaceships and shooting anything that moves. As this is exactly the typical titles that are commonly promoted.
What is not necessarily known to the general public and indeed common gamers, is that there are several great card games on the PS4 and we are not just talking about everyone's typically preferred table games that one would expect to find in a land based or online casino. As a result, we have listed just a few that are extremely interesting and great to play.
Gwent
Gwent was a game born from The Witcher 3, and it was loved that much by players that CD Projekt Red decided to turn it into its own standalone title. Everything about the game itself oozes class, from eye catching artwork on the cards right through to some superb animations. The game works by cards being played across three different rows which all represent their range of attack, with the matches being decided over a best of three. It's an in-depth game that will see the hours fly by, and this makes it ideal for most games, especially fans of The Witcher series. typically preferred
Hand Of The Gods
Hi Rez, the studio behind Hand of the Gods, are well known for producing the brilliant MOBA Smite, so you know you're in for a treat with this title too. You could say it's a game which sees Hearthstone and Fire Emblem combine to produce an exiting title where good positioning on the battlefield is everything. The aim of the game is to attempt to destroy the opposition's Summoning Stone, before they destroy yours, as ancient mythologies meet superheroes in this truly exciting card game.
Frost
Frost is a game that adds a unique twist to building board classics such as Ascension and Dominion. Players are tasked with leading a group of people through a huge storm which is unrelenting as it moves around the world. These people need to find refuge, and this is only available in places where the Frost would never visit.
It's a survival card game which requires players to be able to think on their feet, anticipating steps ahead, while also being able to adjust their strategy on the go. It's an immersive title which like many others will see the hours pass by. The best part of Frost is that it's a unique take on the genre, and this has seen it fast become a hit with a wide-ranging audience.
Loot Rascals
Loot Rascals is unlike the other game in this list is lighter heartened, with a real fun feel to it. Players are tasked with rescuing Big Barry from a theme park that has been invaded. Players collect loot cards from exploring the alien planet and beating baddies, and it's these cards which give them special abilities. However, they need to be used correctly and this means strategy is key, otherwise players could soon run into trouble. It's a Hollow Ponds production that features some great visuals and colors which will excite any card player.
Therefore, for anyone who really fancies this gaming genre, we would strongly recommend having a look at PS4's extensive range of card games. Enthusiasts of this traditional past time will be pleasantly surprised at the wide range of unique and imaginative titles that are on offer.