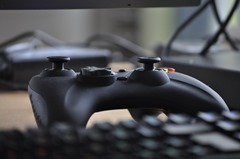 Since their introduction into the mainstream around the 80s, video games certainly have come a long way, but some incredible technological advancements have made the prospects of gaming much brighter. Here are a few instances of what we are talking about.
Outstanding graphics
From the days of primitive 8-bit graphics in games, we have come a long way. Gamers will now play in dynamically rendered environments with accurate photo textures thanks to cutting-edge innovations. The ability to improve playability by increasing picture quality gives the impression that you are right inside the game.
Virtual reality
While several VR gaming consoles have yet to be commercially available, developers of VR headset displays are poised to provide players with a truly immersive gaming environment unlike any other. You will be able to fully immerse in the gameplay.
High-definition displays
When it comes to gaming graphics, you need a legitimate way to demonstrate them off. This is where Ultra 4K gameplay comes in. Though 4K televisions (which must accommodate at least 4,000 pixels) and 4K laptops were initially expensive, their prices have slowly decreased, making this format the eventual staple in the way we view and play sports. Nothing else compares to the vibrant colors and sharpness of this picture.
Augmented reality
AR games offer the player a new experience that is not limited by a TV or computer display. They manipulate spaces in the physical world, allowing the game's goal to be applied to real-life scenarios. Play table hockey from every perspective on your kitchen floor, or participate in puzzles laid out using hurdles in your yard.
Gaming on the go
With smartphones' introduction, gaming has been moved from the arcade to the living room and placed in your hands. Mobile technology has expanded the passion of digital gaming past ardent console-players. It has made age-old games like scratch games come into the online world where everyone can enjoy them whenever and wherever they like.
Recognition of Voice
It is not a problem if you do not want to pick up the controller. Speech-controlled gaming has been there for some time, but the experience of using the innovation in gaming systems has now caught up with the potential—computers can now understand voice commands from the player with ease. Not only can you use voice commands to turn the console on and off, but you can also use them to monitor games, connect on social media, play music from your playlist, and browse the internet.
Face Recognition
3D scanning and facial recognition technologies allow systems to generate your resemblance in the gaming world (so you can make a personalized character that looks a lot like you) or to imaginatively convert your own faces to other digital creations. Furthermore, by scanning 78 various points on a person's face with the Intel RealSenseTM 3D camera, developers will be able to make games that respond to the gamer's emotions.
Gaming on demand
Gamers can share and watch game live-streams. Game streaming is taking on more similar approaches to movies, attracting both large and small game players alike. Soon there could be scenarios that these developers will be playing and competing between themselves.
Wearable gaming
Wearable games, whether smartwatches or headphones, make gameplay convenient without being too intrusive. Companies that began using wearable devices for fitness apps are now attempting to add entertainment to the mix. Wearables are not just extensions of your body; they are also extensions of your favorite game consoles.
Control of gestures
Just a little use of your hand, the Intel RealSense sensor helps you use first-person shooter games—or just get in touch with your hardware. Gesture tracking uses a 3D camera to map 22 various points in your palm, allowing users to interact with their gameplay environment through natural body motions.
Cloud gaming
Rather than building video game devices that necessitate more expensive hardware, designers are turning to the cloud to reduce the burden. Games are no longer constrained by the memory space available on discs or consoles. Using the cloud allows games to scale up to substantial server sizes, with videos being streamed to the computer over the internet.
These technologies are making the concept of hi-tech gaming a possibility, whether you are using a 2 in 1 interface from your home to your ride or motion control to play games without a controller.