Hello, Hello!
EDIT!!! Contest is now closed, Winners will be announced/contacted tomorrow March 17th.!!!
We at technogog have all kinds of fun testing assorted gadgets, and hardware, but we especially like phones, everybody has one and they can relate. One thing we've learned that not all phones are created equal though, and I'm sure you've found that out yourself as well. I know many of you out there have bought phones, only to be stuck in a contract with a phone that you just don't like and are overall not very happy with. We're going to help you out with that though, we've partnered with Samsung and Pantech to give away four new phones to four lucky people to replace their current phones.
Samsung has generously sent us three cellphones, one each for AT&T, Verizon and the Sprint networks.
–Renown for Verizon
–HighNote for Sprint
–Propel for AT&T
Pantech has sent us their very popular Matrix for AT&T.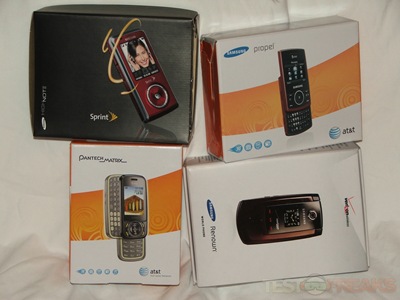 Just so you know, these are basically new phones, only opened to take pictures of them and do a little unboxing video for this contest so you know what you're getting.
I guess you're wondering what you've got to do to get your hands on one right? 
Read on to learn more…
Here are links to the blog posts with the video unboxings of the phones in the contest, along with their pictures and specs etc, you can click the picture or the link underneath it to open in a new window.

Pantech Matrix -For AT&T

Samsung HighNote -For Sprint

Samsung Propel -For AT&T

Samsung Renown -For Verizon
Well, there's a few things you can do, and we're going to leave it up to you and let you decide.
Things you'll need to do to win, you only need to pick one of them:
1. Tell us in at least 200 words 'Why you hate your current phone'
2. Tell us in at least 200 words 'Why you want a new phone'
3. Tell us in at least 200 words 'Why you want a particular phone'
4. Do a video telling us one of those things, at least 30 seconds in length
5. Do something creative on video to an old phone, smash it, destroy it, run it over etc
Pick one of the above ideas, and just leave a response in the comments section, of course if you're doing a video please leave the link for that.
Basic rules:
-Must be 18 years of age to enter
-Must be US Resident
-Contest runs for February 15th 2009 until March 15th 2009
-Must be on the network to use to the phone of your choosing
-Entries will be judged by technogog, Samsung and Pantech based on originality, creativity and humor!
-Have fun with it!
** Bonus to bloggers out there, we're trying to get the word out about this contest, so for you bloggers we're offering a Pandigital 8" Digital Photo Frame (full review HERE),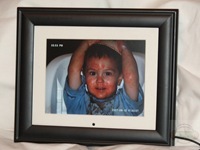 and an mStation 2.1 Stereo Orb iPod Dock Speaker System  (full review HERE)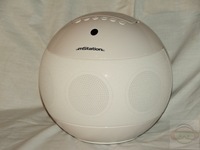 -Bloggers can enter our contest for the phone of course
-All you have to do is post about our contest and make sure we know about it be adding a comment or trackback in the comments section of this posting
-We'll randomly pick two lucky bloggers to win at the same time we pick the winners for the cellphones
Good luck to all who enter and have fun!