I know what I want for Christmas!  Well no, I don't want to wait that long I want it now, this is just awesome, it's like the stuff you see in the movies about the future with displays on car windows, I'm just excited about it, I think a little too excited. Seriously though Garmin has just announced a portable heads-up display system or HUD for you car and it's GPS system, or at least your phone with Bluetooth that's running either StreetPilot or Navigon. Personally I like Navigon, but if I got to pair it with this HUD then I 'd really love it even more! The HUD has an MSRP of $129.99 and will be available soon really..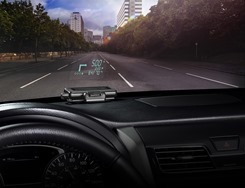 Garmin® International Inc., a unit of Garmin Ltd. (NASDAQ: GRMN), the global leader in satellite navigation, today announcedHUD1, the company's first portable head-up display for smartphone navigation apps2. HUD is an innovative new way of viewing navigation information in the car, projecting crisp and bright directions onto a transparent film on the windshield or an attached reflector lens. By providing comprehensive road guidance at a glance and right within the driver's line of sight, HUD can help increase safety and reduce driver distraction. HUD receives navigation information from a Bluetooth-enabled smartphone running a Garmin StreetPilot1 or NAVIGON app.

"HUD redefines the navigation experience by allowing drivers to find their way without taking their eyes off the road," said Dan Bartel, Garmin vice president of worldwide sales. "Head-up displays currently have their place in select high-end cars, but HUD makes this technology available as an aftermarket accessory for any vehicle, at an affordable price."

HUD offers more navigation details than other portable head-up displays, yet presents them in a simplified way that doesn't divert the driver's attention from the road. The directions are easy to follow and allow drivers to navigate even the most challenging interchanges and traffic situations with ease. HUD displays turn arrows, distance to the next turn, current speed and speed limit, as well as estimated time of arrival. It even lets drivers know what lane to be in for the next maneuver and alerts them when they exceed the speed limit2. HUD also warns users of potential traffic delays and upcoming safety camera locations3. The crisp display automatically adjusts the brightness level so projections are clearly visible in direct sunlight or at night.

Complementing the visual display, spoken turn-by-turn directions are provided simultaneously by a compatible Garmin or Navigon app1, either through the smartphone speaker or a Bluetooth-connected car stereo. Music streamed to the car stereo from the smartphone will automatically fade out for turn-by-turn voice prompts. HUD also continues to display navigation information while taking incoming calls.

HUD is easy to set up. Users can choose between displaying navigation information on their windshield, with the included, transparent film, or on the included reflector lens that attaches directly to HUD. The device pairs wirelessly with a compatible Bluetooth®-enabled iPhone, Android™ phone or Windows® Phone 8. An integrated USB port on the vehicle power/adapter cable makes it easy to charge the smartphone while driving.

HUD has an MSRP of $129.99 and will be available this summer. Garmin StreetPilot and NAVIGON apps1, starting at $29.99 for a regional map (NAVIGON U.S.Central, East or West), provide premium turn-by-turn navigation for smartphones, including onboard maps, lane guidance, speed limit warnings2, real-time traffic2, and many other features.

HUD is the latest from Garmin's consumer automotive segment, the leading worldwide provider of mobile navigation solutions for automobiles, motorcycles and trucks. Garmin's user-friendly personal navigation devices and apps have innovative features that provide time- and fuel-saving benefits to meet the demands of everyday driving.

1 This device has not been authorized as required by the rules of the Federal Communications Commission. This device is not, and may not be, offered for sale or lease, or sold or leased, until authorization is obtained.

2 Purchase required. Compatible with Garmin StreetPilot Onboard or NAVIGON navigation apps.

3 Restrictions apply. Not available in all areas. Subscriptions required. Contact your mobile service provider for more information about your service plan's data and roaming rates. See http://static.garmincdn.com/pumac/Premium_Content_EN.htm for terms, conditions and limitations.