The cell phone has become an integral part of our lives and most of what you hear about are big expensive smartphones but not everyone wants one. Some people just want a phone to make calls, I know people that still have basic older flip-phones  and they're more than happy with them. I like smartphone myself but you never know, accidents happen and I always like to keep an inexpensive backup phone just in case. Today for review I've got the OLA TV XL which is a dual sim bar style phone that's fairly basic. The name of the phone is the TV XL, yes it has a TV tuner built right in but sadly it doesn't work here in the states because we've gone digital, but it will work in most other countries. The phone also has an FM radio and a 2.4" color screen along with a .3mp camera. Yes it's not some amazingly powerful phone, it's just a basic phone with some other little features thrown in but it costs under $35, and I don't think that's too bad for a backup phone or if you're just looking for a very basic phone… Read one to learn more…

Unboxing
The box is very plain, jus a big picture of the phone on the front.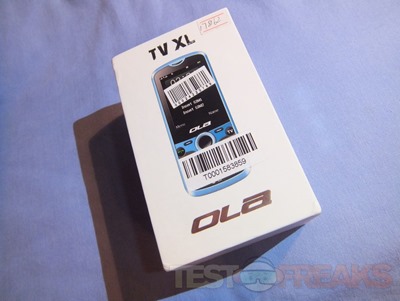 When you unpack the box you'll find everything in bags and two pieces of documentation.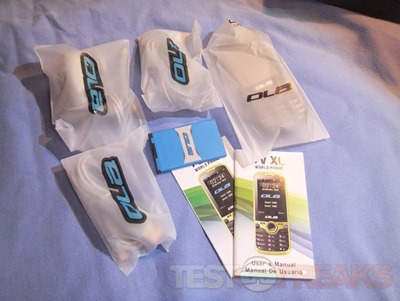 There's a quick start guide and a regular user manual.
Included you'll find a power adapter, USB cable and stereo headphones.
The battery is Li-On with 1000mAH capacity that should give you at least 120 minutes of talk time and about 100 hours of standby time.
The TV XL phone is a candy bar style phone with a 2.4" screen and the keypad below it.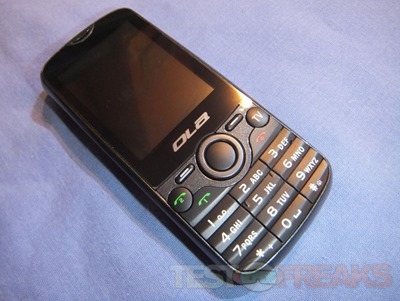 It's a dual sim phone so you'll find two call buttons on labeled 1 and 2 so you can make separate calls. There's also a large TV button off to the right side.
The back of the phone is rather plain, the OLA logo is there along with the camera and speaker.
When you remove the back cover you'll find the two sim card slots and the microSD slot along with all the identifying info.
On the top of the phone you'll find the audio jack and a telescopic antenna.
On the bottom of the phone is the power jack and the microUSB port.