Keyboards are an integral part of the computing experience and most people overlook them as just something that doesn't matter much. When you're looking for a keyboard you should think of the things you do the most, gaming, multimedia, internet etc, and find a keyboard that suits your needs.
Revoltec isn't very well known in the United States by most people, many gamers and enthusiasts know them though for their excellent products for gaming and PC related stuffs and accessories. So today I've got the Revoltec Fightboard Advanced Gaming Keyboard for review, it's got the ability to program 20 separate macros, interchangeable keys and multimedia/internet keys as well. The Fightboard is a great choice for a gaming keyboard and a decent general use on as well.
As usual, first up check out the unboxing movie, then the specs and continue on for the rest of the review:
The buttons are double labeled to produce two modes of operation, to program them you just switch the modes and input what you desire.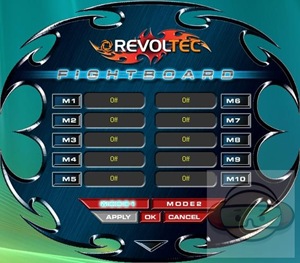 Replacing the buttons with the included gaming keys is very easy using the included tool, and really if you're a gamer there's no reason not to. I like the fact that they're labeled with the letters as well, some other gaming keyboards just replace the keys and they're unlabeled, these have pictures and letters on them.
The other special buttons across the top of the keyboard are just your standard multimedia and internet buttons, nothing really special but they come in handy.
Using it for gaming works well, I played Dead Space, FarCry2, C&C Red Alert3 and  a few other games as well, the layout and placement of the keys is fine for any type of gameplay.
Now using it for standard typing is a different story altogether, at least me personally, I didn't care to much for the squishy keys, I like clicky, clacky keys that provide some tactile feedback. Don't get me wrong though, you can type on it fine, but if you're not accustomed to these types of keys, as I'm not, it will take a while to get the hang of typing on it.
The macro keys can come in handy if you use them in your gaming or other things, but personally I've got no use for them.
The keyboard itself feels well made and sturdy, it is fairly large overall though, so if you've got limited space it might be an issue, and if you add the palm rest it just gets bigger.
Conclusion:
The Revoltec Fightboard Advanced is one of the nicer and feature rich gaming keyboards out there today. It's got enough features to keep most anyone happy, gamer and non-gamer alike.
The Fightboard is a great choice if you're a gamer, and really even if you're not you'll appreciate the design and features. The interchangeable buttons will make the keyboard stand out from the rest, and the numerous macros can come in handy in most any situation.
Pros:
Lots of macro keys
Replaceable gaming keys
Internet and multimedia keys
Well made
Cons:
Large size
Takes a while to get accustomed to
| | |
| --- | --- |
| Grades: |   |
| Overall | |
| Design | |
| Performance | |