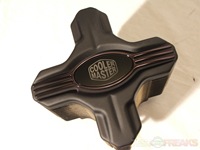 Today I've got part two of the Limited Edition Cooler Master Black Label Set, the HyperZ600 CPU Cooler. It's essentially the same as the original Z600, but just black colored. It's a large and heavy cooler featuring six heatpipes and the ability to use two fans for maximum cooling performance or use no fans for a truly silent system.
So continue on to learn more…

Of course I've got a video unboxing for you, check it out and the still pictures then continue on:
Specifications:
Black Label Hyper Z600 CPU Cooler
Hyper Z600R is designed for both active and passive cooling. Superior cooling performance is provided by the unique X design and 6 copper heat pipes. The Hyper Z600R is designed to cool the latest Quad-core processors even without a fan in 0dBA silent mode. In active mode, the Hyper Z600R accommodates up to 2 fans for enhanced performance in overclocking and gaming.
Features:
-The interlaced fins maximizes the dissipation surface to provide superior cooling performance
-Unique "X" design creates lower back pressure to make air pass through heatsink quickly and guide more air pass through the heatsink
-Mirror-coated copper base and 6 heat pipes
–Mirror-coated copper base ensures 100% contact with the processor to maximize the heat conduction. It could draw heat from CPU to the heat pipes immediately
–6 heat pipes transmit and spread heat over all the fins rapidly
-Optimum fin space allows air pass through heat sink quickly
Dimension: 127.28 x 127.28 x 160 mm
Material: Cu base, 6 heat pipes, Aluminum fin
Weight: 2.3 lbs
CPU Socket: 1) Intel Socket LGA775 2) AMD Socket (Socket 940/AM2/AM2+)
CPU Support: Intel Core 2 Extreme, Core 2 Quad, Core 2 Duo, Pentium Extreme Ed., Pentium Dual-Core, Pentium D, Pentium 4 Extreme Ed., Pentium 4 HT, Pentium 4, Celeron Dual-Core, Celeron D AMD Phenom, Athlon 64 X2, Athlon X2, Sempron <
Heat Pipes Dimensions: 6mm
Fan Speed: 2000 RPM
Bearing Type: Long Life Sleeve
Fan Noise Level (dB-A): 19 – 21 dBA
Connector: 3 pin with 4 pin adapter
Air Flow (CFM): 69.69 CFM
Installation requires the motherboard be removed from the case as the cooler fastens from the back of the mobo.
First thing you'll have to do is attach the CPU mounting bracket for your socket type, mine is LGA775 of course.
Then you'll need to attach the fan bracket, this involves three pieces and four regular coarse threaded fan screws.
I could not use the backplate with my motherboard as there is a small chip in the way, luckily Cooler Master included an alternate way of mounting, small plastic washers and nuts that can be used to secure the cooler to the motherboard.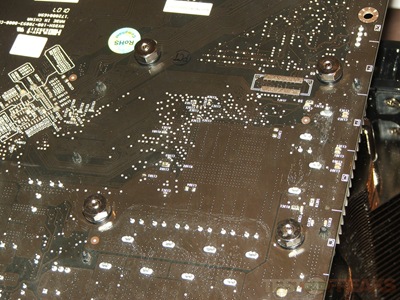 Once installed I didn't have any clearance issues at all, the cooler fit fine on my board.
Here it is installed in the Cooler Master Black Label Cosmos case:
For testing I used my Q6600 CPU with an EVGA NF680i Motherboard, and I put it up against a Noctua NH-C12P and the CoolIt Domino CPU Cooler.
Ambient room temperature during testing was 21C (+/- .3)
To achieve 100% load on a quad core I used two instances of Orthos Stress Prime with affinity set to the cores.
The following picture is just an example of the testing: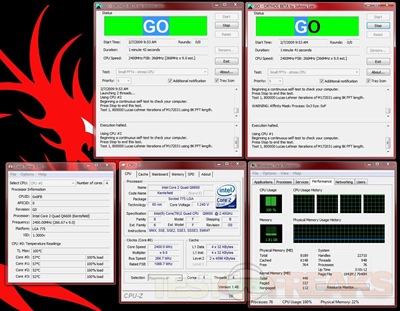 CoreTemp was used to log the temperatures so I can then average them out to get one average temperature between the four cores.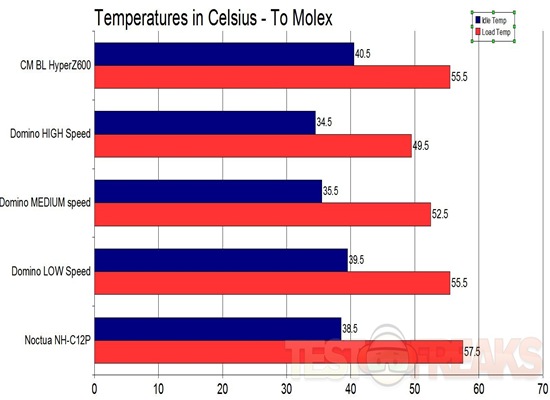 As you can see the CM Hyper Z600 has very good cooling abilities, and the included fan is very quiet as to not add any additional noise to your case.
Conclusion:
The Cooler Master Hyper Z600 is a CPU cooler with very good cooling abilities, it's very well well made, with an interesting design. The fact that you can mount an additional fan or even run with no fans should help it appeal to most every type of use out there.
The HyperZ600 is a very large and heavy cooler, so it most likely will not fit in all cases and configurations, you'll need to make sure that it will fit in your case. You'll also need to remove your motherboard from the case for installation so it can take quite a bit of time to get it installed.
Pros:
Fairly easy installation
Decent cooling performance
Looks cool
Cons:
Large and heavy
Motherboard must be removed for installation
| | |
| --- | --- |
| Grades: |   |
| Overall | |
| Design | |
| Performance | |