Rugged Cases Continued
The next case I have, isn't the most expensive here but it's the one that offers the most protection for the HTC One. Price is about $53.
Otterbox Defender Series
Protect your HTC One with the toughest and most protective case on the market – the Otterbox Defender Series.
The Otterbox Defender Series for HTC One will offer your device peerless protection with a slim and sophisticated look.
Boasts 3 layers of comprehensive protection
The Otterbox Defender Series wraps your device in 3 layers of protection. The first layer is a strong polycarbonate shell which caresses your HTC One, which provides added protection against drops and bumps. The shell features cut outs which are designed to give you access to all of your devices ports and features.
Silicone skin to protect all of your device
The second layer is a silicone skin which wraps around the polycarbonate shell and absorbs any shocks which would be otherwise felt by your device. The silicone skin also features cut outs to give you access to all ports and features, but it is design with silicone covers so you can ensure that, when not in use, all ports and features remain protected at all times.
Screen protection built-in the protect your devices screen
The final layer of protection is a thermal-formed sheet which covers the screen and keys of your HTC One to give your device 360° protection at all times.
Includes a belt holster for easy access and transportation
Included with the Otterbox Defender case is a belt holder which features a swiveling belt-clip that will hold the device with the screen facing in or out, allowing for easy access or extra protection when carrying your HTC One on the move.
Price:  $52.99
MFG Link: http://www.otterbox.com/HTC-One-Defender-Series-case/htc2-one,default,pd.html?dwvar_htc2-one_color=20&start=1&cgid=htc-one-cases
Product Link: http://www.mobilefun.co.uk/otterbox-defender-series-for-htc-one-black-p38236.htm
Review Link: http://mobilitydigest.com/mobility-digest-review-otterbox-defender-series-case-for-htc-one/
Yes it's another Otterbox cases with the same style packaging as the Commuter.
The Defender is actually two parts, the case itself and the belt clip holder or holster.
The holster holds the phone case very well with clips all around it.  The clip rotates a full 360 degrees so you can position it wherever you need to for easy access or comfort.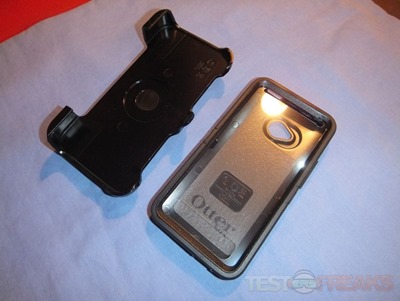 To get your phone installed in the Defender case takes a few steps. The first step is to remove the outer covering and then you'll have two pieces. The second step is to separate the two halves of the case so you end up with three pieces ready to go. The main case is secured with clips around the edges and just pops apart fairly easily. The bottom or inside of the case has a soft rubber padding to protect the phone. This case does not come with a separate screen protector as it has one built right into the case.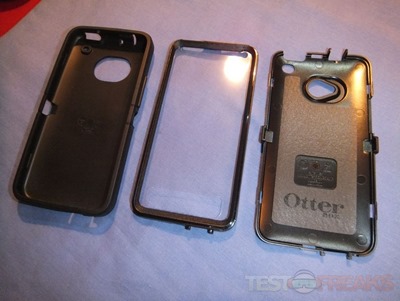 All you have to do is to get your phone in the case is to put it in and snap it together. The front of the case does have a rim around the edges so you can set the phone down on its face and it won't touch the surface you're setting it on. I should not that once you get the phone in, it's very hard to get back out.
The next step would be to attach the back, it just fits over top of the plastic case making sure to mind the openings and such. The case offers cover for the audio and microUSB ports to keep them clean and it's nice and large near the power button so not to interfere with it.
As I showed you the case comes with a very sturdy holster. The holster holds the case in place very well, I'm fairly sure it won't fall out easily so you can go about your business.
The case is a beast, plain and simple. If you want the ultimate protection, then this is it.
If you want the best possible protection fro your HTC One then it's clear the Otterbox Defender Series case is it. Overkill might be a word I'd use in describing it, but sometimes, especially when it comes to phones that cost hundreds of dollars, that can be a good thing. There's no doubt this case will protect your phone from pretty much everything your daily routine can throw at it or be thrown at.
One of the things I really like about this case is the fact that the audio and microUSB ports are covered, most every case I've seen just doesn't do that.
There are two things that might be considered 'cons' for this case.
The first is the size, this case is probably three of four times as thick as the HTC One, so you really lose that nice slim profile.  So you have to sacrifice something for that great protection right? It's not exactly bad, but I just felt it needed mentioning.
The second thing is that once your phone is in the case it's very hard to get back out of it. The HTC One really has no reason to come out of the case once it's in there though as there is no removable battery or microSD card slot. Still though if you want to take it out you're in for a big fight. It took me quite a while to figure out how to get my phone out of the case, but I got it, and yeah it wasn't easy. For most people I think they'll put their phone in the case and leave it there so I don't think it's a big deal
Overall I 'd give this case a 9 out of 10 score.
Pros:
+Excellent protection for the HTC One
+Built-in screen protector
+Screen protector in case can be used with screen protector on phone
+Heavy duty and durable belt clip
+Covers seal out dust and dirt
Cons:
-Large case
-Can be very hard to get your phone out of the case
Last but not least as they say right? Yes we're at the last case of this list and it's the most expensive one coming in at about $55.
Seidio Active Case Combo
Seidio's ACTIVE with Metal Kickstand Combo contains an ACTIVE with Metal Kickstand and ACTIVE holster. The ACTIVE with Metal Kickstand is the perfect companion for an energetic lifestyle. It provides shock absorbing protection with two interlocking layers in a thin case for your HTC One.
The built-in metal kickstand can be used in landscape orientation for a hands free experience when viewing multimedia, managing photo slideshows, and displaying clocks and calendars. The ACTIVE with Metal Kickstand does not support the device in landscape orientation.
The ACTIVE holster is felt-lined and features a face-in design to protect your device when carried. Use them together when you're on-the-go and worry more about moving forward and less about your device.
ACTIVE with Metal Kickstand
– Overall thickness of only 2.2 mm
– Magnetic kickstand provides convenience by easily snapping back in when not in use
– Interior casing made from impact absorbing polymer and exterior skeleton provides extra protection at impact points
– Easy to put in and pull out of your pocket or purse and grooves for easy gripping
– Compatible with ACTIVE holster
ACTIVE Holster
– Felt-lined holster with face-in design keeps your HTC One safe
– Unique spring clip lifts for quick access and easy removal
– Adjustable swivel belt clip with 7 rotating angles
– For use with ACTIVE with Metal Kickstand case only
This product does not support IR Blaster on your device.
Price: $54.95
MFG Link: http://www.seidioonline.com/htc-one-active-kickstand-case-holster-combo-black-p/bd2-hk3htm7k-bk.htm
Review Link: http:/www.technogog.com/review/review-of-seidio-active-case-combo-for-htc-one/
The packaging is a cardboard stuck to a plastic shell, once you open it you'll basically destroy it, no big deal though.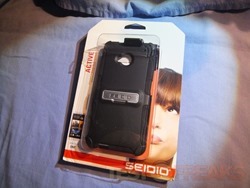 The Active Combo is both the case and the holster. You can purchase them separately if you want as I know not everyone uses a holster.  The holster actually locks onto the case with a spring clip on the top. The holster features a large and sturdy spring loaded clip and it can also can rotate so you can have the phone either vertical or horizontal or even angled on your belt.  This case does not come with a screen protector which I would expect it to considering the price.
The inside of the holster is a felt like material, that's the part that the screen of the HTC One will be facing.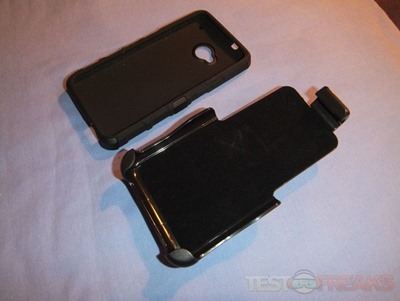 The main cases is actually two parts, a soft rubber inner case and a hard plastic exoskeleton.
Getting the HTC One into the rubber part of the Active case is very easy, just slide the phone in and stretch the case over it. It couldn't be easier really.  To finishing installing the HTC One into the Seidio Active case you'll need to put the back hard section on. To get that on does require a little bit of work as it is kind of tight, you just need to put the bottom part in first and then the top part is pulled over the rubber case.
This case also features a nice sturdy metal kickstand which can come in handy.
All of the ports and buttons are open or allow easy access for the most part. The case though does have one major flaw, and that's the power button is fully covers so you will not be able to use the IR Blaster function of the HTC One. The case also doesn't really cover the microUSB and audio ports from dust.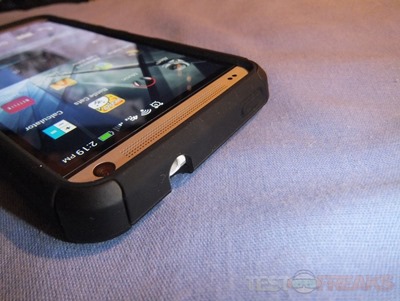 The holster does a very good job of holding the HTC One secure, the spring loaded clip will hold the phone in place tightly and of course you'll have to push it to get the phone out of the holster. I think the spring loaded clip is a great addition as it will make sure the phone stays in the holster and doesn't accidentally fall out no matter how vigorous your daily activities might be. The holster allows access to both the microUSB port for charging. The audio port is also open so you can connect a set of headphones to the phone while it's still in the holster and you're carrying it around so you can listen to your music on the go.
The Seidio Active case for the HTC One can offer a great level of protection for the phone inside. The case offers two layers, soft and hard, to fully protect the phone from bumps and drops and should do a decent job at protecting your new HTC One. The case allows for quick and easy access to all of the buttons and ports on the phone. The case is thin, even though it's two layers, so it's not bulky and you can slip it right into your pocket to easily take it with you.
The holster is made of hard plastic and has a spring loaded locking clip to hold the phone in place no matter what you're doing. The holster does not get in the way of the buttons or ports on the phone so you can still access them without removing your phone front the holster.
The only real drawback to this case in my opinion is the cover over the IR port. I don't use it often, but I'd like to and I'd like my case to not only protect the phone but also allow access to all of its features. Yes the IR Blaster feature is an excellent addition to the phone but I'm sure not all people will use it so this might not even bother a lot of people. If you want this case or not would depend on your needs or wants really.
Overall and objectively I'd give the case a 9 out of 10 score. Personally I wouldn't use this case myself as I do utilize the IR Blaster feature of the HTC One.
Pros:
+Double layer protection
+Built-in kickstand
+Thin profile case
+Decent protection for HTC One
+Holster holds case well
Cons:
-Case covers IR port
So many choices when it comes to cases isn't there?
Personally I pick the Otterbox Commuter Series Glacier case for my personal use. It's thin but yet offers a lot of protection and I really like the color scheme as it matches the phone I have.
If I didn't have the Commuter case I'd have to go with the Trident Aegis case as I do prefer rugged cases.
If I was on a budget but yet wanted rugged, then the Armourdillo Case would be the choice there.
If I wanted thin and minimalist but yet protective I would have to pick the Nillkin case I think.
Of course if I wanted a truly rugged case with full and extreme protection it would have to be the Otterbox Defender. Hands down it's the best case to fully prot6ect the HTC One.
The case you choose will have to take into account many factors like budget, your personal style and what type of case you want or need and what you'll be doing with your phone or while you're carrying your phone with you.
Whatever you need there's obviously a case for you out there.