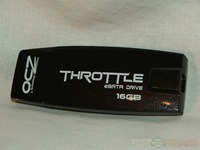 Yes, another USB drive review, why sort of, but not really, but then again yes it is? Confused? Well what I have for review today is the OCZ Throttle 16gb Flash Drive, it has both USB and eSATA connections on it for blazing fast transfer speeds. The Throttle is a sleek black flash drive that is a bit larger than most out there today, but that's because of the eSATA connection on the end, it also has a mini-USB connection as well that can be used for standard USB transfer or additional power for the eSATA port.
So read on to learn about one of the fastest flash drives on the market today.
The OCZ Throttle 16gb flash drive comes in a box instead of the familiar plastic clamshell that most products of this type come in.  The box has a picture of the Throttle on it along with specs and features listed.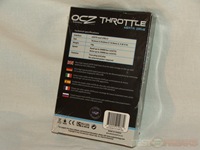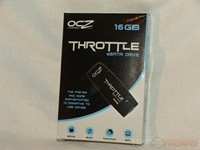 Inside we find a USB cable and the Throttle wrapped in padding for protection: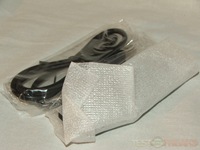 The Throttle is larger than most USB drives out there, pretty much the largest of my vast collection, but as I mentioned that is partially due to the eSATA connection. On the front side we see the Throttle logo with eSATA drive under that and the capacity, the cap has the OCZ logo on it as well, the back of the Throttle also has the OCZ web address.
The cap is what covers the eSATA connection:
On the back of the Throttle is where you'll find the mini-USB connector. This connection does double duty actually, it can be used for standard USB file transfer or to provide power for the eSATA connection if your motherboard does not have powered eSATA ports. OCZ was nice enough to include a USB cable as well for us.
Specifications:
OCZ Throttle 16gb eSATA Flash Drive
Model: OCZESATATHR16G
The OCZ Throttle eSATA drive offers performance and versatility for enthusiasts that demand the best hardware. The integration of eSATA (External Serial ATA) connectivity now extends beyond desktop systems to laptops, offering increased data transfer rates with extreme portability while eliminating extra cords and power cables.
A sophisticated alternative to conventional USB drives, the OCZ Throttle's primary eSATA interface offers an incredible 90MB/second read speeds and 30MB/sec write speeds, increasing productivity to new heights. The substantial 8GB ~ 32GB capacities offer plenty of storage for your diverse multimedia files including high-resolution photos, high-definition movies, or large quantities of music. Additionally, users can access their data via an auxiliary mini USB port for ultimate flexibility.
Travelers, enthusiasts, and business professionals will benefit from the greater overall user experience that this new high-capacity, high speed Throttle has to offer. With true plug-and-play capability, instantaneously access your data from any computer without the need to install any additional hardware or drivers. Backed by a 2-year warranty, the Throttle eSATA drive will perform with OCZ's ultimate commitment to quality.
Specs/Features:
-eSATA interface (plug directly into any compatible motherboard or laptop with powered eSATA port)      
-Additional mini USB 2.0 port (type B)      
-Dimensions: (L)79.1mm x (W)29.9mm x (H)10.3mm      
-Read: Up to 90MB/sec      
-Write: Up to 30MB/sec      
-True Plug and Play      
-Available in 8GB, 16GB, 32GB capacities      
-Includes mini USB cable for non-powered eSATA ports or USB access      
-2-year Warranty

Here's a size comparison of the Throttle next to another OCZ drive and a Verbatim USB drive:
The Throttle does have two LEDs in it actually, one is green and one is red, green is power, while red is activity.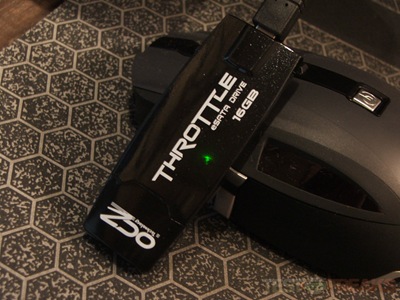 So we know what it looks like but how does it perform? Let's move to the testing to find out shall we?
First up of course is SiSoft Sandra 2009 SP2 Removable Storage Benchmark. In this test higher scores are better and it is arranged from worst to best, since the graphs are getting a bit crowded I highlighted the OCZ Throttle with yellow: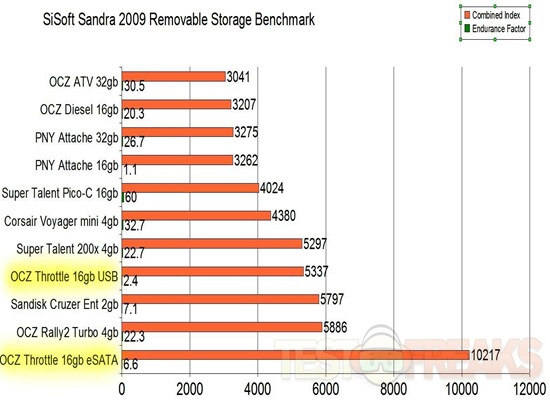 Well, you see that really long bar there? That's the Throttle hooked up via eSATA, pretty much blows all the other drives out of the water. We see a different story though when we hook it up via USB, a bit slower but still very good performance.
Here's the 256MB Files Test ordered worst to best with Write Performance as the base for the graph ordering: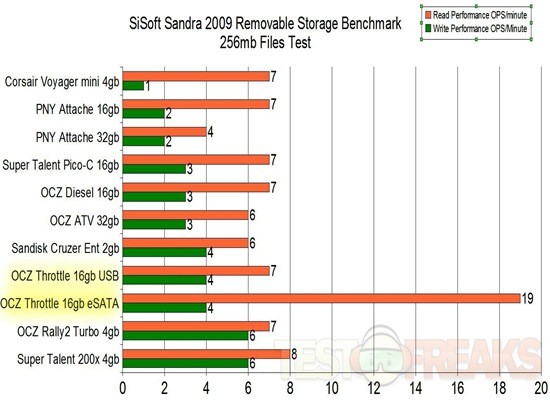 Here we see a bit of a difference, yes we have that very large line again for the Throttle in eSATA mode, but we also see it's Write Performance isn't that great overall, still not too shabby.
Next up for testing we have DiskBench and the time it takes to do three tasks, Copy To, Copy From and Read From the flash drives. I used a 350MB .AVI Video File for all tests. Ordering of the graph is best to worst, of course the lower the time is better.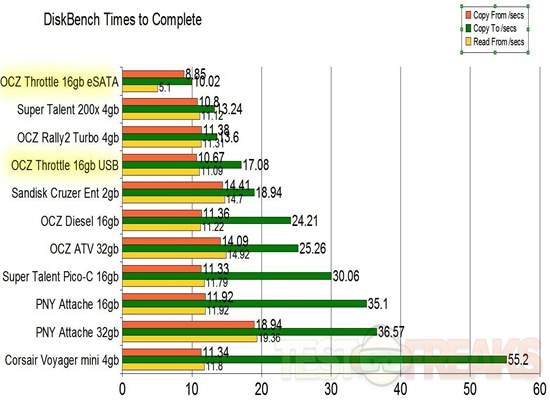 Here of course we see the eSATA Throttle leading the pack in all testing with some very short times to do the tests. Looking at the USB Throttle though we see the Copy To or Write Time is a bit slower than the rest, but again very good coming in under 20 seconds.
Here are the actual transfer rates in MB/s for the flash drives: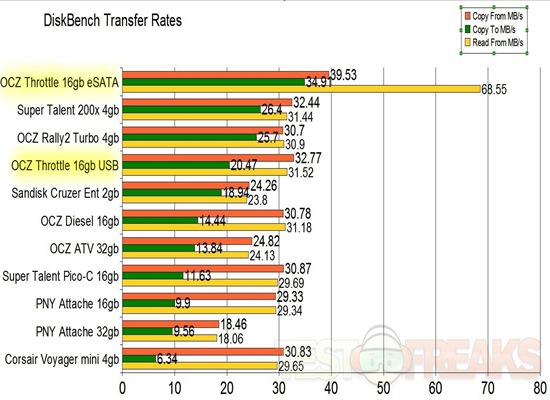 There's not much to be said about the eSATA Throttle, hands down it's a winner in all tests with speeds that are well above the competition. Looking at the USB Throttle though we see again it's the Copy To or Write Speed that ultimately lowers it in our charts, but the read speeds though average over 30MB/s which is very good indeed. Still though even with the slower write speeds the Throttle has very good performance overall.
As we can see the Throttle using the eSATA interface really has no competition, and it ain't too shabby while using the USB interface either…
It might seem like an excellent drive, and it is performance wise, the downside here is that not all PCs are equipped with an eSATA interface and those that do are like not the powered type. I've got two systems that are eSATA enabled and neither one are powered eSATA ports meaning I had to use the USB cable as well to provide additional power for the Throttle. What this means of course is that I'll need to take the USB cable along with me when transferring files via eSATA, and of course I'll need the cable for USB transfers as well. So until powered eSATA ports are a standard the Throttle might be considered a hassle for some.
Another small issue is the cap, there's no where to put it when the drive is in use meaning that most likely it will get lost along the way. There's also no lanyard included, and no place to even attach one if you've got a spare lying around, so you're kinda stuck carrying the Throttle in your pocket or floating around in your laptop bag. Personally I like the lanyards, not to hang around my neck, but to fasten then in my laptop bag or other bag I might be carrying at the time, just loop it through a zipper pull or other part of the bag and I can easily find the USB drive and I know it's secure as well. Also they're great for just hanging from the mirror in my car if I'm just taking the flash drive with me.
Conclusion:
The OCZ Throttle eSATA drive is the fastest I've ever tested while using it's eSATA interface, it easily bests every other USB flash drive out there today. Using the USB connection, it's not quite the fastest of the bunch but it's very close and performs very well.
Yes the Throttle is a great drive, but until powered eSATA ports are standard you'll need to carry the USB cable to provide power for the eSATA interface, this can be a hassle when compared to a regular USB drive with no need for an additional cable.
Pros:
Super fast eSATA transfers
Decent transfer speeds via USB
Seems fairly well made
Cool looking design
Cons:
Need cable for USB interface
Powered eSATA ports are rare
No attachment for lanyard or cap
| | |
| --- | --- |
| Grades: |   |
| Overall | |
| Design | |
| Performance | |