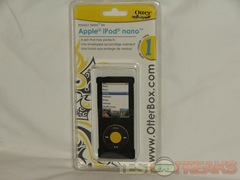 Our lives are filled with many gadgets, phone, mp3 players and laptops are common items you'll see many people carrying around these days. One thing you'll notice is that the majority of people opt for a way to protect them be it a bag, a case, a sleeve or whatever. The reason for this of course is to not only protect their investment, but to keep their items looking good. We all like things that look nice, who doesn't really, no one wants to use a beat up, scratched up product, we like things to stay looking new as long as possible. As many people know though not all products are created equal, especially when it comes to protection type ones like cases etc. It seems most of us are willing to pay a bit more for a quality product that will protect our device and give us a bit of peace of mind. Cost though is not always the best judge of a product's effectiveness in how well it will protect something, name brand and product reputation are two of the factors that I use when deciding on most things, but not always. Otterbox is a company with an excellent reputation when it comes to protecting our electronic devices, they're well know for top quality products that will protect our devices from most anything.
Up on the review block today I've got the first of three reviews of Otterbox cases for the iPod nano 4th Generation, it's the Impact Case. I'm starting with the least expensive case in this series and working my way up to full protection for your iPod. The Impact Case is the familiar silicone skin style case, but it's designed with shock protection in mind with reinforced corners designed to dissipate shock away from your device should you happen to accidentally drop your iPod nano. It's a nice inexpensive, basic case that offers quite a bit more protection than other silicone cases on the market today.
The Otterbox Impact Case comes in the familiar plastic clamshell style package, but this on is the easy open style, it's not sealed so no tools are needed to get at the product.
The Impact is available in black or white color, and as you can see I got the black color for review. One you open the package the only thing you find is the case itself, nothing else included.
The case is fairly thick and will add a little bulk to your iPod, but without that bulk it wouldn't offer much protection would it? So it's a trade off really. The Impact case has a little hole in the back of it that allows the Apple logo to show through, personally I don't care about this little 'feature' but those of you that are materialistic might. There is a nice texture on the outside of most of the case, this allows for a non-slip grip on your iPod. On the back of the case is the Otterbox logo as well.
Specifications:
Introducing: The OtterBox for iPod nano 4th generation Impact Series! This thin, skin-like design offers your 4th generation iPod nano protection against bump and shock. Your Click Wheel and all buttons are accessible through the case, and the inner corners are designed to dissipate impact AWAY from your device. Also, the OtterBox for iPod nano 4th generation Impact Series case has an ergonomic design that your hands will love to be wrapped around!
Compatibility/Features: Fits the iPod Nano 4th Generation only (both 8GB and 16GB).
* Provides open access to headphone jack, sync/charge port and Click Wheel
* Provides added protection against bump and shock
* Inner corners designed to dissipate impact away from your device
Dimensions (case only): 3.77" x 1.72" x .43"
Weight (case only): .03 lbs.
Color: White or Black
Price: $19.95

Installation is very easy, you just slide your iPod in and it's done, takes maybe a minute to complete.
The Otterbox Impact Case allows for easy access to the lock button on top and the bottom is open for full access there.
The Impact Case offers good shock protection for your iPod, but does not offer any protection for the screen or click wheel. This isn't a big deal though as the screen is scratch resistant, and I've never really heard of people damaging the click wheel. Personally though I prefer a screen protector though, and use one for most any device I have that has a screen. It's a personal preference thing.
Coming in at $19.95 I think the Otterbox Impact Case offers a nice level of basic protection for a relatively low price.
Conclusion:
The Otterbox Impact Case for iPod nano 4th Gen is a nice, inexpensive way to protect your player from shocks and bumps.
It's a basic case that offers much better protection that other silicone style cases out there today. 
Pros:
Well made
Textured for non-slip grip
Good protection
Inexpensive
Cons:
Silicone attracts dust and lint
No screen protection
| | |
| --- | --- |
| Grades: |   |
| Overall | |
| Design | |
| Performance | |