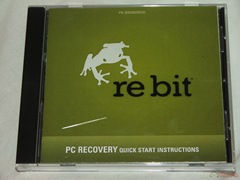 Ever have a hard drive die on you and you lose all of your data? If you haven't then good for you, but I'm sure many of you out there have had catastrophe strike at least once, if not more than once. I've had it happen three time to me so far over the years, the first time was the worst, I lost all of my data that wasn't backed up, about a months worth of work. The next time it happened I was of course doing backups, but not as frequently as I should, I still lost of bit but was able to recover everything using software to recover about 99% of the files. This last time was actually about two weeks ago, but it wasn't bad, just a corrupt master boot table which left the drive unfixable and unbootable, but still accessible, so once I installed my OS on another drive I just pulled my stuff from it. Still though it's a real pain as I'm actually still in process of reinstalling everything, a little over 400 gigs of games and programs, not fun at all.
Today I've got a little piece of software for review that could pretty much save your life, or at least save you a ton of hassles with your PC, it's called rebit, and it's a backup software that runs automatically and in the background all of the time backing up your system. So it's backup software, but it's more than that, it's also for complete system restore if your hard drive truly dies. One thing nice about rebit is that after you install it you never have to bother with it, it works automatically, behind the scenes backing up your system, the only thing you have to do is make sure the external hard drive is plugged in really.
Sp read on to check it out, it's a short, but sweet review…
There's not much to look at for the packaging,. standard jewel case with disc and insert, there are two inserts actually, one for installation and one for recovery, and your product key is there as well.
Specifications:

Simple and Complete
Rebit is a simple and complete USB hard drive backup device that sits on your desk, right next to your computer. Just plug it in. That's it. There's no installation, no setup, no configuration. You do nothing. Backups are automatic and continuous.
Rebit transparently provides file-level continuous data protection (CDP). Whenever you change a file or create a new one, Rebit backs it up. With a friendly frog in your tool tray, Rebit protects your whole computer, not just your data.
Automatic Backups
A Rebit external backup device saves everything automatically, including all your data (files, photos, music, movies, e-mail), Windows operating system, software applications, drivers, passwords, bookmarks, preferences — everything you need for fast, full system recovery.
There's nothing to remember, nothing to learn, and nothing to check on every day.
No set-upwizards, no application configurations, and no backup management, justplug it in, Rebit takes over from there. Forever. It's integrated with Windows, so finding backup files is as simple as using Windows Explorer and recovering them is as easy as drag-and-drop. Rebit is always on, never fills up and provides easy access to your backup files.
Rapid Recovery
If an unwelcomed event occurs, a file, folder, or your entire computer can be recovered quickly because you don't need to figure out backup dates, or find your software CDs or license keys. You also don't need to reconstruct every other part of your computer if a disk crashes (passwords, drivers, bookmarks, settings –.this list never ends).
If PC backup were simple, you'd be doing it, right? With Rebit, backup is not only ridiculously simple, it's automatic, and you get complete protection.
Rebit Software CD
The Rebit Software CD is "ridiculously simple backup" for your Windows XP or Windows Vista computer. Backs up 1 computer onto your existing external USB hard drive. Connect the hard drive, insert the CD, and follow the on-screen prompts to prepare the hard drive, install the software, and begin the backup process. While the hard drive remains connected, the computer is continually backed up.
Rebit Software CD Specifications
* CD-ROM disk drive
* 300 MB available hard disk space
* An available USB 2.0 port
* A customer-supplied external USB 2.0 hard disk drive of equal or greater capacity than the internal system hard disk drives
* Compatible with 32-bit or 64-bit Windows XP and XP Pro (Service Pack 2 or Service Pack 3), and 32-bit or 64-bit Windows Vista (Home Basic, Home Premium, Business, and Ultimate)

What I got for review is the software only, it retails for $49.95, but rebit has bundles available with a hard drive, my version is you basically supply your own hard drive, and those prices vary depending on the capacity.
I originally intended to review this software on my main PC and use it as my backup solution, but I found out that it is not compatible with Vista X64…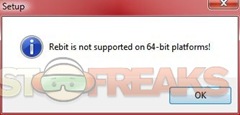 BUT it now is, they've recently updated the software so it truly works on all versions now, good for you, too bad for me.
So I installed it on my laptop running Windows XP Pro 32bit, pop the disc in and you're greeted with the Welcome screen.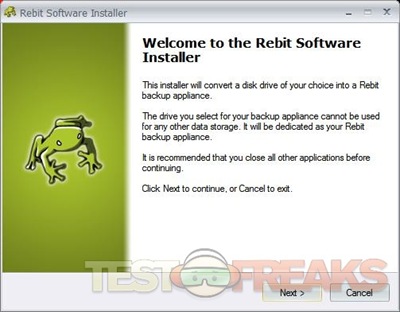 My laptop only has a 30 gig hard drive in it, rebit recommends you use an external hard equal to or greater than your hard drive, the only one I had on hand was a 160GB, so I think that's fine. When you click next on the Welcome screen you'll need to pick which drive will be the rebit drive, there's only one in the following screenshot, but if you've got several drives more will show up there.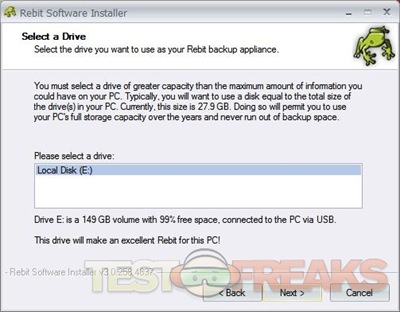 When you click next rebit will check to make sure the drive is empty, if it isn't you can copy the files over to save them.
Once the copying is done, the installation will finish, and then you'll see a final screen asking you if you want to use the rebit drive with this computer, silly rabbit of course we do.
If you click My Computer you'll see the rebit drive listed there with it's little frog icon.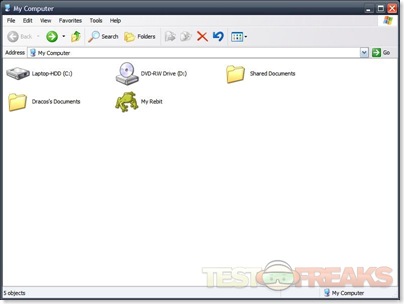 rebit puts an icon in your taskbar that can be right clicked to pull up the menu, here you can get status, activate the software, disconnect the drive and open it. I couldn't get them in screen capture but there are transparent windows that will appear as rebit is working.

Clicking on Help opens up a nice manual for you, pretty much covers everything.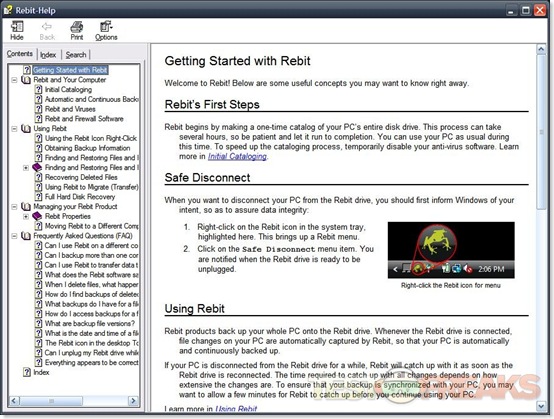 There is one other thing I need to mention here, when you first start rebit it runs a complete backup of your system that can take a very long time to complete, not a big deal I guess, but just thought I needed mentioning.
rebit is very much different that most other backup software out there in that it does all the work for you really, other software requires user interaction to initiate the backup, rebit does it for you, all of the time, so your system is backed up to the most current configuration and files you have on there.
The only small gripe I could have is that it only backs up your main drive, and no others in your system, I'm sure this is fine for the average user though, but for those of us that have a few HDDs in our computers, it might not be enough of a backup solution. rebit is well suited and more aimed at those who aren't very tech savvy,  but it can be of use to the enthusiast as well.
Since the rebit acts also like a restore disc it's very nice, but if your operating system gets all messed up, then it's kind of pointless to restore it back to that isn't it? I mean what's the point of restoring a bad operating system to only be greeted with the same problems again?
Ok, so I've got another gripe about this software, you can't actually access what's on the disc without rebit. I mean when I open the rebit drive to explore it, there's nothing there but the rebit autostart program. What I mean is, what if I wanted to transfer some of the work to another computer, I can't use rebit as a portable storage device, it only works with rebit, so yes it's nice and no it isn't.
I manually back up everything on a weekly basis to external hard drives, and if need be I can take one of those hard drives and access it to do whatever, with rebit I can't do that. With my backups, what I primarily do is have two drives, a backup of my backup if you will, but I do that for a reason. Since my main drive in only 500 gigs it can only hold so much and I transfer my old files and new ones over for the backup, but then delete the files from my main drive I no longer need, like finished review pictures and movies for example, but they're still on both of the other drives, if I need too I can just go back and grab them from one of the external drives, my question would be does rebit delete the deleted files as well? The answer would be yes, your backup on rebit is a backup of your current hard drive, or the state of it, personally I wouldn't just use rebit as my backup device, but it can be useful of course.
Conclusion:
rebit is a great little piece of software that can be invaluable especially for those out there that aren't exactly technically inclined, even then though it can also be useful for most other people as well since it works as a complete backup and system restore.
The problems I mentioned are my own gripes, some might agree with me and some might not, as is though, rebit is not a bad product, it just lacks a few things that I'd prefer to see and be able to do.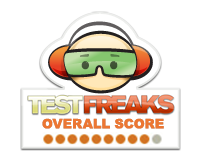 Pros:
Inexpensive for what it can provide
Easy to install
Provides full restore as well
Works automatically
Cons:
Not exactly a complete and comprehensive solution
| | |
| --- | --- |
| Grades: |   |
| Overall | |
| Design | |
| Performance | |