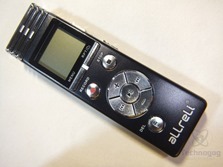 Today for review I've got something I haven't reviewed for a long time, it's a voice recorder from our friends over at aLLreLi and it's really nice, I was surprised by it honestly and it comes with lots of accessories. The capacity is 8gb which can record up to 72 hours straight and it has a built-in battery that you can recharge over USB. Read on to learn more..

Specifications and Features
Once you get everything unpacked you'll find a lot of stuff included with the recorder, I wasn't expecting all of this to be in there really. You'll find the recorder, user manual, external microphone, earbuds, short phone cable, USB cable and a pass-through box so you can record phone calls and a double ended 3.5mm audio cable for use with the box or an external speaker.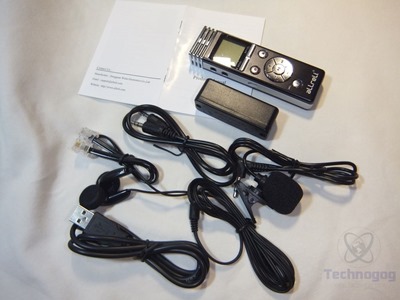 The recorder itself is black and silver/gray in color and it's about 4 inches long and 1.25 inches wide and about .5 inches thick and it's very lightweight but it seems well made overall. The front of the recorder has a small LCD display along with rectangular buttons for menu and rpt/folder under it and then round buttons for stop and record and then a circular navigation menu for volume up and down, forward and back and then play/pause in the center and below that is the delete button. The recorder also has a FM radio mode but the button isn't labeled, it's the rpt/folder button and you have to hold it in but you'll need headphone plugged in to act like an antenna for it.
On the top of the recorder is the microphone and it goes all the way around the recorder so you get full 360 degree recording coverage.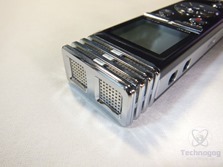 The recorder does have a single built-in speaker on the bottom or back so you can listen to your files but not the FM radio.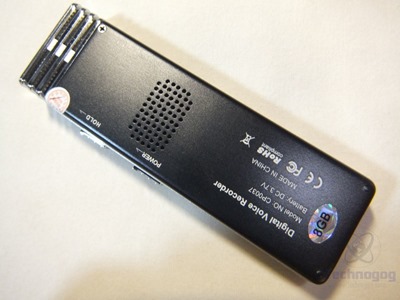 On the left side you'll find the audio ports for headphones and line-in and the micro USB port for charging and transferring to and from your computer. The right side has two slider switched for power and hold.
The display is very unattractive honestly, it's not even colored, it's like a blue background with black lettering and it's pixellated, it looks like retro now really. The display is very basic but it displays basic information like battery level, recording time, file type, file name, file number, and record quality and record mode.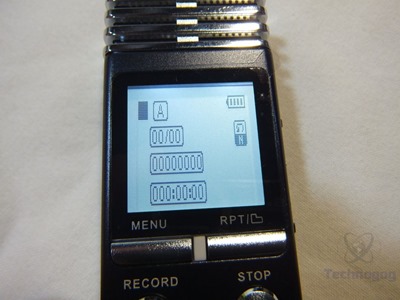 If you press the menu button you'll be taken to the Record menu with choices for Local Folder, Delete File, Delete All and Exit.
You can access the system menu by holding in the menu button for more than three seconds and you'll see choice here for System Time, Record Subsection, Password Switch, Password Set, Record Type, AVR Select, Monitor Switch, Auto Record, Record From, Noise Set, Backlight, Language, Power Off, Contrast, Memory Info, Firmware Version, Restore Factory Settings and then Exit.
Using the recorder for basic recording is simple, press record to begin and then press stop to stop, easy to use surely. Yes you can go into the settings and change the more advanced things like auto recording etc, but it's fine for basic recording.
I love the phone adapter that comes with it, now I can record all those telemarketers who won't stop calling me even though I've been on the Do Not Call list for years and I can record important calls as well.
The 8gb built-in memory should be fine for most people as you should get up to 72 hours of recording, but it would be nice if there was a way to expand it, the addition of a microSD slot would be welcome.
Conclusion
The Allreli CP0037 voice recorder isn't bad at all for the price especially if you consider all the extras you get with it.
The record quality is very good but I don't care the fact that you can't change the format, you can only record to WAV files and nothing else.
The recorder is nice looking and well made overall, it's small and very portable but the display isn't the greatest, it's very ugly really. Sure the display gets the job done but it would be nice if it looked a little better.
All in all I like the Allreli voice recorder, it's not bad for the price surely.
Pros:
+Simple to use
+Lots of extra included
+Decent sound quality overall
+Rechargeable
+Seems well made
+Looks nice
+Small and portable
Cons:
-Very basic interface
-Can't expand memory
-Interface not great graphically, rather ugly honestly
| | |
| --- | --- |
| Grading | Scores Out of 10 |
| Overall | |
| Design / Aesthetic | |
| Value / Price | |
| Performance / Usage | |
Disclosure: This product was given to us for review by the company for review purposes only, and is not considered by us as payment for the review.
To learn more about our review policy please visit this page HERE.