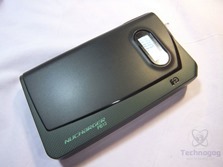 Up for review today I've got another portable charger or USB battery pack from a company called NuVending, the product is called the NuCharger and it's different than other batteries I've reviewed before as this one has a built-in Bluetooth headset, it's a combo product that I find rather useful. The battery is 13000mAh in capacity and has two 3amp USB ports for fast charging and the Bluetooth headset even comes with an extra earbud to connect to it so you can have stereo sound on the go. Read on to learn more…

Specifications and Features
The battery pack is about 5.25 inches by 3 inches in dimensions and it's about 1 inch in thickness but it's rather heavy as it has a 1300mAh battery inside of it. The battery is black and green in color and it has a small LCD on the front that lights up to indicate the battery capacity and it shows it in percentage. I like the fact it shows the capacity in percentage as it's much more accurate than just dots like most batteries have, this way you really know how much capacity is left. To the right of the display is a touch sensor button that you can use to check the battery status or capacity level. On the top edge of the charger you'll find the two standard USB orts for charging, they can provide up to 3amps of power so things will charge fast. There's also a micro USB port on the top side that is used to charge the battery itself. The battery seems well made, I would happily just toss it into a bag and go and not worry too much about it getting damaged.
The Bluetooth headset fits into the side of the battery and clicks into place and fits in very securely so you won't have to worry about it falling out. Inside of the slot are contacts that mate with the headset and when you plug it in it will start charging automatically from the battery.
The headset has three buttons on it with a phone and arrows on them. The buttons can be used for calls and for multimedia controls and of course for pairing the headset over Bluetooth. On the top edge of the headset you'll find a micro USB port which is used for the included earbud. The only thing missing is any extra sized earbuds for the headset and earbud for proper fit for both.
The headset can be used just like a regular single Bluetooth headset but when you plug in the single earbud in the micro USB port you'll be able to listen to your music in stereo. It seems like a great idea but sadly the sound quality is not good, there is no bass that I can hear and it gets very distorted with any heavy bass in the music.
The battery works very well, it charges very fast from my testing with my Samsung Galaxy S6 phone. I normally just plug my phone in while I'm at my desk and just let it charge so it's not a big deal as to how long it takes. The phone charged amazingly fast, I was shocked really. I also used it with my Windows 10 tablet and again charging was very fast. I tested the connection with my Power Practical USB tester and it read it was charging at 2amps, but the meter only reads up to 2amps so I'm guessing it was working at the stated 3amps as it charged very fast.
Conclusion
The NuCharger PB13 is an interesting product, I've never seen nothing like it before, it can certainly come in handy surely.
The battery itself works great, very fast charging and it has two USB ports so you can charge more than one device at once. The capacity is 1300mAh so it should provide more than enough power for multiple chargers while on the go.
I initially like the fact of the Bluetooth headset built-in, I was kind of excited actually, but then I used it and I wasn't so happy then. As a single Bluetooth headset it's fine, you can take and make calls like any other and it paired with no issues. I liked the idea of being able to add the additional earbud for stereo sound but the sound quality just isn't good at all, it's a great idea that needs work or improvement for sure. That's not to say the whole product is bad though, overall it's a great product that I will continue to use, both the headset and battery, I just won't be using it for listening to music.
Another small issue is that there are no extra sizes of rubber earbuds for the headset or the single earbud, so if it doesn't fit your ear you're kind of stuck with it that way. Thankfully it fit me fine though, so no issue problem for me but I'm sure there will be for other people.
All in all I do like the NuCharger PB13, it's a handy product for sure to have around, I'd take this with my on the go.

Pros:
+Fast charger for devices
+Nice combo product
+Well made overall
+Comes with extra earbud for stereo sound
+LCD display for accurate capacity reading
+Dual USB ports for charging more than one device at a time
Cons:
-No extra size earpieces for headset or adapter
-No bass in headphones
-Not great for music, music can get distorted with heavy bass
| | |
| --- | --- |
| Grading | Scores Out of 10 |
| Overall | |
| Design / Aesthetic | |
| Value / Price | |
| Performance / Usage | |
Disclosure: This product was given to us for review by the company for review purposes only, and is not considered by us as payment for the review.
To learn more about our review policy please visit this page HERE.