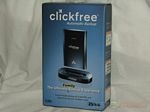 Backups are important and not long ago I looked at a product from Clickfree called the Traveler that worked well, today for review I've got another one from Clickfree but this one is very unique in that it works on your network but not how you might think. The Clickfree C2N Automatic Home Backup works with all of the computers on your network, but it works via USB and even wirelessly. Once you install the program called BackupLink on your computers, you can then backup any computer to the C2N from anywhere on your network, and the actual drive doesn't have to be connected to the computer your backing up, it can be connected to any on your network. The program automatically find the C2N wherever it is on your network and starts the backup process via your network. It's extremely simple to use, no actual networking is involved, it's all automatic.

We'll start with the video unboxing:
With something like this you might think there would be ,more to it, but you'll only find a brief instruction manual, the hard drive itself and a a dock.
The drive itself looks nice but I'm not too thrilled about the glossy black finish, just handling it a couple times it gets covered with fingerprints and looks funky.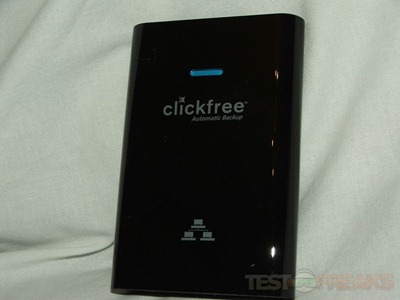 There's a USB cable built-in so you don't have to use the dock which is a very nice feature. Just a regular USB hard drive enclosure like this would be nice..
On the bottom you'll find a mini-USB port that works with the dock.
Here it is in the dock: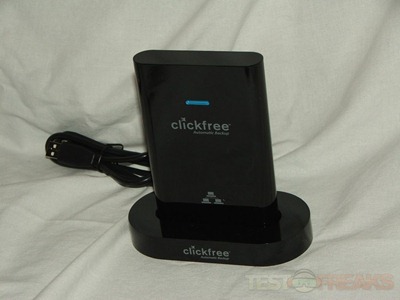 Specifications:
The Clickfree C2N is a complete multi-computer Home Backup solution that works with your wireless router. The C2N has all of the functionality of the Clickfree C2 backup drive, and also includes Clickfree's new BackupLink.
BackupLink helps customers to backup all of their computers automatically without connecting to each computer.  The C2N can backup both Windows and Mac computers at the same time.
The setup is Clickfree easy – simply plug it in once to each computer and that computer will be remembered and backup regularly – no network expertise is required. The C2N comes in storage capacities of 250 to 500GB.
KEY FEATURES :
-Award winning Clickfree backup
-Share photos on Facebook,Flickr, Myspace
-Clickfree BackupLink
-Built-in USB Cable
-Home Backup
-Import iPod Music and Playlists
-256 bit hardware based encryption
-Backup and Extract Email Attachments
-Scheduled Backup
-Transfer files to new computers and operating systems
-Make extra backup CD's and DVD's using the computer's burner.
-Backup multiple computers, Windows and Mac together
Price: 250GB Capacity: $139.99 USD

The first thing I did was attach it to my main computer, and run the program.
On the main screen you'll find an option button along with Start if you don't want to wait for the countdown.
Under the Options tab you'll find Manage Settings and PCs, Import Music, Tools, BackupLink, DVD backup and Support.
The Manage Settings and PCs, and Import Music tabs are self-explanatory:
Under tools you'll find the ability to create a password so you're backups will be secure, software updates, language and reset.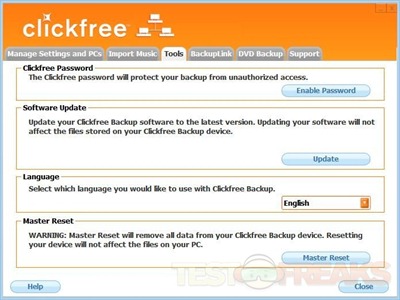 The Install BackupLink tab is there but when you first run the program it will be installed automatically.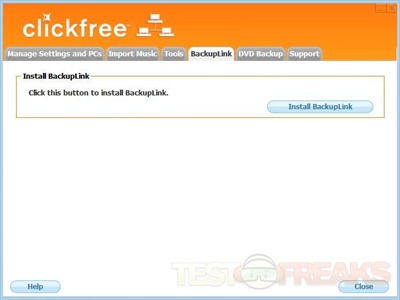 The DVD backup tab is self-explanatory as well, but I think it's a great feature to have included. When you click the button another program will open that looks very similar to the main one, but with options for saving to DVD. It's simple and easy to make another backup. The last tab is Support, not much to say there..
So back to the Backup process, once the countdown finishes the program will search you computer for files, this can take quite a while depending on how much storage you have. I have a 2TB HDD, a 500gb HDD and a 128gb SSD so it took a while.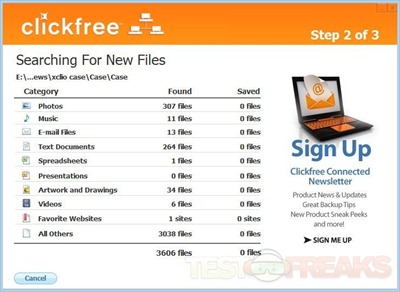 The Clickfree C2N I got for review is only 250gb, so it's not enough space and I'll need to figure out what isn't that important to backup.
From that page you can browse around and see what's being backed up and configure your backups.
Then once you figure that out the backup can begin.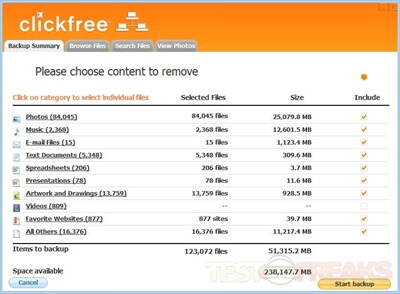 The first backup you do will take a long time, but subsequent backups should be shorter as it will only search and backup new things or things that changed.
So next I attached it to my Acer Aspire One D250 Netbook:
You'll go through the same process on all of the computers on your network.
While I had the Clickfree C2N attached to the Aspire One, I ran the BackupLink program on my main computer, it found the C2N wirelessly and started the backup process. i didn't have to do anything it was all automatic and easy.
So that's about it, you can install the BackupLink on all of your computers and you're ready to go. The program and hard drive work together over your network wirelessly or you could do wired I guess, but the point is that you can be anywhere on your network and run the backup program to protect your data.
The only issue I've got with this product is that you'll need to leave the Clickfree C2N plugged in and running, and you'll need to leave that computer on all of the time as well to make sure the link is working so you can run the backup program. Other than that it's simple and easy to use.
Conclusion:
When I first got this for review I was very curious as to how this thing was going to work, and I ended up being pleasantly surprised by just how truly easy it is.
The Clickfree C2N backup system is so simple that anyone can use it to protect their files from disaster, just install a small program and it automatically finds the hard drive anywhere on your network to perform the backup operation.
The great thing about this product is that it does not have to be connected to your computer to do the backup, but that's also a bad thing as well since the computer it is hooked up to must be turned on.
The inclusion of the DVD backup program is nice, so you can essentially double backup your more important things right from the program.
I truly like the C2N, it's a  a great little product that surprised me quite a bit in it's ease of use and performance.
Pros:
+Very easy to use
+Automatic networking
+Nicely made product overall
Cons:
-Can take a long time to complete backup process
-Size limited to 500gb as of now
-Must leave plugged in and computer on for others to access it
| | |
| --- | --- |
| Grades: | |
| Overall | |
| Design | |
| Performance | |
To learn more about our review policy please visit this page HERE.