Until recently I never really thought about USB ports. I mean I use them all of the time, mostly for charging my phone and other devices and USB flash drives, so they're just there ready for me to use them as I need to. I've never wondered or I guess really cared as to how well they actually perform their duty like charging my phone. Recently a company called Power Practical has a Kickstarter campaign for a little gadget called the Practical Meter which was fully funded and more and now it's available for purchase. The Practical Meter is a small flash drive like device that allows you to test any USB port and it tells you how much power that port will provide for charging. You might think that most all USB ports are the same but you'd be wrong as I found out through my testing with the Meter. So today for review I have the Power Practical Meter and a three in one USB fast charging cable that comes with it. So read on…
Unboxing
The packaging is very nice, on the front you'll see two windows showing the Practical Meter and part of the USB cable. On the back you'll find a lot of information about the product inside.
When you open the box you'll find a plastic tray that hold the Practical Meter and a three-in-one USB fast charging cable. Under the tray is the user manual, which is just a few pages.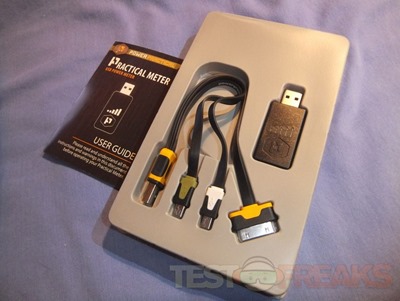 The cable is kind of short, about nine inches or about 23cm. The cable is the flat style and it seems rugged and durable. I should also note that this is a charging cable only, it doesn't transmit data so you can't sync with it or transfer things like pictures etc. The cable is called the 3 in 1 Fast Charging Cable and it can be purchased separately for $14.95. By the name you can tell it's meant to charge your phone or other devices faster than the average USB cable can.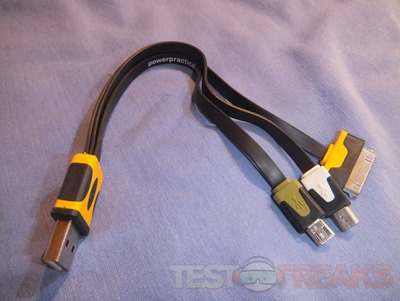 The cable has connection for microUSB, miniUSB and Apple.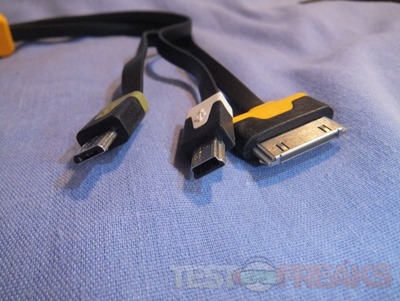 The Practical Meter is a small plastic black colored block, it very much resembles a flash drive. On the front you'll find the logo and five bars which are LEDs.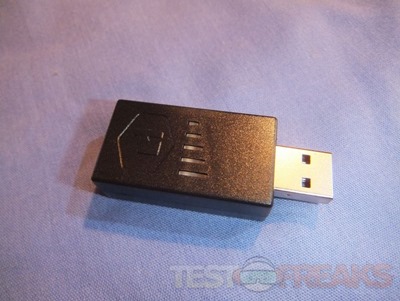 The bottom just has info about the patent on the Practical Meter.
The back is where you'll find the female USB connection.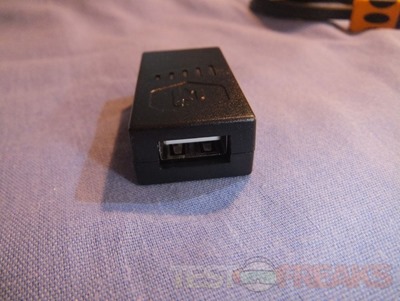 To give you an idea of size, here's the Practical Meter with a quarter. It's about the size of a flash drive, but it's thick.