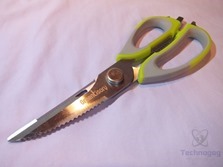 So we're back in the kitchen for another product review of something I've always wanted but just never bought, that would be kitchen scissors. These are from a company called Pridebit and they're kitchen scissors but they're much more than just scissors, they have over functions like a bottle opener, fish scaling edge, peeler and even a screwdriver among other things. These are very well made and they're extremely sharp and work very well and they even include a nice magnetic plastic storage case. Read on to learn more…
Specifications and Features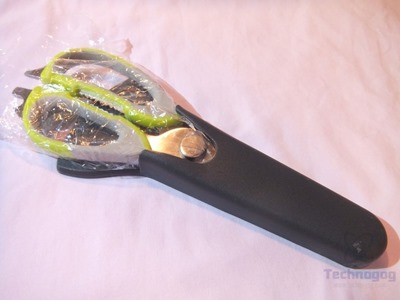 The carrying case is nice but it doesn't actually hold the scissors in it, they just rest inside of it.
The case is hard plastic and on the back is a large magnet so you can stick it to like your refrigerator to keep them ready to use.
When you first look at them they don't really look like scissors at all, at least not the scissors you might use for cutting paper. These are about the same size but have nice rubberized handles and a serrated edge along with some other features. They are about 9.4 x 0.8 x 3.5 inches and they weigh about 5.1 ounces.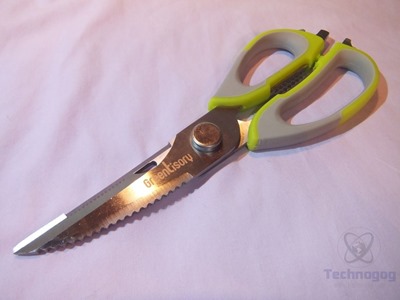 These scissors are made to be used for more than cutting things. On the back you'll find a basic screwdriver and a bottle opener.
In between the handles you'll find what look like teeth and these can be used for cracking nuts open or even to help opening bottles or jars.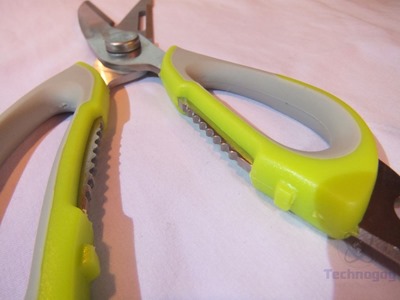 The scissors come apart very easily, you just open them all the way and lift them apart. They're meant to do this to help make cleaning them easier, but they also have other features when they come apart.
One side of the blades has a groove in it which can be used as a vegetable peeler and it can be used as a knife to cut things as there are actually two blades there.
The other blade is serrated on the outside edge for scaling fish and you can use the inside edge for cutting as well.
When not in use I stuck the holder to my refrigerator as it's magnetic and the fridge is in the kitchen too so the scissors will be handy and ready to use.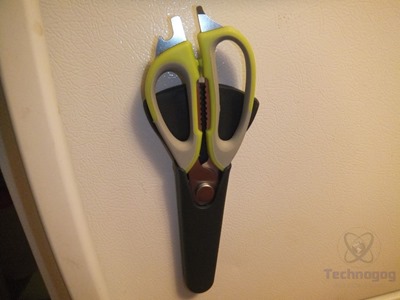 I also have a video demo of me using the Pridebit Kitchen Scissors to show you how they work.
| | |
| --- | --- |
| Grading | Scores Out of 10 |
| Overall | |
| Design / Aesthetic | |
| Value / Price | |
| Performance / Usage | |
Disclosure: This product was given to us for review by the company for review purposes only, and is not considered by us as payment for the review.
To learn more about our review policy please visit this page HERE.