Usage and Testing
Installation is easy, just plug it in and you can start using it, but if you really want to get the most out of it then you'll want to install the included software.
The software has three main choices for Basic Settings, Button Assignment and Color Settings. There are also choices for Macro Editor, Firmware Update and then a link to the Func website. You can also choose between three profiles so you can have three mouse settings for how you game or what you need. There are also choices for backup and Restore just in case something happens to your settings.
On the Basic Settings page you can change the DPI settings for all three steps along with pointer sensitivity, double click speed, lift distance, scroll speed, angle snapping, pointer acceleration and polling rate. The X and Y axis settings can also be adjusted independently of each other if you wish.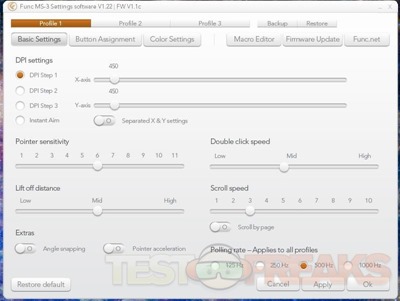 The Button Assignment page let's you change all ten buttons and even change the scroll wheel.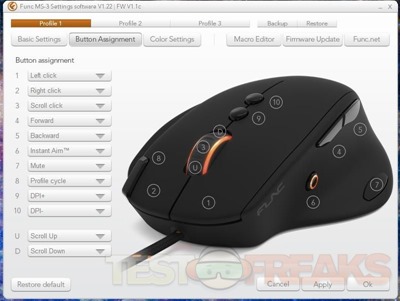 To program the buttons you have many choices, for the basic defaults to much more.
You can pick from Default commands, Windows commands, Media functions, Recorded Macros, Single key and you can even disable it.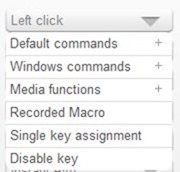 The default command list is basically just everything that the mouse can do.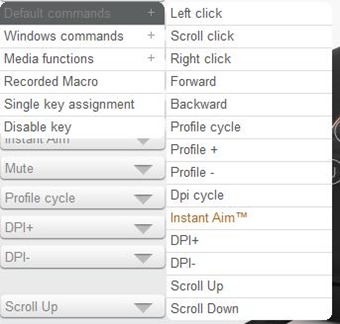 Media functions are just what they sound like, you can program one of the buttons for media controls.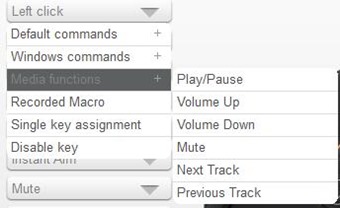 The last page is Color Settings and here you can change the scroll wheel and the Instant Aim buttons colors independently of each other. You can also disable the LEDs or make them be solid or pulse slowly.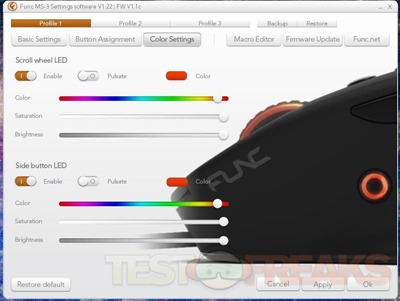 Here's just some examples of the colors:
There are three tiny LEDs in the left seam of the MS-3 that light up to indicate the DPI level you're on, these light orange and stay lit.
The LEDs can also light up white to indicate the profile number you're on, but these only stay lit temporarily, just long enough for you to see which profile number you're on.
Macros are just what they sound like and you can record up to 255 actions in one macro. You just open up the macros editor and create them then assign them using the button assignment page.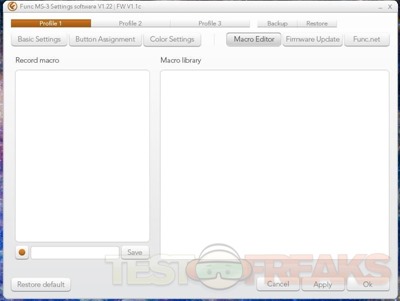 Mouse Build / Feel / Comfort:
I'm not the type of person that palms a mouse, but you almost have to be to use the MS-3 Rev2 as it's large and where the buttons are set you have to have you hand over the mouse to access them easily.
As for comfort, it's not bad once you get accustomed to the large size of it and the hand placement. Sadly it's only for right handed gamers, which is fine for me as I'm right handed.
Tracking / Surfaces:
I tried the mouse on cloth, plastic, and glass mousepads and even just my desk surface and the MS-3 Rev2 tracked perfectly fine but I found it moved the best on the plastic smooth surface pad.
The MS-3 Rev2 tracks excellently going fast or very slow, I had no issues  with tracking at all on any surface I tried.
Buttons:
All of the buttons worked fine, but I found the left and right mouse buttons to be very sensitive and took a bit to get accustomed to. Many times when I first got it for review I would just have my hand resting on the mouse and I would press the button without actually doing it.
The Instant Aim button is interesting, at first I thought it was more of a gimmick but then I found myself using it in game instead of switching the DPI lower so it's a rather handy button to have.
Button #7 or the button beneath the side buttons is not what I would call useful, at least not for me. At default it's set to mute the sound on your computer and one day I couldn't figure out why there was no sound. I accidentally hit the button is what happened of course. This is the first mouse I've come across with a button in that location, it's the only one I know of really. Maybe the button could become useful after using the mouse more, but right now I just have it disabled so I don't accidentally hit it again.
The buttons are very audible, left and right clicks I mean and some might not care for that. Personally it doesn't mater to me either way as I have a clicky mechanical keyboard which is loud as well.