Today I have a quick review for you a USB hub, it has four ports but what makes it special is the design, it looks like a power strip. Yes it's basic but it's something that everyone might have a need for, so read on…
Unboxing
The packaging is very basic, no brand names or anything like that. It's just plastic and cardboard with a little bit of details on the back.
The hub is four ports with three on the top and one on the front edge and it's made to resemble a power strip complete with on/off switch that works.  There's also a small LED by the power switch to let you know it's on.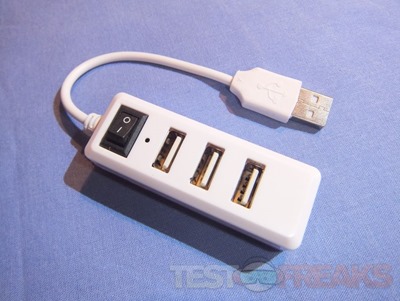 Here's the front port for you, just a USB port..
On the side you'll find a power jack, but a power adapter isn't included.
The bottom is just plain and it has a short USB cord. The hub is made of plastic as you'd expect, not much special about it at all.
Specifications and Features
USB Ports : 4
Features : Compact
Dimensions : 7×2.5x2cm
Shipping Weight(Kg) : 0.05
Price: $5.69
HandGiftBox provided the USB hub for review.
Usage and Testing
When you plug it in, just flip the switch to turn it on and then the LED will light up blue letting you know it's powered on and ready to go.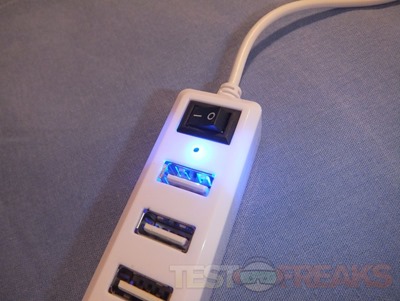 Yes you can plug in more than one USB device and it will still work.
I did some testing with the Kingston DataTraveler 150 64gb USB drive to see if there was any difference between using the hub or not. I use Atto Disk Benchmark. The results were virtually the same with the hub or direct USB connection.
I was curious so I plugged in four USB drives and they all worked, I didn't need any extra power which is nice I think.
Conclusion
So that's it, yes I said it was a short review and it is.
It's a USB hub, it's basic but it works.
I like the design of it, you can plug in four USB devices and it can fit large style ones as well.
The price is less than $6 and for that I think it's worth it.
Sadly it doesn't come with any power adapter and I don't know where you would get one if you needed it.
Pros:
+Inexpensive
+Simple to use
+Unique power strip design
+Power button to turn on and off access
Cons:
-Doesn't come with power adapter
| | |
| --- | --- |
| Grades: | |
| Overall | |
| Design / Aesthetic | |
| Value / Price | |
| Performance / Usage | |
To learn more about our review policy please visit this page HERE.