Today for review I've got another media player, this time it's the Showcase from Hornettek that can use either a 2.5" or 3.5" hard drive for the storage of your stuff. The Showcase can support many different types of media formats, and it has outputs for HDMI, composite and component so you've got choices in how you want to hook it up. This media player works well, but it's rather basic, so let's just jump right into it.

Let's get this started with the video unboxing:
Once you get everything unpacked you'll find the media player, user manual on disc, quick start guide, power supply, power cable, A/V cables, remote control, batteries and screws.
The remote looks just like the one that was in the PBO Core media player that I reviewed recently, so I'm accustomed to using it.
The Showcase itself is a small little black box made of plastic and metal. it looks nice, and it should be at home in any media center I'm sure. On the front of the box is a USB port, power button, IR receiver and LED indicators.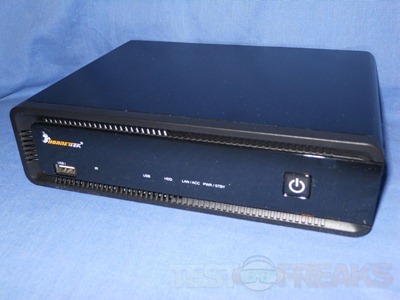 On the back you'll find a small cooling fan, composite, component and HDMI video outputs, there's also a spidf port as well. You'll also find the power switch, power port, ethernet connection and two more USB port, a regular one and a mini style.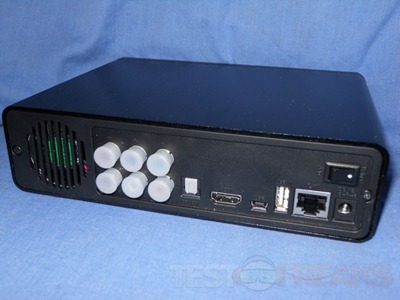 Specifications:
The browser is where you'll access all of your media from. It can be browsed by category of All, Music, Photo or Video. Photos and Videos offer previews which is nice.
The music player is basic, but it works. It does tell you about the music if the tags are there. The sound was decent over my home theater system, no complaints there.
Playing videos is I'm sure the main thing most will do on the Showcase media player and it does that well. The Showcase supports many types of files and up to 1080p in resolution. I loaded up a 1080P movies and watched a bit of it and found it looks great. I was connected via HDMI for the movie and it was flawless, no skips or jumps or anything like that. You can play video or other media from a USB drive, streaming over your network or use a hard drive inside of the Showcase.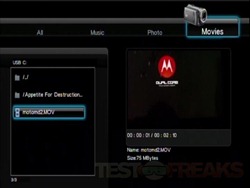 Under the Settings you'll find more of the same stuff you find on other media players. The Settings menu is broken up into sub-menus of Audio, Video, Network, System and Misc.
Conclusion:
The Hornettek Showcase is a fairly basic media player, but it can handle many types of video formats all the way up to 1080p resolution.
The Showcase is well made and easy to use. The remote works well, it does have good range on it.
The menu is very basic and at times it can be slow at browsing.
The Showcase isn't exactly what I would call a top of the line player, but it's not bad overall. I think it could use a redeign ont he interface surely to make it look more aesthetically pleasing and maybe more streamlined.
Pros:
+Easy to use
+Can use either 2.5" or 3.5" drives
Several output options
+Many supported file types
+Small and sleek looking
Cons:
-Basic interface
-Interface can be slow at times
| | |
| --- | --- |
| Grades: |   |
| Overall | |
| Design | |
| Performance | |
To learn more about our review policy please visit this page HERE.