I think everyone knows who Dr Seuss is right? A few generation of kids have grown up with him and his stories, and I'm sure many more generations will be enjoying them as well. One of his most famous characters is the Grinch, and considering it's close to Christmas it's a good time to read the story to your own children or yourself. Just in time for Christmas, Oceanhouse has just released the Android version of the classic How the Grinch Stole Christmas! It's sort of a cross between an e-book and an app with sound effects, professional narration and three ways to play or read it.
Specifications:
How The Grinch Stole Christmas!
by Dr. Seuss
The Dr. Seuss classic "How the Grinch Stole Christmas," one of the top selling children's books of all time, is now available for your iPad, iPhone and iPod Touch and Android Devices.
>The Grinch hates Who-ville's holiday celebrations, and plans to steal all the presents to prevent Christmas from coming. But the Grinch soon discovers the true meaning of the holiday, changing his heart forever.
New features only available in this omBook include professional narration, background audio and enlarged artwork for each scene.  To promote reading in young children, individual words are highlighted as the story is read and words zoom up when pictures are touched.  By combining the original text and artwork of Dr. Seuss with features that entertain and promote reading, this omBook appeals to readers of all ages.
Three ways to read this omBook:
* "Read to Me" — listen to the narrated story with words highlighted as they are read
* "Read it Myself" — read the book in its traditional form
* "Auto Play" — plays like a movie, automatically reading and turning pages. Great for younger children!
Additional Features:
* Picture / Word association — words zoom up and are spoken when pictures are touched
* Professional audio narration
* Custom background audio for each scene
* Pages pan & zoom to accentuate the beautiful, original art of Dr. Seuss
Price: $3.99

You can grab How the Grinch Stole Christmas! for $3.99 on the Android Marketplace. I installed it on my Samsung Galaxy S Captivate and the large screen is great for viewing, and it plays perfectly well. The only small issue is that it doesn't fill up the entire screen, there are thin black bars on the left and right sides.
When you first turn it on you're greeted with the smiling face of the Grinch and five menu choices. Three are for the story mode, 'Read to Me', 'Auto Play' and 'Read it Myself'. The Other two choices are for information and more Dr Seuss stuff.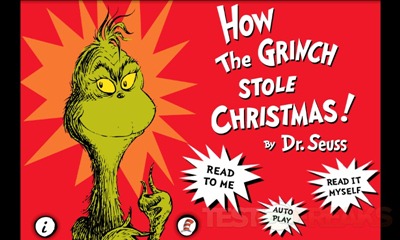 The information option tells you how to use it and gives options for turning Sound Effects on or off and News on or off along with links to the Oceanhouse and the Copyright info.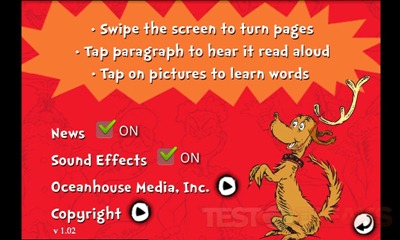 The Dr Seuss link takes you to more selections from Oceanhouse. At the present time there's only one, but there's more coming.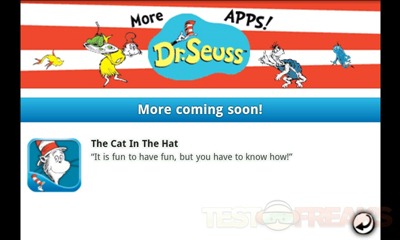 Auto Play will read the story to you and turn the pages automatically, you don't have to do anything but watch. This is great for kids or if you just want someone to read to you. The Read to Me mode will read it to you but it's interactive in that you can turn the pages, and you can touch things on the screen and have them named to you. Read it Myself is just that, you read it.  As the story is being read to you the words are highlighted so you can follow along. There are several things on each page that you can touch and have them named both visually and spoken.
Some of the pages zoom and have a pan mode as well. For example when the page opens it's zoomed on the Grinch and then it will zoom and pan to show you the whole scene.
Depending what's going on there are sound effects as well. When the Grinch is making his Santy Claus costume you'll hear him snipping cloth, or at the party you'll hear them laughing and giggling.
The narrator does a very good job at reading the story, his voice fits with the story and you can understand what he's saying.
I also found out that you can stop the story anywhere and start right back from where you left off. If you were reading and something came up that you had to stop, you'll have the choice, when you come back, to resume or start over. I think that's a very nice feature to have.
Everything is done very professionally, the sounds are great as are the pictures or graphics.
Conclusion:
If you're a Dr Seuss fan then you'll want this I think, I like it quite a bit honestly. The app is very well done overall. It's a great app for kids especially with the Auto Mode and it being interactive.
It's the Christmas season and How the Grinch Stole Christmas! is a timeless classic for children of all ages.
On my phone it runs perfectly with no problems. The only small issue is that it's not 100% full screen, there are thin black bars on the right and left, but it fills up most of the screen.
Pros:
+It's Dr Seuss and the Grinch!
+Three ways to read
+Easy to install and use
+Includes sound effects and narration
+Interactive
+Great for little kids
+Excellent graphics / artwork
Cons:
-None
| | |
| --- | --- |
| Grades: | |
| Overall | |
| Design | |
| Performance | |
To learn more about our review policy please visit this page HERE.