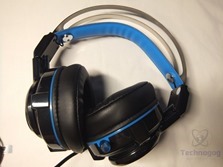 Up for review today I've got another set of gaming headphones from Butfulake, these are the SL-320 model which are a bit more expensive than the ones I just reviewed. The SL-320 are a large set of headphones, and I mean that in both size and weight, but they look good and they sounds great. The headphones have in-line audio controls and LEDs built into the earpieces and microphone making for a nice appearance. These headphones aren't bad at all, but they do have one small issue. Read on to learn more…

Specifications and Features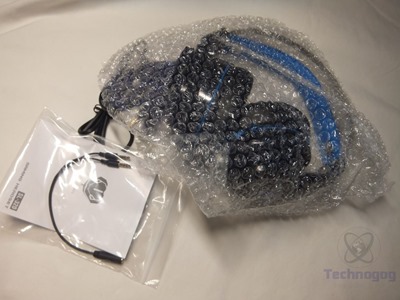 The SL-320 headphones are made of plastic and metal, the metal part being the frame and headband and the earpieces are rather large and they're a bit on the heavy side weighing in at almost a pound at .99lbs. That might not seem like much but have them on your head for an extended period of time and you'll understand.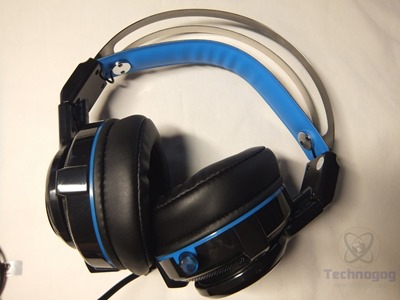 The headphones have a 2 meter or about 6.5 foot cord that seems well made and durable, it's rubber coated and thick and they even include a velcro strap for when you're not using them to keep the cord tidy. The cord ends in a Y which splits into a USB connection and a 3.5mm audio connector which carries both audio and microphone so you can plug it directly into the newer Xbox One controller with the 3.5mm jack and you're ready to go. They do include the adapter I mentioned earlier so you can use the headset with your computer.
In-line on the cord is a a controller with a dial for volume control on the top and then an on/off switch for the microphone on the side.
The headband is padded and it sort of floats under that main metal frame, it's attached to spring loaded metal wires and moves up and down to automatically adjust to your head and to support the weight of the headphones.
The microphone is in the left earpiece and it stores inside of it actually, you just pull it out and push it back in as needed. The microphone is on a flexible metal arm so you can position it where you want and it will stay there. The earpieces are large, they're about 4 inches in diameter and about 3 inches thick.
Both earpieces are well padded offering comfort and sound reduction, they go over my ear on the outside of it and are comfortable, nice and soft really. They do a decent job of keeping outside noises out.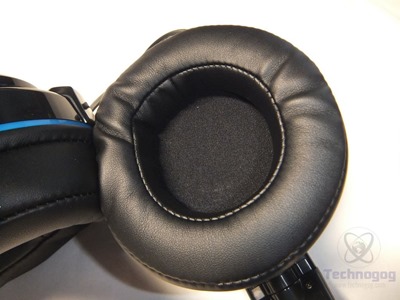 There are LEDs in the microphone tip or end and then in both earpieces on the outside. The Butfulake logo lights up a bright blue as does the microphone. The LEDs are powered by the USB connector so you don't have to use them if you don't want to. They do look nice, and they're very bright, especially the microphone.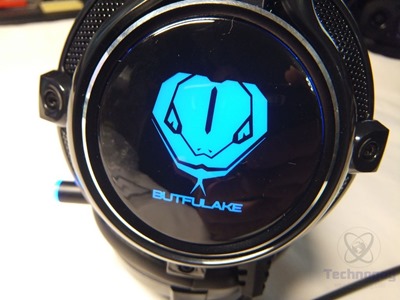 For testing I used them with my PC for gaming, music and movies and the sound is very good, but a bit light on the treble for my tastes.
Bass is very good, but not overpowering, the bass does vibrate the earpieces slightly, but not a lot. There is little to no distortion even when playing bass heavy music, it's still clear and you can make out all the words.
Volume can get very loud, more than loud enough I think, if you take them off your head you can clearly hear what is playing.
The in-line control works fine, no issues there, microphone on and off and the volume works great.
I also tested these with my Xbox One controller that has a 3.5mm jack built-in and they worked fine, good sound and the microphone worked well.
My only complaint about these headphones is the weight of them, they're basically 1 pound in weight and that's heavy for a set of headphones. The spring headband does a decent job of of holding the weight up but you will feel and notice that you're wearing them, my neck did feel fatigued after a couple hours.
Conclusion
The Butfulake SL-320 headphones are very well made, they're sturdy, and they sound great and they look good too.
The headband works well to support the weight of them but not as good as I'd like as these headphones are very heavy and I found that they can get uncomfortable after a couple hours of wearing them.
The cord is nice a long and thick and the in-line controls are helpful.
The lighting effects look good, but they're powered by the USB connector so you don't have to use them and if you want to you'll need to provide power which might be difficult playing on a console.
All in all these aren't bad for the price, but just be warned they are very heavy and just really big.
Pros:
+Well made
+Look great
+Great sounding
+Includes adapter
+Long cable
+In-line controls
+Little to no distortion at high volumes
+Good noise isolation
Cons:
-Very heavy headphones
-Large size
-Light on treble
| | |
| --- | --- |
| Grading | Scores Out of 10 |
| Overall | |
| Design / Aesthetic | |
| Value / Price | |
| Performance / Usage | |
Disclosure: This product was given to me for review by the company for review purposes only for free or at a discounted price.
To learn more about our review policy please visit this page HERE.