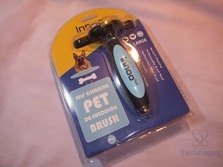 Up for review today I have one for your pets, this can work for both cats and dogs and it's a deshedding brush or tool from Innoo Tech. This brush features a self-cleaning function to make your life easier and it's very well made overall. I tested it out on my dogs and yes it does work very well, read on to learn more…
Specifications and Features
Inside you'll find the brush and a clear plastic blade cover.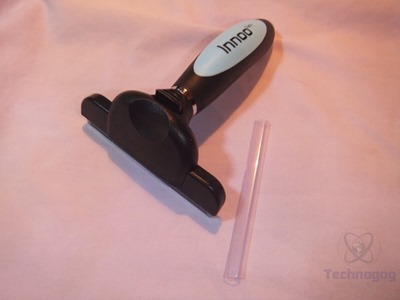 The dimensions of this brush are 5.9 x 2 x 4.3 inches and it weighs a little over five ounces and I have to say it feels very well made, it's sturdy and the handle is rubber coated for a good grip. On the top, right behind the head, is a button for the self-cleaning function.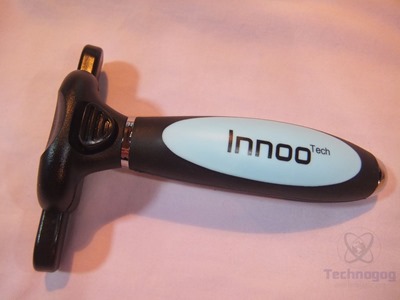 I'm not sure I would exactly call this a brush, to me brushes are softer and this one has solid metal teeth that are close together as the brush. Technically I guess it is a brush, just not really what I was expecting or what comes ot mind when you say brush.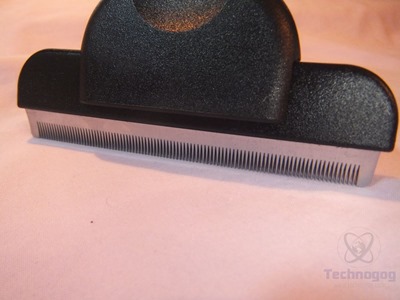 The blade cover just slide on to protect the teeth, I found it's easiest to slide it on from the side.
The self-cleaner is just a thin piece of plastic that comes out on the back of the teeth when you push the button and it pushes the hair out of the brush from the top down, simple yet effective.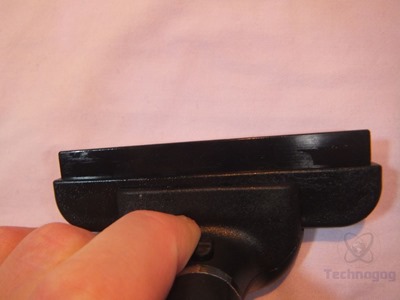 On the bottom of the handle is a another sliding button that you pull back with your thumb to actually remove the entire metal brush section to really clean it if you need to.
I have two American Pit Bull Terriers and they shed just like any dog. Samantha is a dark brown dog and we have dark brown carpeting so we really don't even see her hair when she sheds. Casey is mostly white with brown/black spots and when she sheds we see the white hair everywhere, we basically have to vacuum everyday because it just really shows up on the dark carpet.
Pit Bulls are lean and muscular dogs so there's not much 'padding' really on them especially on their backs, you can run your hand and feel their spines really. I say this because this brush has metal teeth and they do feel kind of sharp so I had to be careful not to hurt her when I brushed her, or at least not push very hard. You just have to be careful really, I'm not sure I would call this a brush really as to me a brush is softer and not metal usually.
However, it does do a very good job of removing the loose fur that she would have just shed all over the house. A few passes and the brush is full, I'd say it works very well at removing the hair from my dogs.
The self-cleaning function works yes, but it usually takes four to five pushes before the hair just falls out. I found if I push it once or twice it pushes all the hair to the top of the teeth and I can just remove it with my hand. So yes the self-cleaning works to an extent, and yes it is easier than trying to pull it all out by hand.
Conclusion
The Innoo Tech pet Grooming Brush or Tool is a decent product overall, it is very well made and sturdy and I do like the fact that it comes with a blade protector to make sure it lasts you a long time.
The price is fine, I think it's rather inexpensive for the quality of it.
The brush works as advertised, but just know that it make take a few tries to get the hair completely out of the brush teeth with the self-cleaning function.
All in all, not a bad product and it's nice that you can use it for both cats and dogs.
Pros:
+Very well made
+Removes lots of hair
+Easy to clean
+Very easy to use
Cons:
-Takes several times to remove hair
-Sharp blades
| | |
| --- | --- |
| Grading | Scores Out of 10 |
| Overall | |
| Design / Aesthetic | |
| Value / Price | |
| Performance / Usage | |
Disclosure: This product was given to us for review by the company for review purposes only, and is not considered by us as payment for the review.
To learn more about our review policy please visit this page HERE.