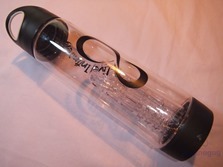 Up for review today I've got something that falls under the home and health category and the outdoors category. The product is a water bottle but not just any water bottle, this one has an infuser built into it so you can add cut fruit to flavor your water for a more healthy and flavorful drink. The bottle is called the Forever Fused Fruit Infusion Water Bottle and it's from a company called Live Infinitely and I like it, it really does work to add more flavor to your water. Read on to learn more..

Specifications and Features
Forever Fused Fruit Infusion Water Bottle
-INFUSE EVERY DROP – Top loading infusion water bottles stop working the second you start to decrease the water level. Unique BOTTOM infuser basket allows the fruit to infuse the entire time, providing the maximum flavor possible! Manufactured with highest quality TRITAN material to ensure a top quality water infuser that is FDA approved, BPA free, leak proof and dishwasher safe
-BOOST YOUR HEALTH – Fruit infused water provides a hydrating alternative to artificial flavoring, sodas and sugar. Reward your body with natural vitamins, minerals and anti-oxidants released from your favorite fruits. Increase your metabolism, support your immune system and detox in style!
-USE FOR MORE THAN JUST FRUIT – Create your new favorite tea, mixed drink or simply keep your water cold longer by adding ice into the infuser rod. Feeling a bit sporty? Remove the fruit infuser and use it as a sports water bottle – PERFECT for camping, hiking, tennis and these make for gifts everyone will enjoy!
-SAVE TIME – Completely disassembling bottle for easy access cleaning! -SPEND LESS Reuse your eco friendly infuser water bottle and save hundreds a year by replacing expensive flavored drinks with this healthy alternative. Use the same fruit for multiple delicious refreshments.
-FREE RECIPES INCLUDED – Not sure where to start? Enjoy our free infused water recipe eBook as OUR GIFT TO YOU including over 20 of the best combinations! -100% Satisfaction Guarantee If you're not completely thrilled simply contact our reliable customer support for personalized assistance.
Product Dimensions: 2.5 x 2.5 x 10.8 inches ; 6.1 ounces
Price: $9.95 (from Amazon at time of review)
The Review
Let's start with a video unboxing and then move on:
The bottle ships with a label on it and inside are basic instructions for using the bottle. Before you use it you'll need to wash it of course and I did, simple to do as it comes apart easily.
The infuser is on the bottom of the bottle so it's basically always in contact with the liquid. other infuser bottle out there have the infusers on the top so when you drink the liquid level goes down and basically stops infusing the liquid, with it on the bottom the liquid is always in contact so it's constantly adding the flavor. The bottle is made of a shatter-proof plastic and it's dishwasher safe, it's about 10.8 inches tall and about 2.5 inches wide and it weighs slightly over 6 ounces when empty. I got the black color, but you can get other colors if you like. The top of the bottle has a hole in the part of the lid so you can hang it.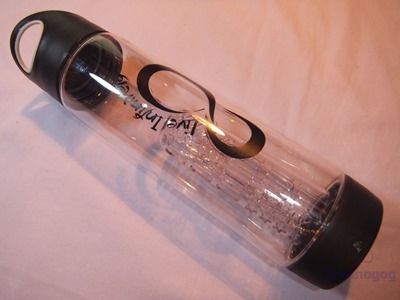 The top and bottom lids come off, they unscrew and are not interchangeable, you can't put the bottom on the top or the top on the bottom. Both lids have a silicone gasket inside of them to make sure they seal correctly. The bottom lid has screw threads in the center for the infuser.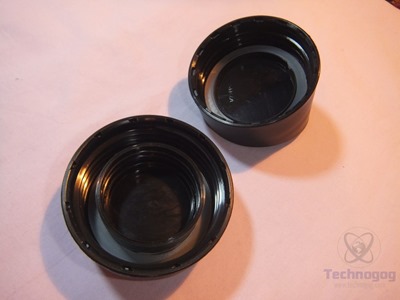 The infuser is neat looking with slots and stars as holes to allow the water in and the fruit flavor out into the water.
You can use fruit of course in the infuser and I used pears the first time, I cut them up small enough to fit in the infuser and then put them in and attached the infuser back to the base.
Once the infuser was attached to the bottom lid I filled it up with water and let it sit to let the flavor get through the water. You don't have to use water, you can use tea or any other liquid you want to flavor.
If you drink right after you put it together there isn't much flavor honestly, you should leave it sit for an hour or so really to let the flavor into the water. I actually made another one and let it sit overnight and it was very good that way. The water really did taste like what pear water would taste like, I'll be honest I did add a little sugar and it tasted much better then. Yes I know it's not as healthy as without the sugar, but I thought it needed it personally.
I also tried apples as well, and it worked the same as the pears, I liked the apple water better I think though.
Conclusion
The Live Infinitely Forever Fused Fruit Infusion Water Bottle is an interesting product for sure, it works as it should, I've got no complaints there, it really does let the fruit flavor infuse into the water and it tastes good.
For a better taste you need to let it sit and let it infuse, I found it best to leave it overnight. The night before you're doing your activity just get the bottle ready and put it in the fridge and you'll be set.
The infuser works well to get the flavor through all of the water and to keep the water infused until you finish it. As a bonus you've got a snack right there with you since you could just eat the fruit once you've finished the water inside the bottle. The fruit absorbs the water too so it's nice and juicy.
One of the things I don't like about this bottle is that you must unscrew the cap to drink out of it as there's no spout or pull top. Sure it can be used without a spout but when I think of sports bottles I think of something with an easy open top. You can't exactly drink this while running or biking as you'll spill it most likely.
Pros:
+Simple to use
+Well made
+Works fine
+Eat the fruit for a snack when empty
Cons:
-Have to unscrew the top to drink
| | |
| --- | --- |
| Grading | Scores Out of 10 |
| Overall | |
| Design / Aesthetic | |
| Value / Price | |
| Performance / Usage | |

Disclosure: This product was given to us for review by the company for review purposes only, and is not considered by us as payment for the review.
To learn more about our review policy please visit this page HERE.