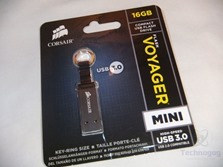 Up for review today I've got the Corsair Flash Voyager Mini which is a 16gb USB 3.0 flash drive. This drive looks nice with a metal brushed housing and it does have decent read speeds but sadly the write speeds are horrible. Read on to learn more..
Specifications and Features
Inside you'll only find the flash drive and a warranty card.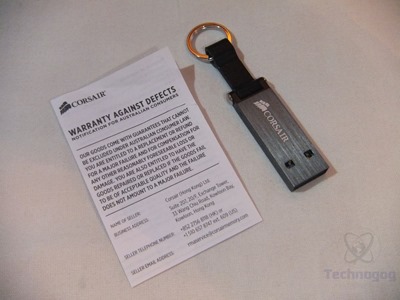 The drive itself is very small at about 2.5 x 0.25 x .5 inches overall, but the drive itself is only about 1.25 inches long and weighing in at about .2 ounces maybe. The front has the Corsair log while the back has certifications and capacity listed. The drive housing is made of metal so it should be durable and there's a rubber strap attached to it with a key ring attached to that so you can easily take it with you.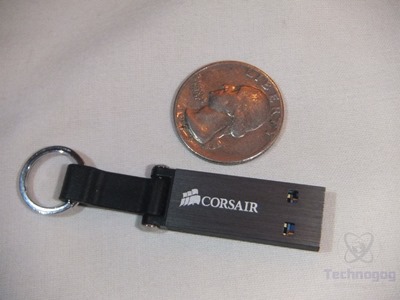 The end is the USB connection which is colored blue to signify USB 3.0.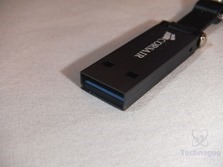 I did some quick testing with the drive and I don't have any other USB 3.0 drives for comparison so this is basically to see what the speeds are I can get and to compare it to USB 2.0.
The main test I ran was ATTO Disk Benchmark..
Obviously we know USB 3.0 is faster than USB 2.0, and according to my testing it's about twice as fast in terms of read speeds. I hit 44mb/s on USB 2.0 and 82MB/s on USB 3.0.
Write speeds though are horribly slow just hitting about 9MB/s on USB 2.0 and barely getting over 10 MB/s on USB 3.0.
I ran the tests numerous times and came up with the same result, but one time I did hit 11 MB/s for write speeds, not that that is much better than 10 really.
I also ran Crystal Diskmark and came up with 83MB/s for read and 10MB/s for write on USB 3.0 so that corresponds with ATTO.
I also ran Diskbench with various file sizes and mixtures of files and folders. One was a video file at around 900mb, an ISO file at about 3.2gb and a full folder with 874 files and folders in it at about 3.2gb. I only rant he write test there as I wanted to be sure of the speeds and averaged between 9MB/s and 10MB/s as well.
Conclusion
Read speeds for the Corsair Mini Voyager are decent overall but the write speeds are just abysmally slow.
The drive itself is well made of metal but I'm not sure about that rubber strap attached to it, I would much rather have just the ring connected right to the drive itself.
Is the drive worth it? Maybe if all you care about is read speeds…
Pros:
+Looks nice
+Decent read speeds
+Relatively inexpensive
Cons:
-Horribly slow write speeds
-Not sure about rubber strap
| | |
| --- | --- |
| Grading | Scores Out of 10 |
| Overall | |
| Design / Aesthetic | |
| Value / Price | |
| Performance / Usage | |
Disclosure: I purchased this product for my own uses and felt a review would be helpful to consumers.
To learn more about our review policy please visit this page HERE.