Mousepads are designed to make interacting with computers more efficient. Although there are mice designed to work on any surface such as the Logitech Darkfield Laser enabled models, most optical and laser mice still need a proper surface to function at an optimal level.
Mionix who are known for their gaming accessories have released a high performance gaming mousepad named the Propus 380. This oversized mousepad is designed to provide an ice like surface for a smooth glide while still maintaining the ability to have precise movements.

The Propus 380 arrives in an envelope style cardboard package with an image of the mousepad on the front. The back of the packaging lists features and product overview with another glamour shot of the Propus 380.
Immediately you will notice that this is an oversized mousepad measuring 38 x 26 cm and 4mm in thickness. It is composed of a plastic on the top surface with a rubber back surface for maintaining a good grip for the pad on its resting surface.
Looking at the Propus 380 you will notice silvery flecks over the black mouse surface giving it an outer space style appearance. According to Mionix this silver material is supposed to improve mouse tracking. Mionix placed their logo on the bottom right and their website address on the top left of the pad, otherwise the majority of the Propus 380 is the silvery flecked black appearance.
The surface is finely textured which allows fine precise movements while keeping the ability to smoothly glide the mouse.
Looking at the Propus 380 from the side we see a lime green PVC sandwiched between the top plastic and bottom rubber which helps add functionality to the pad besides adding some pizzazz. According to Mionix the PVC component of the pad gives it some rigidity while retaining the Propus 380's flexibility.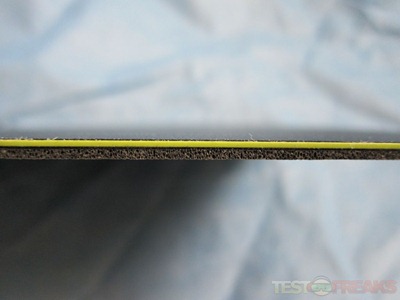 The bottom of the Propus 380 is covered with a plain black rubbery material.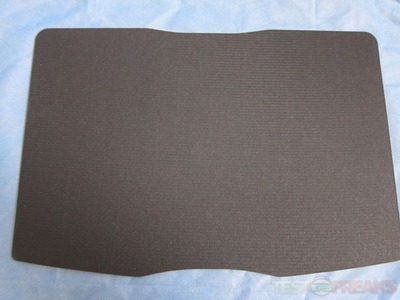 Specifications:
A STAR HAS BEEN BORN
The name Propus is directly taken from the Greek word for "forward foot". The star is located in the constellation of Geminis. Propus is a red giant star, one of very few bright cool stars visible from Earth. It shines about 2400 times stronger than our sun and has become very famous for being the closest star to planet Uranus. Propus is an ecliptic star and sometimes it hides behind our moon or any of the closest planets in our solar system.
MODEL OVERVIEW
Mionix Propus 380 is the physical answer to performance, design and innovation. The new developed surface is treated with a special silver-metallic plastic coating. According to test results, this special coating offers optimal tracking conditions and improves the overall performance of the mouse movements. A thin base made of PVC-plastic has been implemented to give the stability from a hard mousepad without compromising the flexibility from a soft mousepad. The backside is made of natural rubber to ensure a steady grip.
FEATURES
• Optimal tracking
Unique silver-metallic plastic coating ensures optimal tracking
• Unique surface
Fine textured surface for a smoother glide and precise movements
• Extra wide tracking area
For sweeping movements without interruption
• Hard & flexible
Unique material combination for durability and feel
TECHNICAL SPECIFICATION
Material: PVC-plastic base
S.Q.A.T value: 9
Surface: Ultra-fine texture
Dimensions: 380mm x 260mm
Thickness: 4mm
Back: Rubber based backside for a steady grip
Compatibility: LED-optical & laser

For testing I used the Propus 380 with the Razer Mamba and the Mionix Naos 3200 mouse. The pad is designed to work with LED optical and laser based mice, although there is no reason why a ball mouse wouldn't work with it; but who in this day and age is still using a ball mouse?
After using the Propus 380 for a couple of weeks with daily PC use as well as gaming, I found it to be a very good mousepad.
The biggest draw of the Propus 380 is its extra large working surface. Here is a comparison of the Propus 380 to a standard RatPadz GS.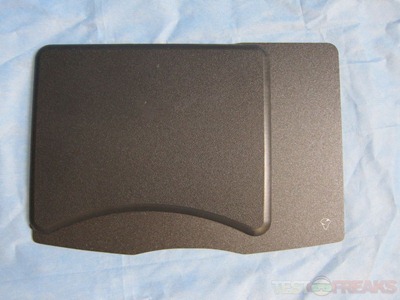 This extra space helps keeps the mouse from running out of room in the heat of FPS battle, which I have done numerous times using a standard sized mousepad.
The Propus 380's surface is silky smooth and is comparable to the hard surface if the RatPadz. The pad remained securely in place on my desk with its rubbery underside.
Mionix made the Propus 380 with quality materials and it has the profile of a cloth mousepad while functioning more like a hard surface style pad.
Conclusion:
If your desktop can accommodate a large surface mouse pad then the Propus 380 is an excellent option. It is terrific for everyday use as well as gaming. The pad is well made and not too bulky.
Overall the Prop us 380 is an excellent hybrid between a soft and hard style mouse pad. It is comparable in price to other large surface mouse pads. For the price it is well worth the cost.
Pros:
+Large surface area
+Stylish appearance
+Ice like surface
+Quality build
Cons:
-I still get killed in FPS using it
| | |
| --- | --- |
| Grades: | |
| Overall | |
| Design | |
| Performance | |
To learn more about our review policy please visit this page HERE.