Today we have a quick review of a novel product. Kickstarter has helped bring many new and exciting products to fruition and today we will look at one of these ideas come to retail – The MOS, Magnetic Organization System. This device is one of those ideas that will make you say – "why didn't I think of that?"
This system is a novel way of keeping ones cables organized and easily accessible. If you never again want to fish a cable from behind your workspace, then the MOS, Magnetic Organization System might be what the doctor ordered.
MOS Magnetic Organization System Review
The MOS, Magnetic Organization System is available in three-color choices – aluminum, white and black to match up with a PC or Mac based desk. The MOS comes a simple cardboard box with an image of the device in the color contained within.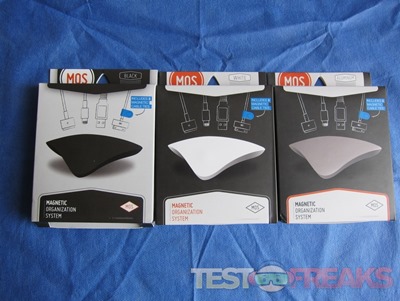 Inside the package we find the MOS unit, three magnetic cable ties, optional wall mount and instruction sheet.
The design team of the MOS gave it an industrial appearance that pairs with the Apple aesthetic but should work well with any workspace. Shaped like a sloped triangle the MOS takes up little space. The aluminum version is anodized while the black and white versions are painted with a scratch resistant satin finish.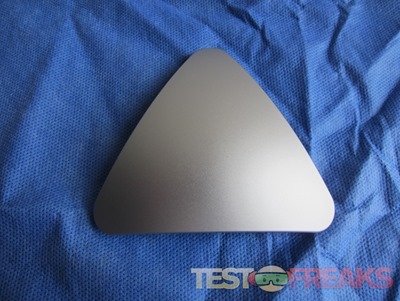 On the bottom of the MOS is a layer of microsuction tape that keeps MOS from sliding especially when pulling a cable free from the system. If this tape ever loses it clinginess due to dirt, simply rinse it with some water to bring it back to life. In the center of this tape is an orange circle with the MOS name embossed within.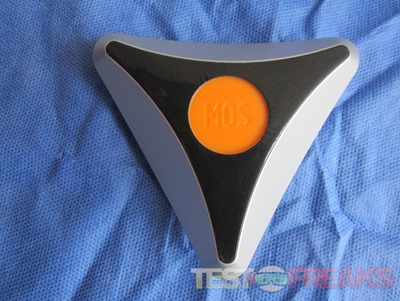 While several types of cable we use everyday have metal on them to work with the MOS, some like the Apple 40 pin connector do not. This is where the included magnetic cable ties come in handy. They come in three colors – blue, red and orange and easily snap onto the end of any cable. Small magnets are attached to these ties to attract them to the MOS base.
For those who prefer to wall mount the MOS, there is also a 3M double-sided adhesive that fit the orange circle found on the bottom of the MOS. Mounting vertically or horizontally is no problem with this cable organizer.