Noctua recently releases several more specialized fans in various sizes and I have one of them today for review. The fan is the NF-A9x14 which is a 92mm fan but it's only 14mm in thickness to fit into those tight spots where cooling and low noise are a priority. The fan isn't one that would be used for enthusiast CPU cooling but it could be used for a sever or even an HTPC as it's a fairly standard size. The fan is meant for other types of cooling really like those you might find in storage or networking solutions where you might need to replace a failing or a noisy fan. Let's face it most stock fans aren't exactly the greatest in terms of noise level and their ability to move air to cool properly, so it's really in everyone's best interest to replace them with something better overall and that's where Noctua comes in.

The box for this fan is the common Noctua colors and it opens up to reveal the fan and anti-vibration fasteners.
The back has a flap as well that lists the features of the fan in full detail.
When you open the box you'll find a plastic box and user manual.
In the box you'll find lots of stuff actually.
Besides the fan you'll find regular metal mounting screws, silicone anti-vibration fasteners, an extension cable, a 'Y' cable and a low-noise adapter.
Then here's the fan itself, yes it's 92mm in size.
The blades have an intriguing look or design to them that is made to help keep the noise down and promote better airflow. The corners on both sides of the fan have silicone or rubber on them to help keep the fan even more quiet.
Then here's the back of the fan, the frame is very thin, this of course helps to provide better airflow.
The fan is very thin, it's only 14mm thick so it will be able to fit in many places and cases.
The fan is equipped with a 4-pin or PWM connector.
Specifications:

Featuring Noctua's AAO frame and sophisticated aerodynamic design measures such as Flow Acceleration Channels, the NF-A9x14 is a highly optimized, premium quality quiet fan in 92x14mm size. Due to its thickness of only 14mm, the NF-A9x14 is a perfect match for low profile CPU coolers and all other applications that require slimmer fans. Noctua's custom-designed PWM IC for fully automatic speed control and reference class SSO2 bearings guarantee superb running smoothness and excellent long-term stability. Topped off with modular cabling, a Low-Noise Adaptor and 6 years manufacturer's warranty, the NF-A9x14 is a premium choice for the highest demands.
Size: 92x92x14 mm
Connector: 4-pin PWM
Bearing: SSO2
Blade Geometry: A-Series with Flow Acceleration Channels
Frame Technology: AAO (Advanced Acoustic Optimization)
Rotational Speed (+/- 10%): 2200 RPM
Rotational Speed with L.N.A. (+/- 10%): 1700 RPM
Min. Rotational Speed (PWM): 300 RPM
Airflow: 50,5 m³/h
Airflow with L.N.A.: 38,1 m³/h
Acoustical Noise: 19,9 dB(A)
Acoustical Noise with L.N.A.: 13,5 dB(A)
Static Pressure: 1,64 mm H2O
Static Pressure with L.N.A.: 0,92 mm H2O
Max. Input Power: 1,32 W
Max. Input Current: 0,11 A
Voltage: 12 V
MTBF: > 150.000 h
Scope of Delivery:
-Low-Noise Adapter (L.N.A.)
-4-Pin Y-Cable
-30cm Extension Cable
-4 Vibration-Compensators
-4 Fan Screws
Warranty: 6 years
Price: $19.49 (from Amazon at time of review)
I don't have any storage or networking products that use 92mm fans, but I do have a CPU cooler installed on my Core i5 750 that happens to use a 92mm fan.
I have to note that this fan isn't exactly meant for cooling this type of CPU but I wanted to see just how it performs in terms of cooling and noise levels so I compared it to another 92mm fan I have.
The cooler I'm using is the Silenx EFZ-92HA3 that uses a 92mm fan that runs at about 2000RPM. The fan on this cooler isn't a PWM fan, just a regular three pin style.
Here's the cooler installed in my system with the stock fan:
The fan on the cooler is a standard size, much larger than the Noctua is, at least in terms of thickness of course.
For testing I ran Orthos Stress prime, two instances of it to get 100% load on the quad core Core i5 750. Ambient room temperature during testing was 21.7C (+/- .3C).
For testing I used CoreTemp to monitor and log the temperatures at idle and load and then I averaged them out to get a single temperature to use for the below chart.
Basically I'm comparing the stock Silenx fan with the Noctua, but I have two test results for the Noctua, one without the Low Noise Adapter and one with it installed.
So here's a nice little chart with test results for you: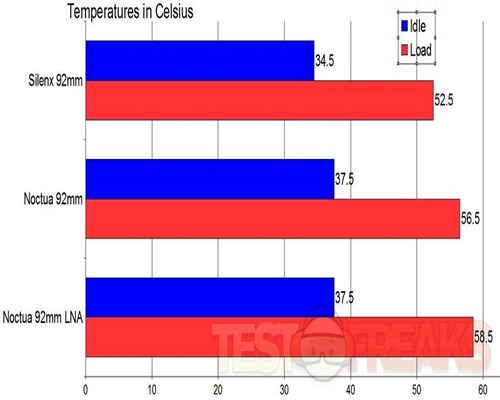 So the Noctua fan isn't too bad, not quite as good as the Silenx Fan but the Silenx is larger and it's made for CPU cooling. The Noctua does a decent job I think, considering how thin it is.
With the fan running at full speed or using the low noise adapter, it's still very quiet.
Conclusion:
Noctua has always made great products, and from this I see they still do.  The new NF-A9x14 92mm fan is one that can be used for many things, replace a bad fan in your server, or use it to cool the CPU in your HTPC. The thin form factor of this fan allows it to be versatile as to where you might want to install it.
Performance of this fan is decent overall, especially if you consider its size and the fact that it is virtually silent.
The fan comes with plenty of extras that you might find handy in your installation.
Plain and simple, if you need a good fan, you can't go wrong with a Noctua.
Pros:
+Decent performance for size
+Quiet even under load
+Excellent quality
+Relatively low price for brand and what you get
+Nice warranty
Cons:
-Doesn't perform quite as well as normal sized 92mm fan for cooling
| | |
| --- | --- |
| Grades: | |
| Overall | |
| Design | |
| Performance | |
To learn more about our review policy please visit this page HERE.