As we get older and our lives become more complex between personal and work responsibilities, keeping track of "to do" tasks can become a job onto itself. There are many ways of attacking these tasks and today we will look at a digital Getting Things Done (GTD) system from OmniGroup. Their program is called OmniFocus for Mac and is based on the concepts of capture, organize, define, sync, review, and focus.
OmniFocus for Mac is a powerful productivity program based around the GTD framework that works with Macs and mobile Apple devices (as an additionally purchased app). It functions as a task management solution using a workflow system designed to "catch" any thoughts and ideas into an Inbox and then sort them into tasks and projects.
This algorithm provides a visual representation of the OmniFocus program workflow.
Specifications:
OmniFocus is designed to quickly capture your thoughts and allow you to store, manage, and process them into actionable to-do items. Perfect for the Getting Things Done system, but flexible enough for any task management style, OmniFocus helps you work smarter by giving you powerful tools for staying on top of all the things you need to do.
Features
1. Capture
Quickly and easily record all your miscellaneous to-dos and store items in your inbox until you're ready to process and organize them. Capture it all on the fly with the quick entry panel, accessible via keyboard shortcut from virtually any application.
2. Organize
Use the powerful contexts feature in OmniFocus to categorize actions by work mode. When you're ready to sit down and make some calls, just click on the Phone context in your OmniFocus document in order to see all the phone-related tasks you have.
3. Define
Transform all your tasks into actionable next steps by assigning them to projects and contexts. Create start and due dates, time estimates, and task recurrence schedules, and let OmniFocus do the work of remembering everything that's on your plate.
4. Sync
You can't accomplish your goals if you don't have them with you. OmniFocus synchronizes your task database with a server or disk, so that all of your Macs, your iPhone, and your iPod Touch are up-to-date. Sync over your local network using Bonjour, through the cloud using MobileMe or any standard WebDAV server, or even with something as simple as a USB drive.
5. Review
Filter and sort actions with the click of a button. Unlike other task management solutions, OmniFocus has an arsenal of powerful options for choosing how to view your data. Hide or show actions as you see ?t, tell OmniFocus to only show the very next thing you need to do to finish a project, view only the items that are due this week—it's up to you.
6. Focus
Use OmniFocus to keep your goals and tasks, both personal and professional, in one ordered, easy to access system that you can depend on. Unburden your mind of everything you need to remember, and focus your attention on the things that matter to you most.
OmniFocus for Mac is available for download from the OmniGroup website as well as the Apple App Store. The pricing is the same through either channel, which is a little unusual, as the Apple has been offering, discounted prices on apps sold through their App store. I personally prefer directly purchasing from the software creator's site as you have a license key and can easily install the app on other machines including older OS X versions.
OmniFocus for Mac offers a thirty-day trial, after that time you will need to purchase the application and enter a license code. One thing I highly recommend before starting to use OmniFocus for Mac is to check out their video tutorial.
OmniFocus for Mac uses the familiar Mac OS X layout with a sidebar, central work area and top toolbar. This setup is very similar to the Apple Mail interface with the sidebar holding the tasks, contexts and project information. The main work area provides the pertinent information about a specific sidebar item. The toolbar provides access to the Inbox, Projects and Context lists, has the Due and Flagged actions for task items along with Add Action, Show All, View, Inspect and Sync.
The OmniFocus for Mac version of the Getting Things Done system is based on six concepts – Capture, Organize, Define, Sync, Review and Focus. This process is supposed to help streamline the numerous tasks we have in our daily lives and allow us to focus on getting them accomplished.
Capture involves grabbed all plans, tasks, to dos and lumping them into the uncategorized Inbox. The OmniGroup believes in capturing these fleeting thoughts into one place, which can be processed and organized at another time if necessary. Simply throw things in like – go to grocery store, pay credit card bill, paint bedroom into the Inbox.
Entering items is as simple as hitting the Add Action button on the top toolbar. Many folks may stop at this juncture and use the Inbox with various due dates, but then you are not getting the full capability of OmniFocus for Mac.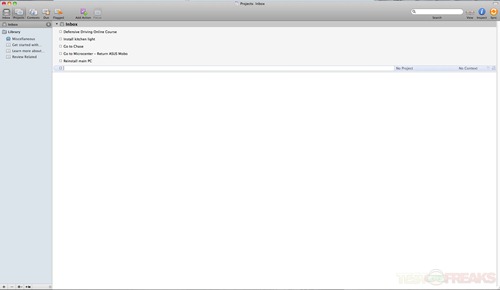 The Organize step is exactly what it sounds like – these uncategorized items in the Inbox can assigned to Contexts or Projects. Contexts may include Errands, Home, Office, etc while Projects are what they sound – bigger tasks that are combinations are individual tasks. For instance my wife's birthday project was comprised of several individual to dos such as renting a hall, ordering food, and getting babysitting.
To do items can be categorized as both contexts and as part of projects. Thus an item such as Write OmniFocus for Mac review is a Work context and can be filed under my technogog Reviews Project.
Now you can Define your tasks by creating schedules, due dates, and time estimates.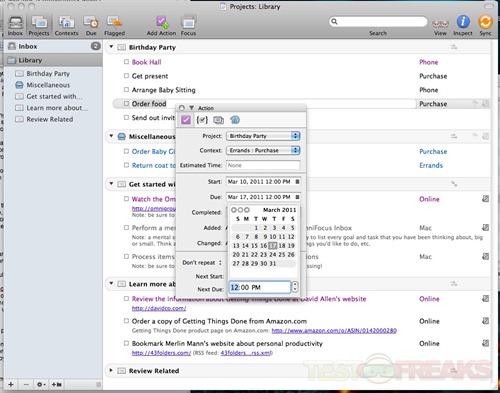 Sync involves keeping access to the your OmniFocus system across Macs and iOS devices. The program can sync to your iPhone, iPod Touch, iPad or other Mac via local network using Bonjour, through the cloud using MobileMe or any standard WebDAV server. Unfortunately the mobile app versions are not included and will cost an additional fee; plus they are not universal apps meaning you will need to buy an iPad and iPhone version if you own both those devices.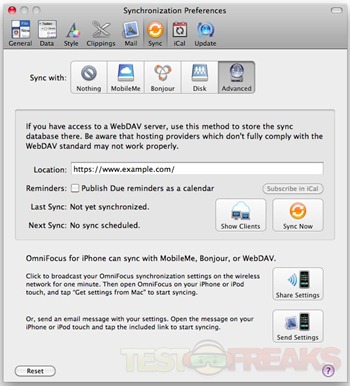 Review involves using the power of OmniFocus for Mac to filter and sort tasks out. Filtering allows the user to see tasks across projects or limited to just the next task in a project. The choice is up to the user. Projects can be labeled as Active, On Hold, Completed or Dropped.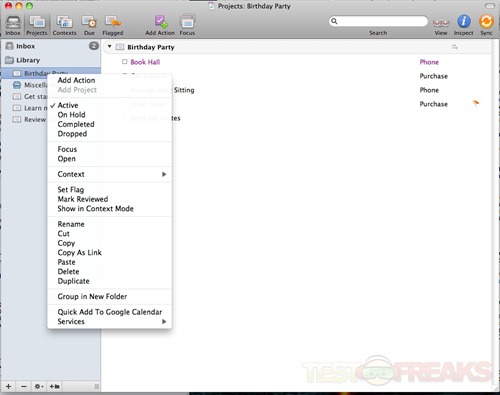 If using OmniFocus for Mac as intended by the OmniGroup, then the last step – Focus should be easily met.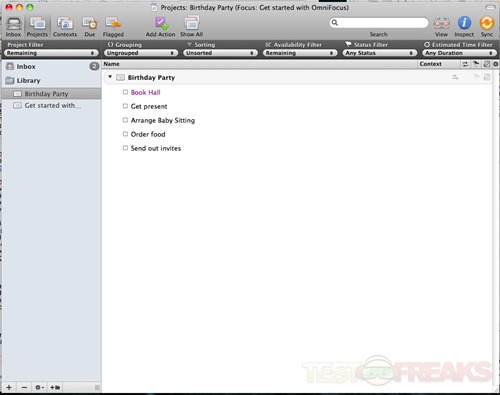 So what differentiates OmniFocus for Mac from competitors such as Things or The HitList? It's like comparing Photoshop against Photoshop Elements; the difference being the power "under the hood". It is designed for the hardcore Getting Things Done user.
There are also a host of options in the Preferences section to tweak OmniFocus for Mac.
The lack of Dropbox syncing is a bit of a let down, as most programs seem to have integrated Dropbox as a syncing option, especially when the program works between OS X and iOS systems.
Conclusion:
Getting Things Done programs range from the simplistic to the intricate. OmniFocus for Mac falls into the latter category. It is one of those programs that need to be studied before using it to its fullest capacity. The program is intuitively designed and after watching the instructional videos you should have a grasp of its versatility and depth.
My main gripe with OmniFocus for Mac is the price. The Mac app alone costs $79.99 while the iPad version is $39.99 and the iPhone app is $19.99. That's $150 for something most people use a piece of paper to accomplish. Don't forget to add "get a part time job to pay for the Omni apps" to the tasks list.
For the hard-core Getting Things Done user, OmniFocus for Mac is a dream come true.
Pros:
+Intuitive Task Manager
+Seamless workflow
+Ability to sync across OS X and iOS devices
+Trial version available to "try before buying"
Cons:
-Expensive
-Does not have Dropbox sync capability
| | |
| --- | --- |
| Grades: | |
| Overall | |
| Design | |
| Performance | |
To learn more about our review policy please visit this page HERE.