On the dissection block today is a case for the elegant Samsung Galaxy S5. This case is manufactured by a company called Rock and it is part of their Elegant series of cases. The Rock Elegant case is designed for function and beauty. The company strives to make beautifully designed and functional products that protect your phone. This case comes in several different colors, blue that is being tested below, Gold, Pink, Black and Yellow. This case offers pretty good protection of the screen and the back of the phone. It does well for protection, but overall this case is built for its look and function rather than to protect it from drops and bruises. Let's take a look and see what we have.
Unboxing
The Elegant series S5 case comes in a plastic and cardboard sleeve that is easy to open. It's held together by a rubber band, or a gum band, depending where you are from. The front of the case is clear and you are able to see what the color of the case is you are purchasing.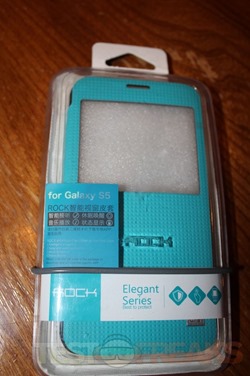 The back offers very little information about the case, but does have a link to the manufacturer website.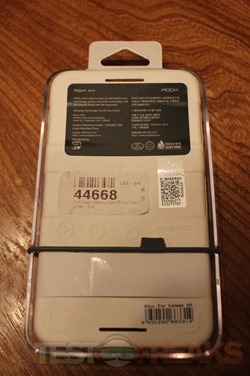 As I mentioned it is relatively easy to open, just remove the band and slide the plastic off of the cardboard.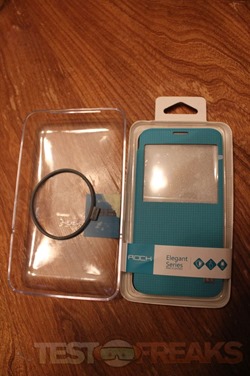 The Elegant series case is in a plastic holder and comes right out. Inside the case you will see a foam insert that is used as filler.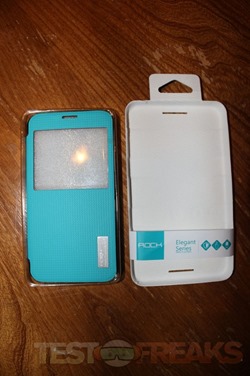 Included is a small card which has a QR code on it that is used to download the app that enables the functionality of this case. More on that later.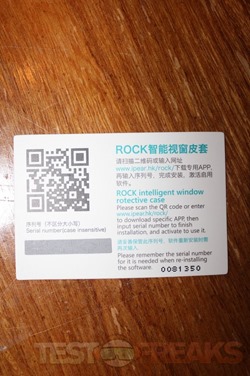 The case is lightweight and has a large window cutout in the front. The case is designed with a side flap that will close on the screen to give you extra protection.
The phone slides easily into the case and the flip over closes to protect the screen from dust and debris