When someone thinks of a router they think of that rather large box with antennas that connects to your network for internet access, at least I do, but technology let's us make things smaller and smaller. Today for review I've got the Satechi Smart Travel Router and it's small, can easily fit in your hand and since it's small you can take it with you, hence the name of course. It's much more than a router though, it also has a USB port in it for charging but more importantly is that it's a world power adapter that can be used in more than 150 countries so all of your stuff can get power wherever you are. The router is a router obviously, but it's also a repeater, an access point and a client which means it can turn other devices into wireless ones, or enable wireless access for them. So read on to learn more…
Unboxing
The box is small just like the router inside and of course there's information about the product on the outside of the box.
Inside of the box you'll find just the router and the user guide.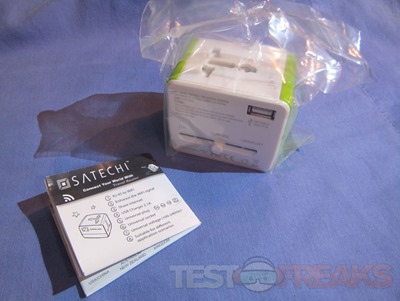 The Smart Travel Router is more than a router, it's a world power adapter and USB charger all in one. I should note it's an adapter but not a power convertor, the device you use must have a convertor built-in. The router is small at 2.87 x 2.37 x 3.5 inches and weighing in only at about 7 ounces. It's a cube and every side has a use. On the top you'll find what I would call the input, this is where you plug in your computer, phone, or whatever else you want to be powered, it's an electrical outlet basically and you can plugin things from most countries.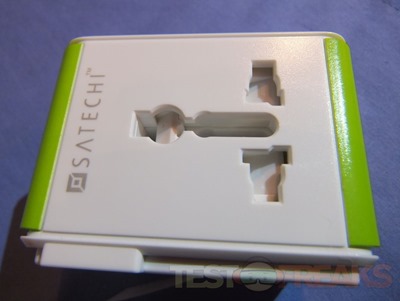 The various plug types are built right into the router and are utilized by a sliding switch on the side. Slide right or left for UK, USA and Australia and the center is for Europe but you push in for it to pop out. I call this the front of the router for reference purposes in this review.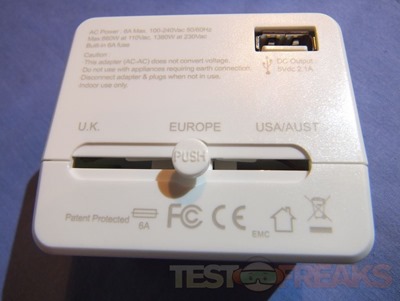 Above the sliding switch is a bit of information about the router and the USB charging port.
On the left side is the UK plug, slide the slider to the left and the plug pops out.
On the right side is the USA and Australia plugs which is a combination of the two in one. You'll notice in the below picture the port is angled.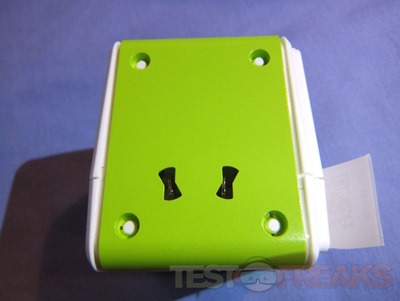 The actual prongs rotate at an angle for Australia and vertically for USA.
On the bottom is the plug for the UK, this one you don't slide, you need to push the button to make it pop out.
On the back side you'll find the Ethernet port and reset button along with LED indicators and the factory default URL and password to access the router. There is also a sticker semi attached to the side which is a QR code that you can scan to take you to the router page. The hotspot name and the MAC ID is listed there are well.