The Review Continued
Behind the document holder part of the bag is a another zippered section, this one is one is large and mostly open with the exception of a small mesh pocket. If you look at the first picture below you can see the strings from the document compartment there.
This bag has a lot of pockets and they get bigger and bigger it seems. The next one back is another larger compartment with a small mesh pocket for a nametag or business cards and a smaller zippered pocket that's meant for your tablet or eReader. The pocket is lightly padded and has a soft yellow colored felt like interior and it can fit most tablets up to 10" in size.
So behind all of that we finally get to the main compartment where you would keep your laptop and any accessories you might need to take along with you.  The laptop compartment is very well padded all around and secures closed with an elastic velcro style closure to make sure your laptop stays in place.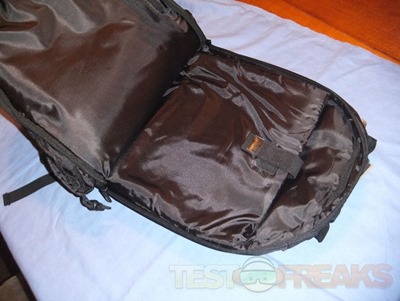 You can fit more than just your laptop in there are it does expand, I can easily fit the power supply in the bag and have room to spare.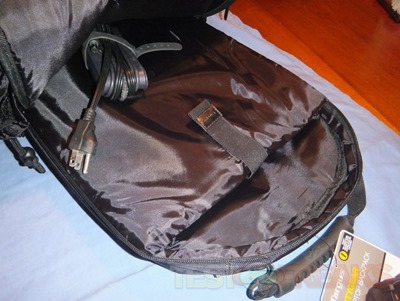 My laptop has a 14.1" screen and the CityGear is made for up to 15.6" so it fits just fine inside of the padded compartment.
My main tablet is only 7" in size but still fits in the tablet pocket because it's zippered. I can put my tablet in and close the zipper and not worry about my tablet sliding out and since the pocket is soft and padded I won't have to worry about any damage either.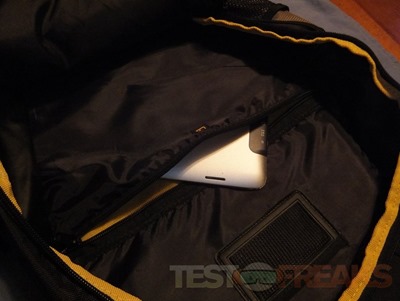 Here's the front section with a couple pens and my MP3 player with headphones passing through the special hole for them. This is a great feature I think as it keeps your MP3 player safe and you can still listen to music while you wear the CityGear backpack while on your commute to and from school or even work.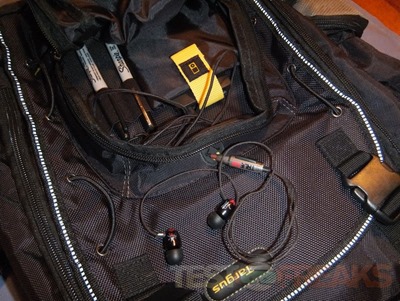 The bag looks sort of small when empty but it stretches a lot when you fill it up so it's got plenty of room for all of your stuff. The bag has nice large and rubberized sturdy zipper pulls, double pulls actually so you can open it either way. I like bags with two zippers on them much better than one as it just makes life a lot easier and it makes it quicker to access the pockets.