The Review
There's no special packaging for the CityGear, but there doesn't need to be as it's just a cloth bag, not like it's breakable or fragile…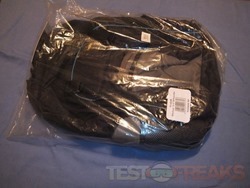 Here's the bag itself, it's primarily black with gray accents but there are some yellow as well inside. The white looking band or stripe going around the front section is a a reflective strip for safety while walking. Like most bags these days, the CityGear is made of rugged nylon material specifically it's 1680D and 840D nylon. The bag has exterior dimensions of 15 x 18.75 x 9.5" and interior is 14.2 x 2 x 11.6" and empty the bag weighs in at 3.2 lbs, so it's a big bag really.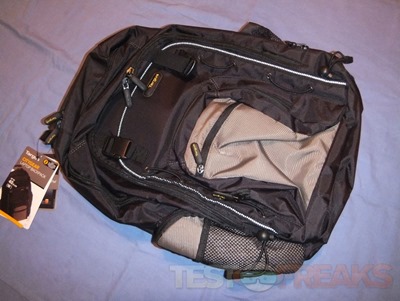 On the back you'll find two nice and thick padded shoulder straps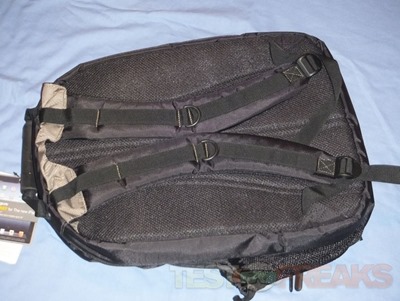 The back of the straps and the back of the bag are covered with a mesh material helping with airflow to keep you cool while wearing it.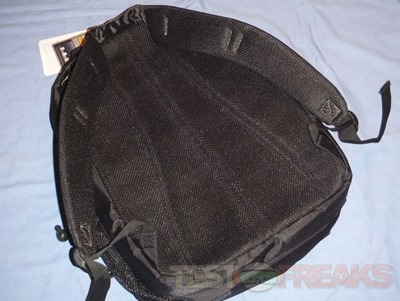 Besides the straps, the CityGear has a nice large sturdy rubber gripped handle on the top so you can safely just grab and go. I think having a handle on the top is essential for any backpack, I don't know why all of them don't have one.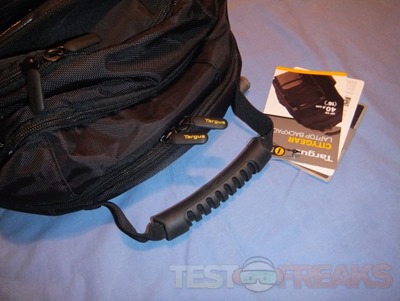 So let's take a look at all of those pockets. If you're looking at the bag from the front, on the left side is what I would call a double pocket. The outside is a small mesh one while behind it is a zippered and padded pocket.
On the right side is a drawstring mesh pocket for your water bottle to keep it secure while you're on the go.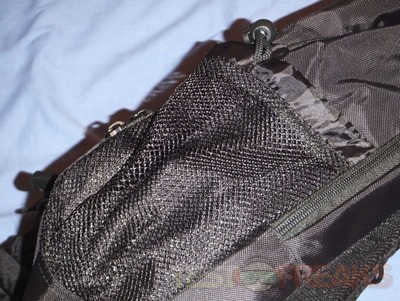 On the front of the bag you'll find  a small zippered pocket for whatever will fit.
Behind that pocket is a larger one, zippered of course, but inside of it you'll find spaces for pens and pencils, a clips style key holder and a special padded pocket for an MP3 player. Above the pocket is a rubberized hole so you can pass your headphone cable through and listen to music while the bag is on your back. The MP3 pocket secures shut with a velcro style closure.
Now behind those pockets is something I've never seen before, it's a document holder where you can put folders and papers and paper notebooks and stuff like that. You may have noticed in the main picture of the bag above that there were strings all along the edge around the front of the bag, these are elastic and have pulls on them to tighten the strings.  This section has the strings but also has two large heavy duty plastic snap clips or buckles to hold everything in place. This part isn't that big really but it's not meant to be as it's for things you'll be using most like your notebook for example, but it's large enough to hold a few regular school paper notebooks surely. I should note this section doesn't fully close and it's basically open around the edges so I wouldn't keep papers and things like that in it if I knew I was going out in the rain.