Perusing through the 2010 end of year "Best of" lists for the Mac, I noticed one application or app as Apple now calls them, to be on several of these lists – TextExpander 3 from Smile Software. It is designed to expand user customized short snippets into longer text. It is a handy utility for folks who use frequent snippets, have to send out boilerplate paragraphs or just wish to simplify their Mac computing lives. It is a first and foremost a timesaving application.
Smile Software was kind enough to provide technogog with a review copy of TextExpander 3, which I have had a chance to test for the past month. This simple app is pretty powerful in its function and can save the user lots of time and energy by avoiding tedious computing tasks.
Explaining what TextExpander 3 is about can be hard especially to the neophyte. If you have dealt with macros in the past then this utility can seem familiar. The bulk of the TextExpander works through snippets, which are abbreviations that auto, populates user created content whether it is a paragraph, letter or email signature.
For instance the snippet "ddate" when typed on my machine will yield the current date such as 1/24/2011. These snippets can be activated by just typing them in and leaving a space or via a defined trigger key.
Snippets can be used within any program on the Mac or restricted to certain applications by the user.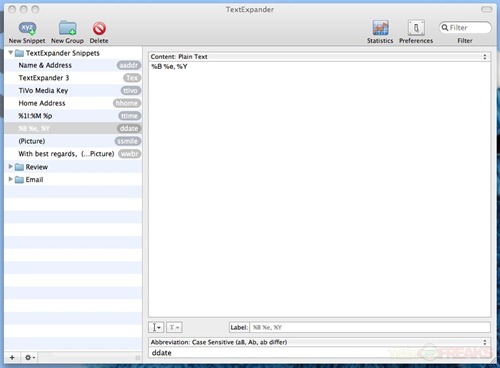 Snippets can be placed into groups, where their behavior can be defined. Certain groups may be used within pre-defined applications, while other groups can work with all programs. If you have a tendency to misspell certain words, simply create an abbreviation using that misspelling and the program will autocorrect it with the proper spelling that you entered as the snippet. Smile Software also offers predefined snippet libraries that can be installed from the main program screen. One of these libraries includes an extensive auto-correct listing.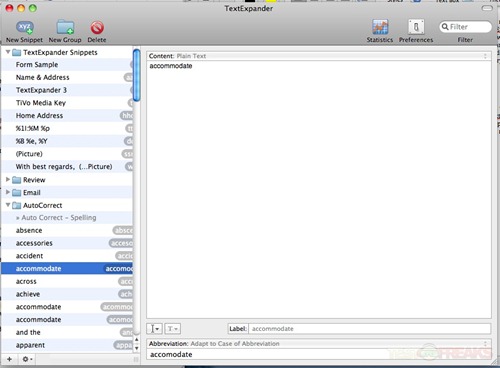 My personal favorite feature of TextExpander is the ability to create boilerplate text with fill in sections. Thus a letter starting with "Dear _______" allows the user to insert the addressee's name before inserting the boilerplate into your document.
The previous version of TextExpander operated within the System Preferences pane, while this current version functions as a stand-alone program with its own Dock and menu bar icons. Smile Software does allow the Dock icon to be hidden with TextExpander 3 operating off the menu bar. Since it is not a Preference Pane item the app does have to be actively running to function. Personally I wish the option to runs through the Preference Pane remained.
Off the menu bar icon one finds a snippet search field along with the ability to create new snippets, and ability to scan the user's list of snippets and folders.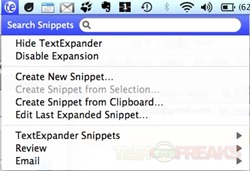 Smile offers a thirty-day free trial period to try out the software before having to purchase it at the $35 price. Previous TextExpander owners can upgrade at the discounted price of $15. There is a version for the iPod Touch/iPhone that allows network syncing of snippets.
On the Smile website are several videos that will explain how to get started using TextExpander 3. I highly recommend you check these out as it makes the user experience must more seamless. The TextExpander blog offers additional handy user tips as well.
Specifications:
New! TextExpander 3 with easier snippet creation, editing and search tools!
Save time and effort with TextExpander! Whether it's a simple email signature or several paragraphs of a standard response, you'll love how easy it is to use TextExpander to avoid typing the same thing over and over.
Use different email signatures?
Easily insert a customized signature with a few keystrokes. You can even include a photo or logo!
Need easy access to boilerplate paragraphs?
Add them to your snippet library and insert them into your emails and contracts by typing a short abbreviation.
Filling out forms?
Make it easy on yourself by adding your address, email, phone and fax numbers to your snippet library.
Keep making the same typos?
Add common typos as triggers – TextExpander automatically replaces them with the correct spelling! TextExpander also includes the TidBITs AutoCorrect Dictionary.
Want to insert HTML and CSS code quickly?
Create abbreviations for commonly used tags! Or use our built-in HTML and CSS snippet groups.
Need to insert the current date or time?
TextExpander comes with date and time snippets that you can format the way you want.
Use special characters or accented words?
Try our built-in snippet groups to insert special characters and accent marks easily.
Check out TextExpander's powerful features that save you time and effort!
See how TextExpander measures up to other typing utility software programs for the Mac!
features
Save time and effort with TextExpander! Whether it's a simple email signature or several paragraphs of a standard response, you'll love how easy it is to use TextExpander to avoid typing the same thing over and over.
Save thousands of keystrokes by using short abbreviations to insert "snippets" containing frequently-used phrases and images
Insert standard greetings and signatures — including formatted text and pictures
Assign hotkeys to save even more time when creating, editing and searching your snippets.
Reposition the cursor in the expanded snippet, or use our new fill-in-the-blank snippets to enter variable data in multiple fields.
Organize snippets into groups

Add snippet groups from external files and online sources
Sync snippets via MobileMe or Dropbox
Insert the current date and time in any format you prefer
Add common typos to your snippet library—TextExpander will automatically correct them for you!
Type special characters without having to launch a special characters palette
Trigger snippet expansions automatically by typing the abbreviations you specify, or use any one of over 30 delimiter characters as a trigger
Position the cursor wherever you want in your expanded snippet
Programmers: make editor-independent code templates; invoke AppleScripts and shell scripts
The main work area for TextExpander 3 is the snippet creation window. Here Groups and Snippets can be created and organized. The top of the windows has buttons for New Snippet and New Group Creation along with a Delete button on the left. The right side has a Statistics and Preference Button along with a Filter window. The left pane reveals the groups and snippets with the right pane acting as the workspace for editing Snippets or the Group Settings menu for a particular group.
Snippets can be created in this window or by choosing to automatically create a snippet from your clipboard or highlighted text via the TextExpander 3 icon from the menu bar. The key to efficient TextExpander 3 use is creating easy to remember snippet abbreviations. These snippets are case sensitive thus using combinations of lower and upper case letters will help make a snippet unique. For instance in this review I used "Tex" as the snippet for the term "TextExpander 3".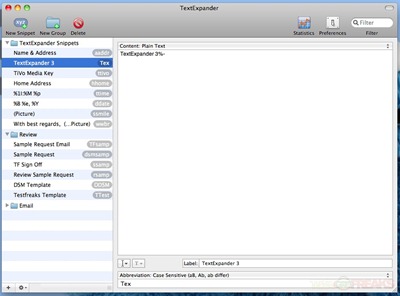 The TextExpander Preferences features six options. The Expansion tab allows the setting of triggers for snippet expansion. I set several of my snippets to be triggered using the "\" button.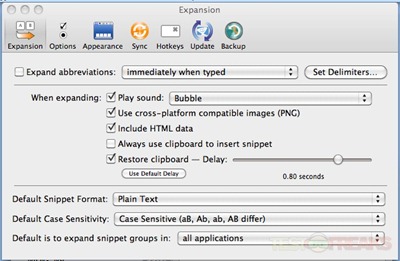 Options control the capitalization choices and capitalization correction. Appearance controls whether TextExpander is seen in the menu bar, dock or both, and style of icon; it also sets whether the utility launches on log in.
Sync sets up the ability to share your snippet library across Macs via MobileMe or Dropbox and the iPod Touch, iPad or iPhone TextExpander 3 app via local network. Currently you cannot sync to the Apple mobile platform using MobileMe or Dropbox which is a bummer.

One thing I did discover using Dropbox to sync TextExpander 3's snippet library was that the application could not run on two machines concurrently and sync the changes automatically. One instance of TextExpander 3 needed to be closed and reopened to integrate changes from the other Mac.
From the Hotkeys tab you can preset hotkey combinations for launching, enabling, disabling the program as well as ones to create snippets from selections or clipboard contents.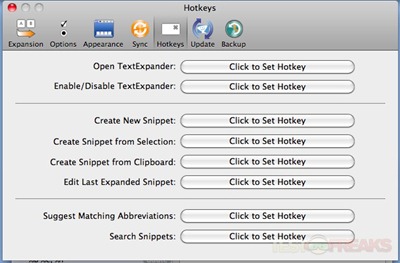 Update allows checking for program improvements at daily, weekly or monthly intervals. The Backup button allows scheduling of TextExpander preferences and snippet libraries.
Besides the ability to add you own created snippets, TextExpander 3 can add snippet groups from online sources. For the programmer TextExpander 3 allows the ability to insert HTML and CSS code quickly, the ability to invoke AppleScripts or shell scripts. If you need to add images then TextExpander 3 can do that easily; digitally signing electronic documents has never been easier.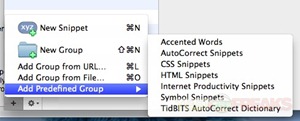 Thumbnail gallery here

Conclusion:
The best way to classify TextExpander 3 is as a time saving utility. Most everyone has some repetitive aspect of his or her job or life that can be made less arduous thru the use of TextExpander 3. Now boilerplate letters can be created and personalized in seconds, emails responded to with a few keyboard entries and more. With TextExpander 3 you'll never have to type the same thing over and over again.
After reviewing TextExpander 3, my list of must have Mac apps has grown by one. Besides 1Password, Dropbox and Quicksilver, this app will be one of the first installs on any Mac machine I will use in the future. Since they offer a free 30 day trial there is no reason why you should not text out TextExpander 3. After this trial run you'll probably wonder how you managed your Mac workflow with out it.
Pros:
+Syncs between Macs with Dropbox and Mobile Me
+Saves time by streamlining repetitive tasks
+Integrates with every Mac program
+Works as spelling auto corrector
Cons:
-TextExpander 3 application has to be actively running
-Preference Pane option has been removed
-Syncing via Dropbox needs some tweaking
| | |
| --- | --- |
| Grades: | |
| Overall | |
| Design | |
| Performance | |
To learn more about our review policy please visit this page HERE.