Printers are something that many of us take for granted, most people just settle for whatever is on sale and they really don't look before buying them, they just figure as long as it prints they'll be happy. That's regular printers though, since digital cameras have become so popular it's now become a feature for most all printers that they can print photos, but don't believe it, I've had several printers that claimed that and they were garbage truthfully. This includes expensive one and inexpensive ones, I've always been leery of printers that claim to print lab quality photos, that is until recently when I reviewed the Epson WorkForce 600, even though it's typically an office printer, it does photos beautifully. Now today I've got another Epson product for review, this one is specifically designed with the artist in mind, and it shows aesthetically and with the quality of what can be produced with it.
Today I've got the Epson Artisan 800 All-in-One Printer for review, and yes it's a multi-functional printer, but it's primary one for the artist in all of us, it's centered more around creativity than office work. Don't get me wrong though it can handle office tasks as well with ease, but it does it with style and grace. The built-in 7.8" touch panel is wonderful to work with, and there's even a 3.5" LCD display as well, the Artisan 800 is what a printer should be.

First up I've got an unboxing and tour video for you, be warned though, it's long….
The Artisan is packaged very well as is expected from Epson.
Here's a few views of the Artisan 800:
on the top of course is the feeder mechanism for faxing and multiple copying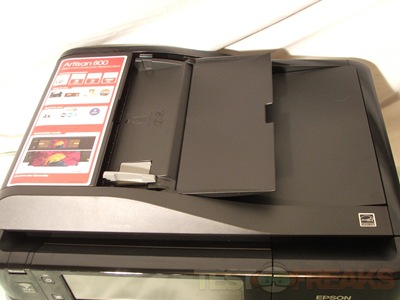 Looking closer at the front panel we find two buttons on the left side of the display one is the power button, the other is the CD tray access, on the bottom right side we find the card reader and USB port. The display can tilt upwards at several angles and even be straight out at 90 degrees if need be for easier access, below the display is where your prints come out and where the paper tray is located. The paper tray is the dual kind, so you can have regular paper and 4×6 photo paper in there.
on the back of the Artisan is where we find the connections for USB, power, phone and ethernet:
The paper feeder on top lifts up to reveal the flatbed scanner, then that lifts up to reveal the ink cartridge housing.
Epson was also kind enough to send me over the Automatic Duplexer as well for the Artisan 800, it allows for double sided printing, which is a very nice feature to have.
The Duplexer just gets attached to the back of the Artisan 800 and works very well, it's very nice to be able to print on both sides of the paper if you want to, you don't have to flips the paper over manually anymore: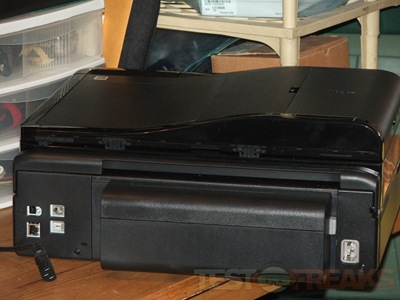 Here's a picture of both the WorkForce 600 and the Artisan 800, they're close to the same width, but the WorkForce is a bit taller
Specifications:


Epson Artisan 800 All-in-One Printer
Overview
* 5 in 1 with Wi-Fi: Print / Copy / Scan / Fax / Ultra HD Photo
* Up to 38 ppm, photos in as fast as 10 sec1
* Built-in fax and Automatic Document Feeder
* Wi-Fi and Ethernet networking
* 7.8-inch touch panel, 3.5-inch LCD
* Professional quality CD/DVD printing
* Two-sided printing saves paper
* Create coloring books and personal note paper
* Two-year limited warranty with registration1
* Ultra Hi-Definition photos last 4x longer than photo lab prints
* Two paper trays always ready to print photos and documents
Unleash your creativity with the new Artisan 800. This sophisticated, yet simple all-in-one masterfully combines the world of style and technology. This premier product will empower you to make your personal and business projects rise above the rest.
The master among ink jet all-in-ones, the Artisan 800 offers power and performance that's matched only by its sleek and chic appearance. Not only does it fax stacks of documents and produce stunning, Hi-Definition prints at ultra fast speeds, this innovative all-in-one allows you to add a personal touch to your creative projects. And, with wireless networking, you can print from anywhere in your home or office. Bring your imagination to life with a full cast of innovative features  print professional quality CDs, create personalized note paper and get photos that look their very best, automatically. With two paper trays, an intuitive touch panel and built-in Auto Document Feeder, you no longer need eight hands and eighty hours to do all you want to do. The Artisan 800 is like a magic wand for the multitasker. And, it prints black and color text up to 38 pages per minute and photos in as fast as 10 seconds. This powerful performer will copy, scan and fax in the blink of an eye, leaving you time to finish that office presentation, create party invitations and more. For those who want it all, the Artisan 800 fits your lifestyle and your decor.
Price: $299.99
Features & Benefits:
* Ultra fast print speeds  up to 38 ppm (black/color); photos in as fast as 10 sec
* Smart, 7.8" touch panel  large display lights up the buttons you need; includes a 3.5" LCD to preview and print images
* Fax, even in color  send and receive faxes right at home
* Remarkable productivity  Auto Document Feeder to quickly copy, scan or fax stacks of originals
* Wi-Fi support  built-in wired and wireless networking; print from any room
* Ultra Hi-Definition prints  Claria 6-color ink for image with richness, depth and clarity  it's the ultimate in photo quality
* Save paper built-in two-sided printing
* Bring old, faded photos back to life  easily restore the color to faded photos
* Professional looking CDs/DVDs  print right onto ink jet printable CDs/DVDs
* One-of-a-kind projects  easily create personal note paper, invitations, greeting cards and coloring books using your own photos
* Perfect photos made easy  Auto Photo Correction with on-screen preview and red-eye removal
* Quality color or black and white copies  copy documents, receipts, recipes and more
* Epson PreferredSM program  two-year limited warranty and toll-free telephone support, free with registration, for product  protection you can count on, plus more exclusive benefits
* Long-lasting prints  fade-resistant photos that last up to 4x longer than photo lab prints
* Multitasking made easy  paper cassette with two paper trays for plain and photo paper; always ready for any task
* Results ready to share  better than photo lab quality photos are smudge, scratch, water and fade resistant
* Useful software included  OCR to convert scanned documents into editable text and creativity software to create and print cards, calendars, photo books and more
* Individual ink cartridges  replace only the color that you need
* Creativity at your fingertips  built-in memory card slots and PictBridge to print photos PC-free
Specifications:
Maximum Resolution
* 5760 x 1440 dpi
Black Text
* Black text up to 38 ppm
Color Text
* Color text up to 38 ppm
4" x 6" Photo
* 4" x 6" photo in as fast as 10 seconds
Copy Speed
* Black up to 38 cpm
   Color up to 38 cpm
Scanner Type
* Color flatbed (CIS line sensor)
Optical Resolution
* 4800 dpi
Maximum Resolution
* 9600 x 9600 dpi interpolated
Special Features
* 7.8" touch panel
* 3.5" LCD
* 30-page Auto Document Feeder to copy, scan, and fax
* Built-in 2-sided printing, make automatic with optional duplexer
* Auto Photo Correction of digital photos with on-screen preview
* Two input paper trays, main tray adjustable up to 8.5" x 14", Photo tray 4" x 6" and 5" x 7"
* View a photo slide show on the built-in 3.5" color LCD
Compatible Memory Cards
* SD
* xD-Picture Card
* Memory Stick
* Compact Flash
* MultiMedia Card
Direct CD/DVD Printing
* Ink jet printable CD/DVDs
Fax Speed
* Modem: 33.6 Kbps
Fax Memory (pages)
* Up to 180 pages
Input Paper Capacity
* Main Paper Tray
120 sheets plain paper, 10 envelopes
* Photo Tray
20 sheets Premium Photo Paper Glossy
Weight and Dimensions (W x D x H)
Weight: 23.8 lb
Printing: 18.4" x 23.0" x 7.8"
Storage: 18.4" x 15.2" x 7.8"
Connectivity
* Wi-Fi 802.11 b/g, compatible with 802.11 n, Ethernet 10/100, Hi-Speed USB 2.0, PictBridge, Bluetooth (optional)
Operating Systems
* Windows Vista, XP Professional x64, XP, 2000 Mac OS X 10.3.9, 10.4.11 and 10.5.x (PowerPC or Intel processor)
Software Included
* Epson printer driver, Epson Print CD, Web to Page, Epson Scan, ArcSoft Print Creations, Epson scanner drivers, ABBYY FineReader

To get it setup is a fairly easy process, it's just like setting up the Epson WorkForce 600 that I reviewed a few months ago, just follow the prompts and you're good to go really. USB, wired or wireless are easy to setup, I had no problems with it at all, and of course to get full functionality from the Artisan 800 I would suggest installing the additional software as well.
yes it seems like a lot of steps from the above screenshots but it really isn't honestly. I had no problem hooking it to my network wirelessly, worked fine the first time.
Having children we take many pictures, especially my wife, and I'm trying to get her to move over to a digital camera, but she's still stuck on her 35mm film camera for whatever reason. My wife and her mom took the kids to the aviary recently and I asked my wife to help me out and take my spare digital camera and use it to take pictures, I thought nice colorful birds would make for great prints. So I ended with a lot of pictures from the aviary and the children's museum here in Pittsburgh where they also went on another day. Taking pictures of pictures doesn't really do them justice, but here's a bunch I printed out:
The pictures are beautiful really, they look exactly like something you would get out of the lab, perfect quality. The ink dries instantly so no smudges, and you can't really scratch them either, you could if you really tried of course, but in normal handling you won't damage them. I love to print pictures on this printer really, and the ink seems to last for quite some time, I'm finally getting a low ink reminder after those pictures and many others.
One of the cool features, at least I think it is, is the fact that you can create coloring pages from your pictures, my youngest son thinks this is just great and asks me to do it often now. It does work great, but the only complaint I could have is that you can't create the coloring page from a digital picture, you must print out the picture then create the page by scanning it back in, it seems like a waste of time and paper really.
As for copying and faxing, well I do make quite a few copies, but I don't usually fax too much, but I like to have a fax machine in my house, or all-in-one just in case I need it. If you read my review the other day you'd know my Mother recently passed away, last Monday the 16th, but over the last few days I've faxed as much as would normally in a few months, so it got a nice workout, and I have no complaints there, it works as it should, it's nice and fast. Copying as well, I've had to make quite a few copies of documents due to all of this, so it also got a nice workout there as well, and again no complaints, copies are done fast, and look excellent. If you put it in color mode the copies look almost exactly like the original, very nice indeed.
The features of this printer are truly amazing, it is just feature packed. I thought the WorkForce 600 was packed with features but the Artisan 800 has got even more. The comparison of the two is hard to do really as the Artisan is really a high end photo printer with office functions built in, while the WorkForce 600 is really an office centric device that can print quality photos if need be. One major difference between the WorkForce 600 and the Artisan 800 is the ability to print CDs and DVDs, and when you do print them they look amazing, the quality is stunning really. The other glaring difference between the WorkForce and the Artisan is of course the creativity features included with the Artisan, as the name suggests it allows you to be very creative, and you can do it without a computer right on the touch panel.
I thought about doing a bunch of pictures of the touch panel but I figured it was much easier to just do a video of it in action, it's sort of a tour of the options and how things work:
I'm in love with the whole touch screen thing going on here really, I thought the interface on the WorkForce 600 was nice, this is 100 times better really, it's so nice to have such a large work area, and using the touch screen for everything eliminates all of the other buttons you would normally find on an all-in-one. I reviewed the Brother MFC-790CW all-in-one not long ago, it also featured a touch screen, but the one on the Artisan just blows it away in both looks, overall usefulness and ease of use. Speaking of the Brother printer, if I had to compare to the Artisan of the WorkForce I would have to say there is no comparison, both Epson products are far superior in most every way.
I mentioned earlier one small complaint I had about not being able to create coloring pages from a digital photo, and it's not a big deal really, and shouldn't bother most people. There is one other complaint though I could have, the Artisan at times will take quite a while to get a document printed, and it's not the actual printing process, it's the priming of the cartridges that takes the time, sometimes up to a full minute, even if I just used it a few minutes before. Maybe this was because the cartridges are getting low on ink, as I didn't notice it so much when they were full. It still needs to be noted though as it can be very annoying at times.
As far as the printer itself, it's plastic yes, but it seems very well made, durable and rugged like it's WorkForce counterpart. They do resemble each other quite a bit, with a small size difference. The lack of buttons on the Artisan 800 makes it a much more attractive piece especially for the home, the WorkForce 600 has lots of buttons and it looks like it belong in an office really, though that's not a bad thing really. The color of both is black, which should match any decor, thought shiny black does collect dust and fingerprints easily. Weight wise, it's actually not as heavy as it looks to be, this I was surprised by, it looks much heavier than it really is.
Conclusion:
To me the Epson Artisan 800 is what a photo printer should be, all other printers can only hope to be as good and useful as the Artisan 800 is. The picture quality is utterly amazing, it really has to be seen to be believed, I can only say that they are the best prints I have ever seen come from a printer, and I've owned many "photo printers' over the years, expensive and inexpensive, and none even come close to the quality of what the Artisan 800 can produce.
Besides photos though the Artisan 800 is an extremely useful and excellent tool for all other office type tasks, it performs flawlessly whatever job is thrown at it, and the quality of the work it puts out is amazing.
I've got me a new favorite printer, all other printers out there should just give up now and go back home. The other manufacturers out there need to take note of the Artisan 800 and follow suit as this is nearly the perfect printer on the market today. Epson knows how to make a printer and what we want and need in a product such as this.
If you're looking for a photo-centric printer with office tasking abilities then I can easily recommend you getting this one, you won't be disappointed, it will do everything you want it to and much more.
Pros:
Excellent quality pictures
Easy to setup and use
Wireless!
Much more than just a photo printer
Touch screen interface with LCD display
Fast printing both pictures and regular printing
Tons of features
Cons:
Cartridge priming can take long at times
| | |
| --- | --- |
| Grades: |   |
| Overall | |
| Design | |
| Performance | |