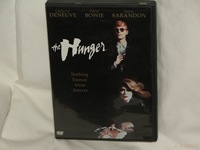 A while ago we took a look at WinX DVD Author software, and recently they asked me to take a look at another of their programs called WinX DVD Ripper, and, as the name suggests, it's a DVD ripping tool. There are plenty of ways to take your video with you, and this is just one of them, so I've got a brief review of the WinX DVD Ripper for you today, is this ripper worth your time? Read on to find out…

This is a download only from the WinX site, so no box shots or anything like that for you.
The idea of this software is of course transfer your DVDs to an electronic format to be played on other devices. I grabbed one of my all time favorite movies to test it out, The Hunger.
Starting up the program you're greeted with a fairly basic interface, across the bottom you've got the choices for converting your DVD to different formats like AVI, MPEG, MP$, WMV, FLV or even music.
The software is fairly straight forward to use but there is a help section if you need it:
Specifications:
WinX DVD Ripper is a free software program that facilitates ripping the content of a DVD to computer hard disk drive and converting to popular video formats. It supports all types of DVDs including normal DVDs, CSS protected DVDs, commercial DVDs, Sony ArccOS DVDs, all region 1-6 DVDs and most of popular video formats such as FLV, AVI, MP4, WMV, MOV, MPEG1/2 as output video formats.
Key Features:
1. Rip DVD to popular video formats as AVI, FLV, WMV, MPEG, MP4, MOV, etc.
2. Support DVD NTSC & PAL format and (S)VCD NTSC & PAL format.
3. Rip DVD audio into MP3 music file.
4. Support grabbing screenshot from DVD video.
5. Support ripping in single and batch mode.
6. All video/audio parameters adjustable for users optimizing video quality.
7. Supper fast ripping speed, up to 300%-500% real time.
8. Excellent video/audio quality.
9. Easy to use and 100% stable.
10. Multiple DVD source supported as normal DVD, CSS protected DVD, region 1-6, commercial DVD.
Supported DVD:
Normal DVD, CSS protected DVD, region 1-6, Sony ArccOS, Commercial DVD
Output video formats:
AVI, MPEG, FLV, MOV, MP4, WMV, MP3
Platforms:
Microsoft Windows 98, NT, 2000,2003, XP, Vista, Windows 7

To get started just put a DVD in your drive, I'm using my Liteon BD/DVD/RW Drive and then hit the 'DVD Disc' button to load it up and select it:
&
After it's loaded you're greeted with the selection box to find what part of the DVD you want, normally you'll select the largest or longest running file as this is the main movie.<
There is one thing I don't like about this program, it automatically selects subtitles for you, so if you aren't paying attention you'll have subtitles on your movie even if you don't need them.<
Before you start the ripping process you can also change the size, audio channel, audio format and quality.
Hit the start button and you're off ripping your favorite movie to your computer:
&
WinX DVD Ripper apparently isn't able to utilize multi-core systems, at least not my quad core CPU. Checking the Task Manager we see only about 30% usage on all four cores. Not being able to utilize the CPU fully will slow things down a bit as expected.
The Hunger is 1:36:24 in length, and it took 1:11:23 to complete the ripping process, which is quite a while really. Longer than many others I've had the chance to review.<
Looking at the final output file we see it weighs in at 1.10 GB in size, and that's pretty big as well, so not much in the way of compression is going on.
The size though is not changing anything, essentially leaving it at the original aspect ratio and screen resolution, basically an exact copy.
For free it's not bad I guess… but I'd like to see a smaller sized file and a shorter time to complete the process, it took almost as long as if I had watched the movie.
Conclusion:
WinX DVD ripper though is not a bad choice if you're looking for a free program to convert your movies from DVD to a format that you can easily move from device to device.  It allows for transferring to several formats, and you can change the output size as well.
While it's not the fastest out there in terms of conversion speed, it's free and I can't fault it too much really.. for free you do get several features that can be very useful.
Pros:
+Easy to use
+It's free
+Several output options
Cons:
-Slow ripping process
-Enables subtitles by default
-Fairly large output size
| | |
| --- | --- |
| Grades: | |
| Overall | |
| Design | |
| Performance | |