Manufacturer:
A few days ago I took a look at a Verbatim 160GB 2.5" portable hard drive and I found it to be a decent little product, but today I've got the Imation Apollo 500GB 2.5" portable hard drive for review. The Apollo is well made, looks nice, is small and portable and actually averages out to be less expensive per gigabyte when compared to others out there.
So read on to learn more about a great little portable hard drive…
The Apollo comes in an attractive box with pictures and a bit of information on it.
Included with the Apollo is the usual documentation and a dual connection USB cable to provide additional power if need be.
I have to saw that the Apollo is a very attractive portable hard disk, when I first opened it I was very impressed not only by it's looks but by how small it is. The Imation Apollo seems very well made, it feels sturdy and rugged, and it's lightweight.
Here is the Apollo compared to a couple other 2.5" enclosures I have on hand, it's easily the smallest:
On one end of course you'll find a USB connection, the mini style of connector, on the top you'll also find a small LED indicator that glows blue when powered and blinks to indicate activity.
Of course I was curious and had to pull it apart, something I would highly advise against, besides being very difficult to get apart it'll most likely void any warranty on the product. Opening it up I found a Samsung HM500LI 500GB, 5400RPM 2.5" hard drive.
Specifications:
A few days ago I reviewed the Verbatim 160gb 2.5" portable hard drive, so I thought it would make a good comparison for the Apollo, and compare to another I've got on hand and the OCZ Rally2 Turbo Flash Drive.
I used SiSoft Sandra 2009 Removable Storage Benchmark for testing and comparison, higher scores are better.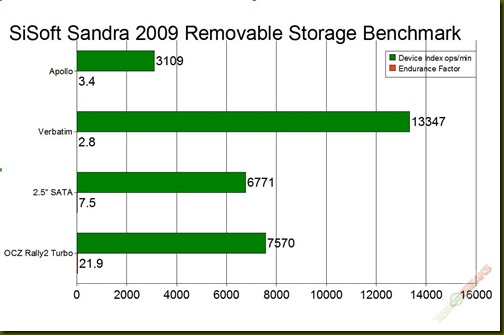 From all of my time reviewing I've learned that it seems the larger things get the slower they are until technology catches up with them, and obviously this is very true here. The Speeds aren't the greatest, but it's not really a good comparison either, it would work much better if I had other 500gb HDDs to compare to, but it gives us a general idea anyway.
Personally I'll take the capacity over the speed any day, the Verbatim was only 160GB, while the Imation Apollo is 500GB, so yeah I'll take the slower 500gb over the faster 160gb….
The Cheapest I found the 500gb Apollo online for was $172 plus shipping and the cheapest I found the Verbatim online for was $98 plus shipping.
Which, without shipping averages out to 61 cents per gigabyte, while the Apollo averages out to be 34 cents per gig, the Apollo is a much better deal.
Conclusion:
The Imation Apollo is an excellent choice overall for you portable storage and backup needs.
The Apollo might not be the fastest, but it is the cheapest on average per gigabyte from what I found online, and as I said I'll take the larger capacity over the speed anytime.
The Apollo looks great, it's small and lightweight making it very portable and it seems well made.
The only suggestion I could make is that Imation should include a carrying case with it to protect the Apollo and carry the USB cable around with you easier.
Pros:
-Small and lightweight
-Large capacity 
-Seems well made 
-Low cost per gigabyte
Cons:
-Not the fastest 
-Included software is basic
Grades:
Overall:
Performance: