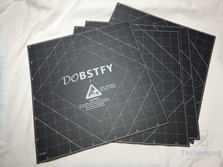 I love my 3D printer, I'm just still amazed, over a year later, at the things I can make with it. I've heavily modified and improved my printer and I've tried various build surfaces and today for review I have one of those surfaces. The surface is from a company called Dobstfy and the sheets are 12" x 12" in size and can be easily cut to fit any printer bed. The sheets are well made and prints stick very well to them. Read on to learn more…
Specifications and Features
DOBSTFY 3D Printing Build Surface, 3D Printer Heat Bed Platform Sticker Sheet, 12"x12″ Square (PACK of 4)
DOBSTFY Brand 3D Printer platform can be suitable for temperature from 80-100 degrees. Build sheet adheres to a print bed to help the filament stick during printing, it is easy to take off the models. Compatible with most Cartesian style 3D printers and most of surface. The build surface size is 12″ x 12″, you can cut it to any size you want.
[SPECIALLY DESIGN PATTERNS] DOBSTFY Heat Bed Platform Sticker made of high quality matte surface material, it can make you easy clean removal the printed part afterward, and print directly on to the surface without any additional adhesives, tapes, or slurry. With the specially designed patterns of scaling and positioning, mark can make your DIY processing more fun and easy.
[EASILY TO USE] Background is made of 3M adhesive, easily stick on the heat bed platform, and instant bonding with convenient use. It installs more quickly and with fewer bubbles than tape or films.
[FULLY COMPATIBLY] Our 3D Printer heatbed platform sheet durable construction allows for multiple uses with either the same or different filament material. Compatible with ABS, PLA, HIPS, PET+, brick, wood, and flexible (TPE) filaments.
[REUSE & CUTTABLE] The 3D-printing build surface is an 12″ x 12″ square sheet, reuse for multiple prints, just wipe down with isopropyl alcohol between prints for best results. This sheets can be easily cut down to desired size by scoring with a utility knife.
[LIFETIME WARRANTY] We stand behind every product you purchased from us. If you have any problem with your purchase, please contact us directly to get efficient and hassle-free customer service.
Price: $34.99 (from Amazon at time of review)
The Review
Let's start wit a video introduction and move on:
The Dobstfy build surface is packed in bubble wrap for protection and it was shipped in a box so it arrived fine to me.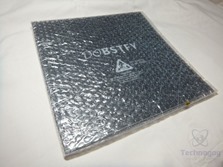 There are four sheets in the pack an they have grid lines on them with inch markings, they're 12" x 12" sheets and they're fairly stiff.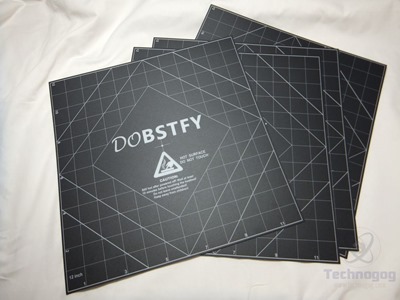 The surface has a semi-gloss matte finish to it with a light texturing that you can just barely feel if you run your fingers across it.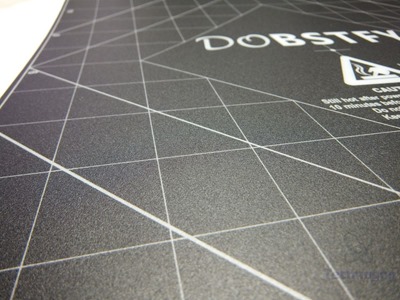 On the back or bottom you'll find 3M branded tape which is good to see a name brand there, at least I was happy to see it anyway.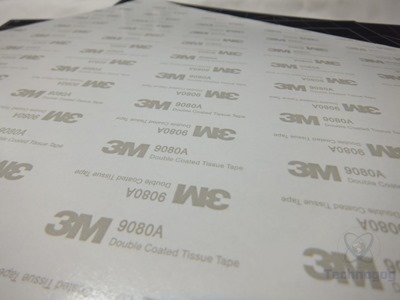 I have a heavily modified Monoprice MP Select Mini (v1). My bed is 195mm x 280mm in dimensions or about 11" x 7 5/8" in dimensions. Cutting to fit was easy, I laid the sheet on the bed and marked the bottom with a marker and just used scissors to cut it. I did have to make diagonal cuts at the corners for my bed leveling screws. Once you get it in lace it is fairly hard to remove, it went on the bed easy and there were no bubbles on my first try.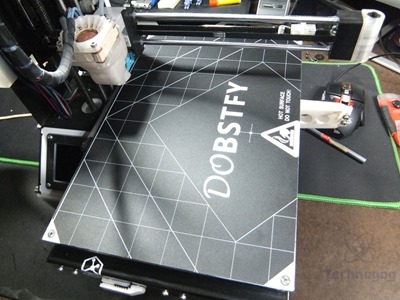 For testing I printed things. Most of what I printed was PLA but I did print some with PETG and I had no issues printing on this surface. Prints stuck very well, but you must clean the surface or wipe it with alcohol between uses or your prints won't stick as well as they should.  Yes I tried it just to see and the prints stuck much better when I cleaned it with alcohol first. The prints stick very well, almost too good really, but I've used other surfaces like Buildtack and it's the same really as far as adhesion is concerned.
I did have one small issue with adhesion but it wasn't the surface that's for sure. I was printing something just a few millimeters wide and as long as my bed is diagonally so it did come unstuck. I even has problems with that particular print sticking to blue tape, I had to use tape and glue stick to get it to stay adhered to the bed. So really regular prints should be fine, I'm still using it with my printer and happy with it.
Conclusion
The Dobstfy 3D printing build surface is nicely made, it seems durable and touch but yet it's easy to trim to fit your bed.
My prints stuck to the surface very well, so much so it was an effort really to get them off, so it works well in that respect for sure.
One of the issues might be having to clean it with alcohol after every use but I've found that to be the same for others brands of print surfaces like this so it's no surprise to me and not really worth listing as a Con I think.
The sheets are nice and large and the price is actually lower than others like BuildTack for the size and quantity of sheets, so to me this is a better deal. Right now three 8" x 8" sheets of BuildTak is $27.75 on Amazon, you get four 12" x 12" sheets here for $35.
Also, here's a discount code for you: Use coupon code XBG8VRB8 for 30% off on Amazon HERE
Pros:
+4 large sheets in pack
+Easy to cut to size
+Prints stick very well
+Well made surface
Cons:
-None really
| | |
| --- | --- |
| Grading | Scores Out of 10 |
| Overall | |
| Design / Aesthetic | |
| Value / Price | |
| Performance / Usage | |
Disclosure: This product was given to me for review by the company for review purposes only for free or at a discounted price.
To learn more about our review policy please visit this page HERE.