Up for review today I've got an inexpensive set of in-ear headphones from a company called Imilitis, they're the Apple earbud style so they're not what I would call 'normal' earphones. The sound is decent overall and they do have a remote in-line to control your music and answer calls if you need to. For the price these aren't bad, read on to learn more…

Specifications and Features
Earphones, IMILITIS In-Ear Stereo Headphones with Microphone and Volume Remote Control 3.5MM Jack Silicon Covered Wired Earbuds for iPhone 5S 6 6S 7 8, Nintendo Switch, Samsung Galaxy S8 Plus, Kindle
IMILITIS HiFi In-Ear Headphone with Smart Volume Remote Control System
Enjoy the music anywhere and any time!
Noise Isolating Stereo HiFi Sound
IMILITIS HiFi Earphone which has apple unique shape design with smart ic chip driver brings you much more high level listening experience about HIGH-PITCH or DEEP BASS . Noise isolating effect make you can enjoy the lovely music any place and any time
All-in-One Volume Remote System
IMILITIS headphone no need to takeout your device, and you can control it by the volume system by: Sound + /Sound -,Next song/Last Song, Stop/Play, Answer/Reject. All of these functions will let you enjoy the corded headsets when running, reading, exercising and listening.
Easy Carry Accessories
IMILITIS provide you free wire clip which make your cable will not tangle together and high-quality cloth carry bag which let you put the earphone inside and put inside your bag or even pocket
Compatible for All 3.5mm Jack Devices
IMILITIS headphone can be used on all 3.5mm jack devices
Technical Specification:
– Net Weight: 0.5 Ounce
– Cable Length: 120cm±5cm
– Plug Diameter: 3.5mm
– Frequency Range: 20Hz-20KHz
– Speaker Impedance: 16O±15%
– Sensitivity: 96±4dB
– Package Weight:1.34oz
Price: $15.99 (from Amazon at time of review)
The Review
Let's start with a video unboxing and then move on:
The headphones come packaged well in an attractive looking box with a window cut out to show you the earbuds themselves. Inside you'll find a plastic tray that holds them in place. The box has basic instructions and a diagram for the remote on the side.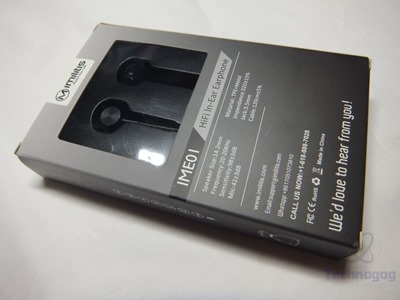 The headphones and a cloth drawstring carrying bag are the only things in the box. The bag is a like burlap
The cable is about 47 inches long or about 120cm and it's made of a rubbery tangle free material and ends in a gold plated 3.5mm jack. The cable is actually fairly thick and feels well made and durable and it seems like it should be for any sorts of uses like daily wear, or running and hiking etc.
There is a remote in-line with three buttons that serve multiple functions for volume, play/pause, skip tracks, and answer end calls. The play/pause button is for play and pause, and answer/end calls, but double clicking and triple clicking will skip to next and previous tracks.
The earbuds themselves aren't like normal ones would be, they're made in the Apple style. The headphones are made of plastic and aluminum and feel solidly made. The are labeled R and L for right and left and the remote is on the right side in-line.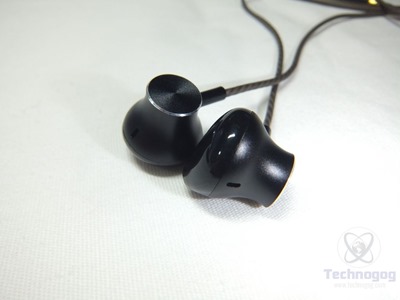 For testing I used them with my Samsung Galaxy S8 Android phone and I found the remote controls worked as they should for the most part. The double click for next track works but the triple click for previous track is tricky and I couldn't get it to work every time reliably. I think it would have been better if they would have maybe used the volume buttons for next and previous tracks, maybe double click those. I don't know, maybe it's just me…
As far as fit and comfort, they're not bad but not great. The small openings are a bit sharp and they scratch the insides of the my ears when inserting the earbuds, more annoying than anything really though.
I did have issues with them staying in my ears, I found that flipping them over and running the wire over and behind my ears worked better to keep them in place.
The sound is actually decent but they are a bit light on the treble or highs but I just prefer a bit more in my music. Bass is decent, it's good but not overpowering even with the volume turned up. There is a little to no distortion at high volume levels.
They claim to be noise isolating headphones but not really. I wore them while writing and I could plainly hear my typing, yes I have a rather loud mechanical keyboard though, but I couldn't hear a movie that I turn on to see if I could hear voices and other noise. Noise isolation isn't bad especially since it's passive.
Conclusion
I have to say that for the price these aren't bad at all, they're well made overall and they sound pretty good. These are selling for $15.99 on Amazon right now and they're very much worth that price for sure.
I'm personally not sure about the style of earbuds, I think I'll just stick with regular earbuds with the silicone covers on them, I don't think I care for the Apple style myself.

Pros:
+Low price
+Seem well made
+Decent sound overall
Cons:
-Controls could be better
-Sharp edges on earbuds
| | |
| --- | --- |
| Grading | Scores Out of 10 |
| Overall | |
| Design / Aesthetic | |
| Value / Price | |
| Performance / Usage | |
Disclosure: This product was given to me for review by the company for review purposes only for free or at a discounted price.
To learn more about our review policy please visit this page HERE.