External storage is a big business, look around and you'll see all sorts of flash drives and portable hard drives for sale. People use them for everything from backups to transferring files to media uses and they all work well, but people want faster and that's where the product I have for review today comes in. You could call it a flash drive, or a portable hard drive, but it's actually an SSD with a USB 3.0 interface called the Enyo and it's from OCZ Technology.  The Enyo I received for review is a 64gb in size and it comes housed in an anodized aluminum casing and it's fast, very fast. I've put it up against other USB 3.0 hard drives and flash drives in many tests, and if you want speed then this is what you want.

The OCZ Enyo is packaged nicely in a thick, nice looking box and it's padded well.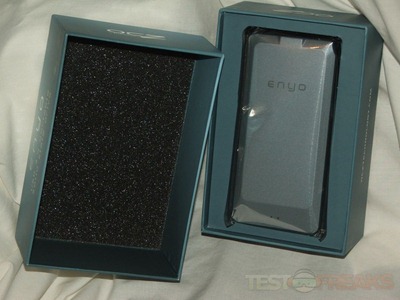 Inside you'll find a brief instruction manual, USB 3.0 cable, the Enyo itself and a nice little sticker. The USB 3.0 cable is thick, and it's long enough for most uses.
The Enyo itself is sleek looking with the anodized aluminum housing. It's sort of wedge shaped really and it's surprisingly lightweight. On the front is the Enyo logo and two LEDS, one for power and one that will blink with activity.
On the bottom you'll just find an identifications sticker.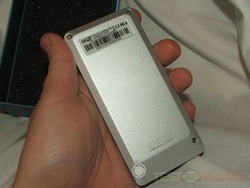 On the back edge is the USB 3.0 connector.
To give you an idea of size, here's the Enyo with a few USB 3.0 and USB 2.0 flash drives. The Enyo isn't a flash drive, but it's not a hard drive in the usual sense either.
The next part will void your warranty so don't this. I took it apart to get a better look inside.
The Symwave chip is the USB 3.0  to SATA controller. It offers transfer speeds in excess of 270MB/s.
The chips marked with the 'i' and 29F32G08AAMDB identification label are the Intel memory chips.
The Indilinix chip is the flash controller, the Barefoot chip as it's called.
Specifications:
OCZ Enyo 64gb USB 3.0 Portable Solid State Drive
Part Numbers: 64GB – OCZSSDU3-1ENY64G
Portable SSD / SuperSpeed USB 3.0 interface / 64GB – 256GB
The OCZ Enyo USB 3.0 Portable Solid State Drive features all the performance and durability advantages of an internal SSD, but delivers portability with an external storage solution for on-the-go users sharing files between various PC systems.
Enyo SSDs offer an array of state-of-the-art features for prosumers looking to take advantage of the SuperSpeed 5Gbps port. In addition to cutting-edge performance, this portable SSD offers superior power management and lower CPU utilization far surpassing the capabilities of external hard drives. With up to 260MB/s read and 200MB/s write capabilities, OCZ makes storage ten times faster than USB 2.0 speeds, while also being backwards-compatible with legacy ports.
Enyo USB 3.0 SSDs cut the time it takes for fast transferring of HD video, graphics, and music and are plug-and-play without additional external power requirements. Furthermore, the Enyo features background garbage collection to help maintain "like-new" performance throughout its lifespan. Designed with ultimate portability in mind, the Enyo features a sleek, anodized aluminum housing and will be available in 64GB, 128GB, and 256GB capacities.
64GB Max Performance
* Read: Up to 225 MB/s
* Write: Up to 135 MB/s
* Sustained Write: Up to 40 MB/s
Specs:
– USB 3.0 Interface
– Backwards compatible with legacy USB ports (2.0)
– MLC Flash
– 64MB Onboard Cache
– Background Garbage Collection
– Blue LED indicators
– Anodized Aluminum Housing
– Seek Time: < .1ms
– Slim, lightweight Design
– Included: 3′ White USB 3.0 (A to Micro B) Cable
– Weight: 75g
– 56mm x 120mm x 10mm H
– Operating Temp: 0°C ~ 70°C
– Storage Temp: -45°C ~ +85°C
– Low Power Consumption: 2.4W in operation, 1.1W idle
– Shock Resistant up to 1500G
– Compatible with Mac OS X (USB 2.0 operation only)
– MTBF: 1.5 million hours
– 3-Year Warranty
Price: $193.99 (from Amazon a time of review)

So let me just say here that with USB 3.0 product I'm not testing USB 2.0 speeds, I've already proved time and time again that USB 3.0 is faster so there's no need to show you similar results again and again.
My system is a Corei5 750 CPU on an EVGA P55 132-LF-E655-KR motherboard. The motherboard does not have USB 3.0 natively on it so I use the ASUS U3S6 PCIE X4 add-in card that adds both USB 3.0 ports and SATA6 ports to my system. it works very well and I can recommend it to anyone looking for an inexpensive way to add USB 3.0 to their system and even SATA6.
Here's the drive connected with the LEDs active:
For testing I'm comparing the OCZ Enyo to two USB 3.0 enabled portable hard drive, the Seagate 500gb Black Armor PS110 and the Cirago CST6000 250gb hard drive. I'm also comparing it to the Kingston DT Ultimate 64gb USB 3.0 flash drive. I should note that the Seagate actually has a 7200RPM drive in it while the Cirago only has a 5400RPM drive inside.
I've got several tests here for you to show you what this drive is capable of. All of the tests were run several times each to make sure the results were similar each time.
First up I'm using ATTO Disk Benchmark:
According to the specs above the Enyo 64gb should hit up to 225MB/s for read speeds and up to 135 mb/s for write speeds. Looking at the ATTO results we see it hit 255mb/s for read and 144 mb/s for write speeds. The read speeds are well above specs as you can see, and the write speeds are decently above what OCZ says they should be.
Next up is Crystal Diskmark:
Here the test results or speeds are a bit different, but that happens with different tests. The read speeds of the Enyo are above specs but the write is lower than expected.
HDTune Pro allows the user to run several types of tests, and I figured why not. I ran four tests on each drive, but they're three different ones. The main test of course everyone knows is the Read test, so we'll start with that one:
Here with this test we see the Enyo only hit 146.1 MB/s for some reason, but it still easily bested the competitors.
HDTune Pro File Benchmark only goes up to 512mb in size, so I ran both the 64mb test and the 512mb to see how the products performed with small and large files.
First up is the 64mb test:
There's no comparison really here with the other other drives and the Enyo. If we look at the test results though you can see we're over 200MB/s for the read speeds and almost to 150mb/s for the write speeds. Good performance I'd say.
Next is the 512mb test, and the results pretty much the same for the Enyo but the read speeds is just little slower here.
The next test I ran using HD Tune was the Random Access test:
Access times, Speeds, and Operations per Second are amazing for the Enyo when compared to regular hard drives and flash drives.
Then I ran more tests using SiSoft Sandra 2010.
Since there are all considered removable storage, the first I ran was the Removable Storage test:
Removable Storage
Benchmark removable and flash devices.
Combined Device Index: is a composite figure representing an overall performance rating based on the average of the Combined Index figures over the four file sizes. (Higher is better, i.e. better performance)
Endurance Factor: is a figure representing the Wear and Life Expectancy of flash devices; this is obtained by dividing the average performance (normal condition, i.e. sequential write) to the lowest performance (high-stress condition, i.e. same block re-write).
It measures the relative improvement of endurance caused by the wear leveling or flash management algorithm; the absolute endurance of a device (i.e. its expected life-time) is directly dependent, in addition to this Endurance Factor, on the nominal manufacturer rating of maximum erase/reprogram cycles, which is typically 100,000+ for SLC and 10,000+ for MLC devices. (Higher is better, i.e. longer life-time for the device)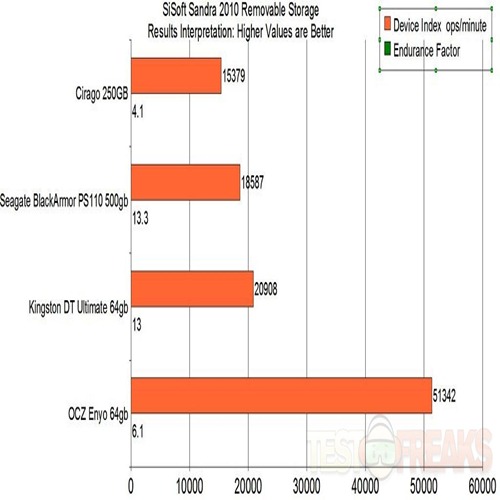 The Device index for the Enyo is amazing, more than double that of the Kingston flash drive.
The next two tests are drive specific, first up is the Physical Disks test:
Physical Disks Test:
Drive Index :
Results Interpretation : Higher index values are better.
Random Access Time :
Results Interpretation : Lower index values are better.
As the test measures raw performance it is independent on the file system the disk uses and any volumes mounted off the disk.
Drive Index: is a composite figure representing an overall performance rating based on the highest read or write speed across the whole disk. Thus the higher the better.
Access Time: is the average time to read a random sector on the disk, analogous to latency response time. Thus the lower the better.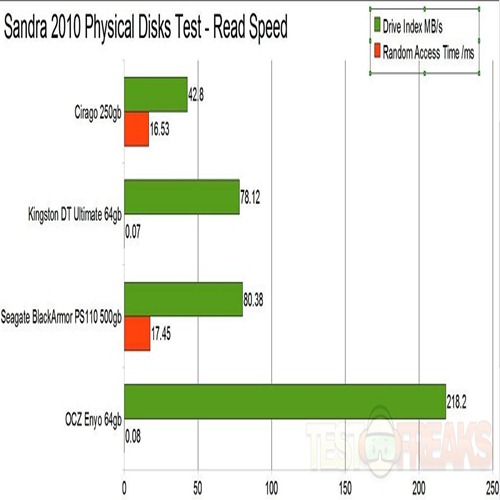 218.2 MB/s isn't bad at all, well above the closest competitor.
Next up is the File Systems Test:
File Systems Test:
Drive Index :
Results Interpretation : Higher index values are better.
Random Access Time :
Results Interpretation : Lower index values are better.
This is not the raw disk performance that other benchmarks test – but the speed of the volume itself that depends on many more factors like file system, operating system cache, position on disk, etc. Thus this is the performance you get at the file system level.
Drive Index: is a composite figure representing an overall performance rating based on the average of the read, write, and seek tests, and file and cache size. The Drive Index is intended to represent drive performance under typical use in a PC. A larger number means better performance. The weighting of the results is not equal it represents the distribution of different files sizes as used on these devices (obtained through field research).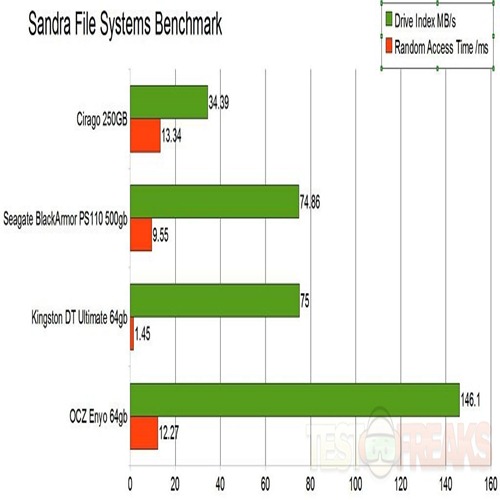 The scores here are the drive index or basically an average, and the Enyo scores well.
Let's take a look at the actual test results in text format.
First is the OCZ Enyo:
Detailed Benchmark Results
Buffered Read : 256.26MB/s
Sequential Read : 231.55MB/s
Random Read : 60.28MB/s
Buffered Write : 179.88MB/s
Sequential Write : 61MB/s
Random Write : 104.44MB/s
Random Access Time : 12.27ms
Next is the Cirago drive:
Detailed Benchmark Results
Buffered Read : 35.8MB/s
Sequential Read : 36.31MB/s
Random Read : 24.46MB/s
Buffered Write : 74.4MB/s
Sequential Write : 52.54MB/s
Random Write : 35.3MB/s
Random Access Time : 13.34ms
Then next is the Kingston Flash Drive:
Detailed Benchmark Results
Buffered Read : 48MB/s
Sequential Read : 87.8MB/s
Random Read : 77.9MB/s
Buffered Write : 93.83MB/s
Sequential Write : 56MB/s
Random Write : 16MB/s
Random Access Time : 1.45ms
and lastly is the Seagate Black Armor:
Detailed Benchmark Results
Buffered Read : 53.6MB/s
Sequential Read : 93.65MB/s
Random Read : 49.44MB/s
Buffered Write : 44.88MB/s
Sequential Write : 93MB/s
Random Write : 36.7MB/s
Random Access Time : 9.55ms
So the Enyo performs well and it's well made, what more could you ask for?!
Conclusion:
The OCZ Enyo is faster than the fastest portable hard drive I've got on hand, and even faster than the latest USB 3.0 flash drive as well. That's saying a lot there surely.
The OCZ Enyo, in my testing, performed very well, even significantly beating out the specs that OCZ has listed for it in some tests.
I do however have to small issues, maybe not issues but possible improvements to keep in mind for a version 2. I personally don't like the type of USB 3.0 connector used on the Enyo, I've had them break myself. It's not the fault of OCZ, it's whoever designed it, it's just too thin and fragile I think. I would have went with a sturdier style connection myself, but space may have been an issue. It's a mini-connector and obviously another type of connector would have made the Enyo more bulky, so I can understand why they chose what they did.
The Enyo is an excellent product truly but I would improve upon by having a built-in USB connection. It's not a portable hard drive, it's smaller and having to carry the cable can be cumbersome, so I would much like to see a connector built right in with a small cable. Again that might be an issue with bulk, but I'm sure they could find  away to get it to work with a little design finesse.
As is though the OCZ Enyo is a great product, it's fast and lightweight making it very portable and useful. If you get it I'm sure you won't be disappointed.
Pros:
+Excellent performance
+Well made and good looking
+Simple, easy to use and portable
Cons:
-A bit expensive
| | |
| --- | --- |
| Grades: | |
| Overall | |
| Design | |
| Performance | |
To learn more about our review policy please visit this page HERE.